What is the Best Foosball Table?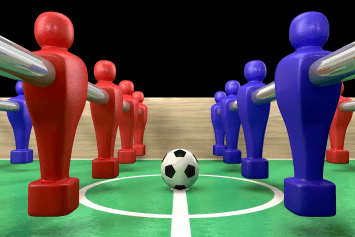 With so many different foosball tables available to buy today, there is no definitive answer to the question of 'What is the best foosball table?' The answer will depend greatly on you as an individual and, more specifically, what features are a must-have for you.
Rather than being able to point to just one, certain foosball tables are "best" in particular categories. Whether it be the best foosball table for kids, the most suitable foosball for playing outdoors, or the best table in terms of portability and storage, what one person might consider as "the best foosball table" will be wholly unsuitable and disappointing to another.
One of the main aims of this foosball table reviews website is to provide information and guidance to assist you in choosing a table that is perfect for your needs, your playing environment and your budget, and so will provide you (and/or your family) with many years of happy and enjoyable gaming.
What are the Most Popular and Best Foosball Tables Right Now According to FoosballTableReviews.com Visitors?
If you are looking for inspiration and want an insight into what foosball tables other people are buying, then why not take a look at the list below. This list ranks the most popular foosball tables according to sales made on Amazon through the links provided on this site. This gives you an idea of what the most favored and sought-after tables are, and a top 10 of the best tables to buy right now.
What is the Best Foosball Table Brand?
Many different foosball table brands and manufacturers exist. Some have been around for decades, whilst others are relatively new on the scene. Some focus exclusively on the production of foosball tables, and others produce other things besides tables.
Like trying to answer the question of what is the best foosball table, the same problems are encountered when trying to state the best foosball table brand. It really comes down to a number of factors, such as a manufacturer that produces tables which are best for your experience and style of play, and trying to weigh up the overall quality of the product in conjunction with its selling price.
For instance, some players will consider the European manufacturer Garlando one of the leading foosball table brands, as they build high-quality tables that are suited for the European style of play. However, for someone who enjoys the faster-paced American style of foosball, they may personally not rate Garlando tables highly at all.
So trying to determine what the best foosball table brand name is will be a subjective opinion. In terms of some of the most well-known brands, however, names which you will often find cropping up again and again include:
| | |
| --- | --- |
| Tornado | American Heritage |
| Warrior | Fat Cat |
| KICK | Playcraft |
| Garlando | Rene Pierre |
| EastPoint Sports | Shelti |
| Atomic | Sport Squad |
It is worth pointing out that KICK are a manufacturer with one of the largest ranges of foosball tables available. Not only this, but their prices are extremely reasonably for the build quality of the tables and the features provided. So confident in fact are they of the quality of their tables, that they offer an unlimited lifetime warranty with each and every one. All of this adds up to make KICK one of the leading and most trusted foosball brand names around. See our KICK Foosball Tables page for more information and to view the range.
See our Foosball Table Brands and Manufacturers page for more.
Best Foosball Coffee Table
One of our favorite foosball coffee tables right now is the 48" KICK Java Foosball Coffee Table. This well-designed table not only provides a good foosball game, but the light color real wood makes it a piece of furniture that will sit well in most rooms.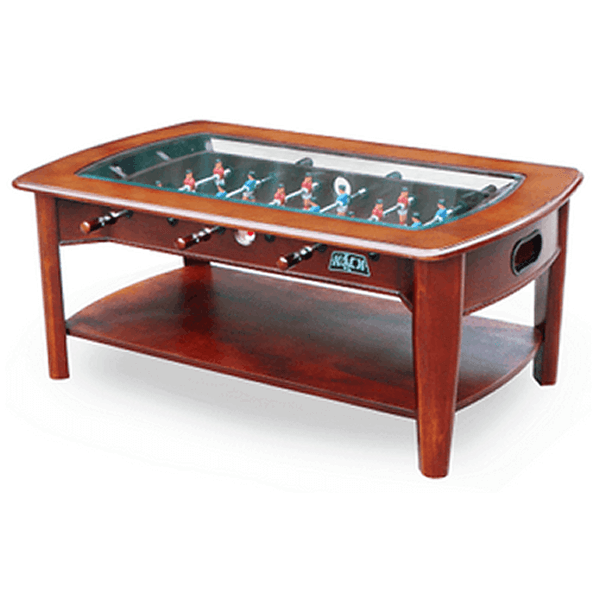 KICK 48" Java Foosball Coffee Table
Weighing 80 lbs, the beautiful new KICK Java 48" foosball coffee table is made of light color real wood, has tempered glass to prevent breakages and scratches, and has a useful shelf underneath for books, magazines etc.
Length: 48"
Width: 29"
Height: 20"
Weight: 80 lbs
Check Price
A major criticism of foosball tables in the home – especially from other halves who may be far from enthusiastic about your table – is that they take up useful space and can ruin the appearance of a furnished room. This is particularly true of kids foosball tables which are often made of plastic and are brightly decorated.
The KICK Java faces no such issues. It will easily blend in with the rest of the room, and rather than taking up and 'wasting' useful space when not in use, it also functions as any other coffee table with space for books and magazines underneath, as well as a useful table surface for putting things on.
See more foosball coffee tables on our page: Best Foosball Coffee Table.
Best Folding Foosball Table
Another primary criticism and reason for not getting a foosball table for your house is that it simply takes up too much space. Whilst it may be fine for those who have a house big enough for a dedicated games room, for many it would mean having a foosball table sat in a room such as a living room or bedroom. When it is not in use it will take up space and could quickly become an annoyance.
To overcome this objection, a folding foosball is an ideal solution. Normally, a large rectangular foosball table with long legs is a bulky item that is incredibly difficult to store somewhere. However, folding foosball tables are hinged to allow the legs to fold parallel with the playing surface, to that the overall unit is flat.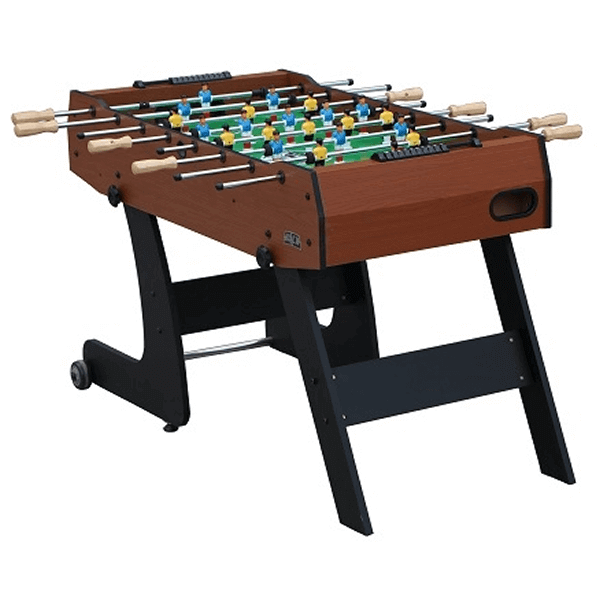 This makes the table much easier to put away and store somewhere, such as in a large cupboard or under a bed out of the way. Even if this is not possible, it can still be folded up and put in the corner of the room where it would be taking up far less space than it would if it was fully assembled. It may still be in sight, but at least you will have far more available space.
One of the best folding foosball tables available to buy today is the 48" KICK Monarch Folding Foosball Table. One of the main criticisms of folding foosball tables is that they are often light in weight in order to remain portable. Whilst this is good for moving to its storage location, a lightweight table can suffer from excessive movement during intense gameplay; and as most folding foosball tables are designed with children and families in mind, the gameplay on them will be pretty intense and boisterous!
However, weighing in at 75lbs, the KICK Monarch Folding Foosball Table strikes a perfect balance between being heavy enough to provide a solid platform for play, while still being light enough to transport about the house. It also has wheels at one end to making moving it really easily; simply lift, tilt and wheel it along the floor like a you would a suitcase with wheels.
See more folding foosball tables on our page: Best Folding Foosball Table.
Best Foosball Balls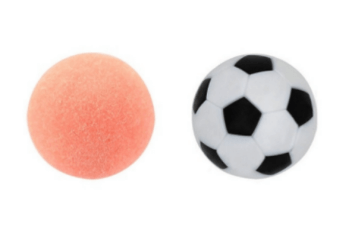 The vast majority of people spend so much time and effort in reading reviews and choosing the best foosball table for their needs and budgets, only to then use poor quality balls and ruin the gameplay. Ok, ruin is probably too harsh a word to use, but the negative impact a low quality ball has on gameplay cannot be overstated.
It is a bit like buying a top of the range sportscar, only to then fit it with cheap, low grade tires. It may still look good, and it will get you from A to B, but its potential performance and the overall pleasure you will get from it will be severely constrained. So just like car tires, your choice of foosball ball will make all the difference in how your foosball table plays.
Of course, the best foosball ball will also depend primarily upon who is playing on the table. For kids, they are likely to be perfectly happy with the standard plastic black and white ball that seems to be the iconic foosball ball. However, for professionals and more experienced players, this type of ball will simply not do as it is fast, erratic and almost impossible to control properly, which takes away a lot of the skill element of the game. For them, a cork or a textured ball is essential.
Cork Foosball Balls
A cork ball is quite soft, which also means it is slower than other types of foosball balls. It is primarily to be found on European tables, as these balls are idea for stopping, pinning and passing the ball. The softer composition also greatly reduces the amount of bounce back when the ball hits the side and back walls of the playing area.
As we have already seen on this page, European style foosball tables are geared up for a slower, more technical style of game play. The cork balls a perfect, and pretty much essential, for this style.
Textured Foosball Balls
The best textured foosball balls are made from a hard wearing urethane compound. Quicker than cork balls, they are much faster over the playing surface. Yet they also have an element of softness to them which allows for skillful play too. In many respects they are a perfect balance between the standard stock fast-paced hard plastic balls, and the softer cork ones which, as stated above, are designed more for skill and tactics rather than speed and power.
Textured balls are to be found in most American foosball tables, which are designed with more of an emphasis on speed, power and intensity than their European counterparts. In fact, textured balls are used in every sanctioned foosball tournament in the United States.
For more information about the different types of foosball balls available, see our page: Best Foosball Balls.
Best Foosball Table for an Office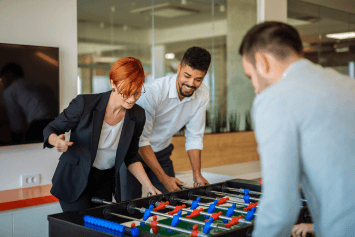 There are many advantages (and a few disadvantages) of buying a foosball table for an office, more of which can be found on our page: Having a Foosball Table in an Office. With so many foosball tables to choose from, how do you pick one to buy and set up in your office for your employees to play on?
Just like buying a foosball table for the home, the decision will come down to two main factors: who will be playing on it and how much do you have to spend?
Regarding the first point, if all your employees are fully-grown adults (which is likely to be the case), then buying a foosball tabled aimed at young children – no matter how inexpensive it may be - will probably not go down very well. What they consider to be a cheap toy will do little to boost employee morale, and after a few games is likely to sit lonely and abandoned in the corner of the rec room for evermore.
The second point depends on how well your business is doing and how much disposable income you have to spend on a foosball table. It will also concern a question that is really at the opposite end of the spectrum from the first point, in that are you about to buy a foosball table which is actually too expensive for the people who will be playing on it? By that we don't mean their worth or value to your business, but more along the lines of: If the table is there to provide entertainment whilst they are on their break, do they really need a fancy expensive table that is more suited for serious players and professionals?
Chances are, the answer is no. What is usually ideal is something in the upper middle of the range: a foosball table which is 'quite' expensive so that it will prove decent gameplay for grown adults, but does not necessarily have elaborate features that are demanded by expert players.
With this in mind, our table of choice would be the 55" KICK Titan Foosball Table. This is a high-end table, but not quite in the same price bracket as the most expensive foosball tables out there. It is heavy enough to withstand exuberant play, and extremely durable so that it will withstand many years of use and not need replacing.
The gray color also gives the table a grown-up look, so that it won't look horribly out of place in a professional working environment.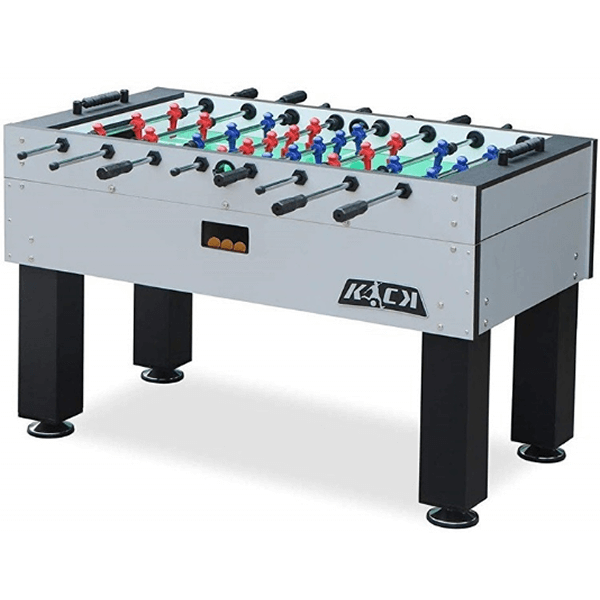 The KICK Titan foosball table is the current top-of-the-range table from KICK. It is intended for adults and more serious players, and will serve you well for many years.
Best Outdoor Foosball Table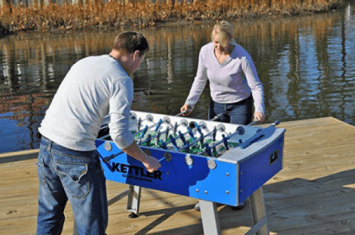 Most people think that foosball is an indoor activity, when in actual fact it is a perfect game to be played outdoors in the sun… so long as you have the right table.
If you have a lightweight foosball table which can easily be carted outside and back in again when done playing, then this is fine. For others, their heavy table would in all likelihood have to remain outdoors. This means that it needs to be able to stand up to the elements.
Most foosball tables are manufactured from materials such as MDF wood which does not cope well with being wet. Any warping can soon ruin a table and any hope of normal, smooth play. They would also be easily damaged from other things associated with the outside such as temperature changes, UV light from the sun, bird droppings and algae growth to name just a few.
Fortunately, though, a number of leading foosball table manufacturers such as Kettler produce foosball tables which are specifically intended to be kept and enjoyed outdoors (although it is still advisable to protect them with a cover when they are not in use). Our choice for the best outdoor foosball table is the 58" Kettler Weatherproof Indoor/Outdoor Foosball Table. Featuring laminated materials, a glass playing surface cover and anti-rust chromium-plated rods, this hardy foosball table will stand up to a lot of what the great outdoors can throw at it for many years.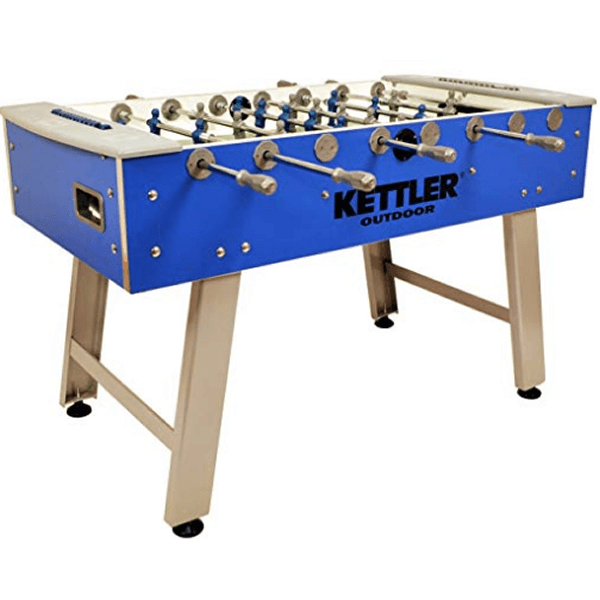 Best Kids Foosball Table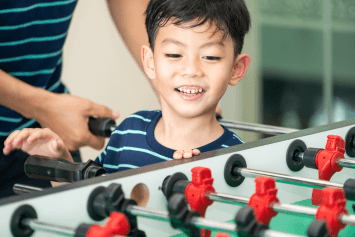 Unless you are playing foosball professionally (and even then it still needs to be enjoyable), having fun is the main objective and reason for anyone to play foosball. For kids, this is even more true. Buying them a table which they don't enjoy will quickly result in them moving onto something else and ignoring your new purchase.
Children will value very different things in a football table than an adult would. Rather then features such as counterbalanced men or thickness of the playing surface, one of the main focuses will be its appearance. But as it will be an adult buying it, there does needs to be some thought given to 'sensible' issues such as durability, safety, storage and, of course, price, rather than just letting your child pick out the brightest or the shiniest table!
In addressing the needs of both children and the adults who will be buying - if not necessarily playing on - the tables (although they probably will!), our choice of best kids foosball table is the 48" Playcraft Sport Folding Foosball Table. This table does a great job of combining everything children and parents want: It looks cool, it is a decent size, it folds for easy storage, and it will not break the bank.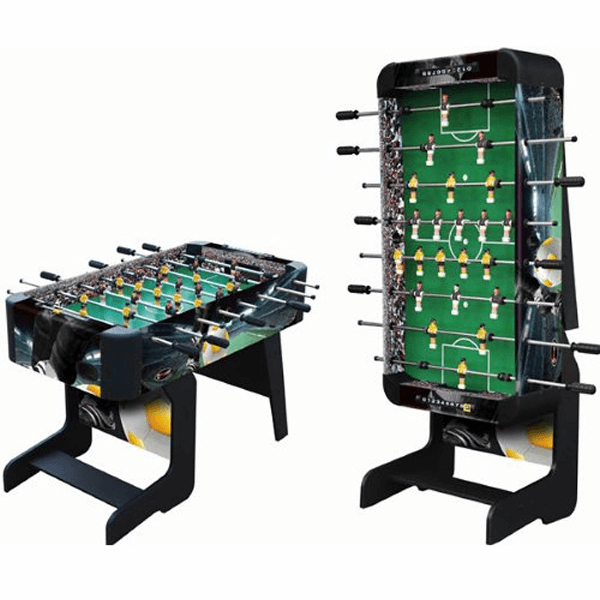 Best Family Foosball Table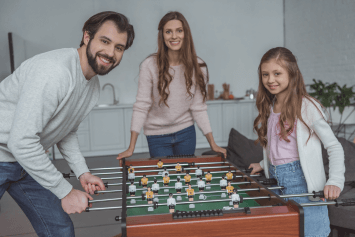 On this page we have looked at the best foosball tables for children, and the best tables for adults (including those playing in an office rather than at home). But what about families who want to play foosball together?
Many a parent has played foosball on a flimsy toy table with their child or children at some point, and whilst the child may enjoy it, the game is a bit too toy-like for the adult. Similarly, a kid may not enjoy (or even be allowed anywhere near!) a parent's expensive pride and joy table which even their grown-up friends are only allowed to go anywhere near so long as their drinks and snacks are left safely over the other side of the room.
The Sport Squad FX40 Tabletop Foosball Table is a good value table for a quick tabletop option, but if there are more than two of you – especially fully-grown adults – it can make things a little cramped. For this reason, particularly for families of four, a 'full-size' foosball table is a better option.
We have actually chosen two favorites for the title of "best family foosball table" depending on what age the kids are, although both are actually made by the same manufacturer.
For families with younger children, our choice is the 48" KICK Glory Foosball Table. This table is ideal for adults and children alike who want to have an enjoyable game of foosball together, can all fit around the table, and don't need to worry about it all falling to bits within about five minutes of starting. Usually priced around the $200 mark, you will also be able to relax a bit easier than you would if your kids were playing on a table costing five or ten times that amount!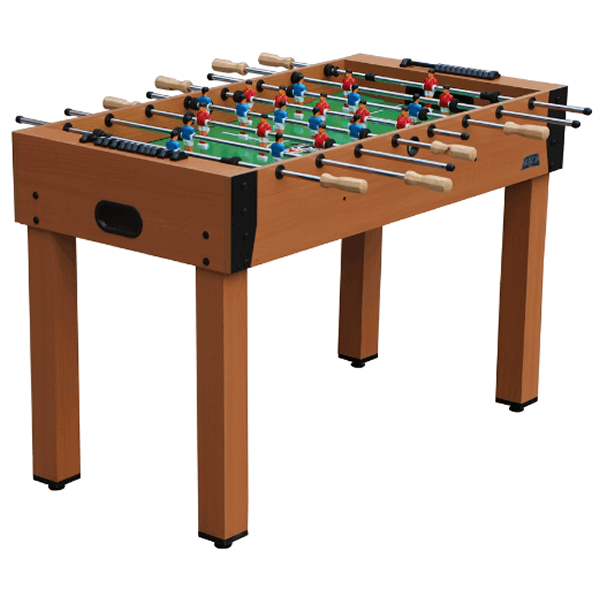 Designed for children and foosball lovers who want to enjoy an occasional game without breaking the bank... and without worrying that the table will fall apart after two games.
For families with older children, the KICK Glory may not be sturdy enough, and so our best choice for this category would be the 55" KICK Galaxy Foosball Table. A bit bigger and more expensive then the Glory, the Galaxy weighs almost three times as much, making it much more sturdy and able to withstand stronger gameplay. Its vibrant colors and pinball-style rod handles make it an attractive foosball table that conjures up an image of arcades and fun. Not only will it be suitable for when the older kids grow up into young adults themselves, but it is also a good quality table which is more than suitable for the adults to sneak in a quick game when the kids aren't around!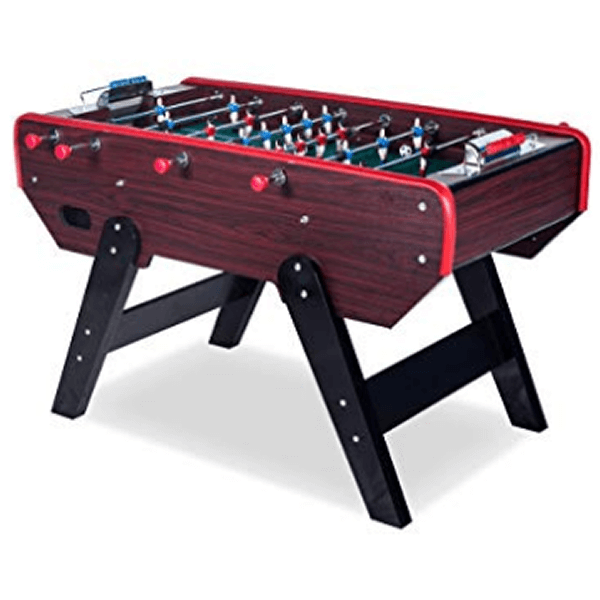 KICK 55" Galaxy Foosball Table
One of the best looking foosball tables in the KICK range, the Galaxy combines top notch gameplay with a beautiful - almost retro - design.
Our Pick of the Best Foosball Tables by Price Category
Your available budget will have a big influence on the foosball table you buy. If you have a fixed sum of money to spend, check out our picks of the best foosball tables available by budget below:
Best Foosball Table Under $300
There are a number of full-size foosball tables available for under $300, some of which are very good despite the low price tag such as the 48" KICK Glory foosball table. However, for this category we have chosen the 40" Sport Squad FX40 Tabletop Foosball Table as the best one for this category.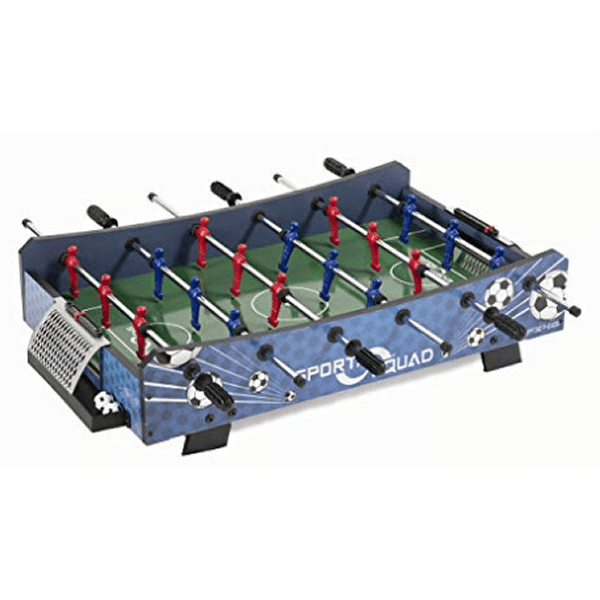 Sport Squad 40" FX40 Tabletop Foosball Table
In all, the Sport Squad FX40 Foosball Tabletop is great value for its price. It brings an exciting, fast-paced gaming experience in a compact and aesthetically appealing design.
This tabletop foosball table will only set you back about $75-$100 or so, and yet it is solidly built. Made from wood and metal, it also features chrome-plated steel rods for added durability. It is not a full size table, and the price obviously reflects that, but it is certainly not a cheap, flimsy option, and you get good value for your money.
Aimed at those who just want to get the table out of the cupboard and play with a minimum of fuss, the Sport Squad FX40 Tabletop Foosball Table is ideal for anyone. With an attractive paint job, and non-marking feet to prevent damage to whatever surface you place it on, this robust small table will provide you and your family with many hours of fun and entertainment.
Best Foosball Table $300-$600
Perhaps the most popular of price ranges for a foosball table, you can certainly get an excellent table for this sort of money. Tables in this price band begin to transition away from the "toy" market into something a little more serious. For kids who have had a cheaper plastic table when they were young and want to progress to a better table, this is usually the category the table falls into.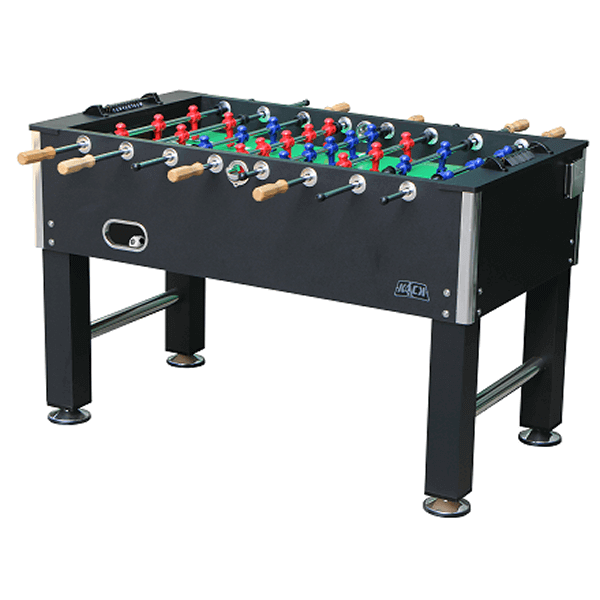 KICK 55" Triumph Foosball Table
Recommended for anyone who loves to play foosball and is looking for a table that provides an authentic game play experience, but cannot afford to spend over $1,500 for a tournament level table.
There are many to choose from in this price range, but our favorite right now is the 55" KICK Triumph Foosball Table. Not only does this table look great with its black modern and sleek design, it also has features such as leg levelers and sturdy bearings for smoother rod action, which makes it a table that players can really begin to sharpen their skills on.
If you are searching for a "grown up" foosball table, but don't want or aren't quite ready to buy a more pricier table, then the KICK Triumph is an ideal choice.
Best Foosball Table $600-$1,500
Foosball tables in this price category are aimed at those who like to take their foosball a little more seriously. The main feature is that more expensive tables are usually manufactured with heavier components, making them more solid and less likely to move about during play. Having a table that moves around during intense play into all angles, forcing you to constantly readjust in min-game is certainly far from ideal.
Numerous high quality foosball tables fall into this price band, and it is hard to choose a favorite. It can often come down to what you want from a table. For instance, the 58" Kettler Weatherproof Indoor/Outdoor Foosball Table falls into this price bracket, and would be our choice for those looking to buy an outdoor table.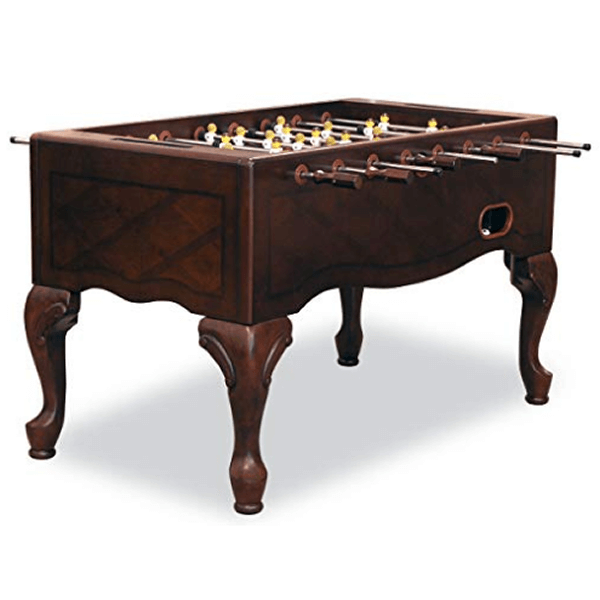 That being said, if we were forced to pick just one, it would be extremely difficult to look past the 55" Fairview Game Rooms Furniture Style Foosball Table with Queen Anne Legs! The table is a work of art, which at first glance would not look out of place in a fancy British country house from the 1700s. Aside from custom built foosball tables made to order, there is hardly anything else quite like it available for immediate purchase. In a world where most tables are manufactured from MDF and plastic, it is highly refreshing.
But it is not just a pretty piece of furniture to look at. Reading the reviews on Amazon of people who own the table, it is clear that this is also a foosball table which provides high quality game play too. It may not fit in with the décor of every home, but owning one will certainly generate envious looks from your friends.
Best Foosball Table Over $1,500
We have said throughout this page that "the best" foosball table will depend on what you were looking for and your available budget. But if you really wanted to pick just one table out of the air to describe as the best, it would almost certainly be one from this group.
These tables are typically the heaviest, the most solidly built, and come with every feature needed for a skillful game of foosball. They are aimed primarily at professionals and experienced players… as well as those who just have a lot of money available to spend!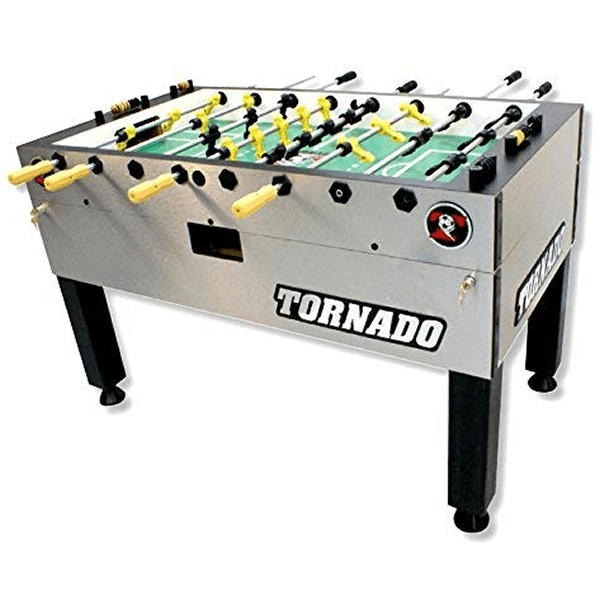 Tornado 56" T-3000 Tournament Foosball Table
Primarily built for intermediate and professional level players. It's also for anyone who wants to invest in a top-of-the-line table. One of the greatest foosball tables that money can buy.
All of these table are good, but by far the most famous of all is the mighty 56" Tornado T-3000 Foosball Table. Weighing in at a colossal 355lbs, this tank of a table won't be going anywhere in a hurry during even the most intense of games. It has many features, including patented men with sharp corners and grooves to improve ball control.
The Tornado T-3000 is used in many professional foosball tournaments, and is probably as good of a table as you can buy in the market today.
The Danger of Buying a Cheap Foosball Table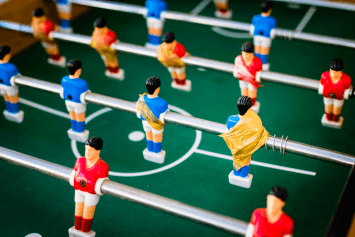 They say that in life you get what you pay for, meaning that if you buy cheap you are likely to end up with an inferior product. It's by no means always the case, as price alone does not necessarily equate to a better or worse item, but typically, trying to save a few dollars can ultimately result in disappointment and regret.
This all applies just as much when buying a foosball table, which is why it is important not only to thoroughly read reviews of foosball tables before purchasing, but also to not simply look at price. Just as you can overspend and buy an expensive foosball table that may be unsuitable for your needs and how you want to play, there is also a danger of buying a cheap foosball table simply because of a low price.
If this happens, you will likely end up being underwhelmed and wish you had opted to spend a few more dollars to get a table you truly would have been happy with. It is also often the case that it can ultimately prove to be a false economy, as having a to replace a cheap table than breaks soon after purchase could end up costing you more money than it would have if you had just purchased a high quality foosball table at the outset!
---
Which is Better: An American or European Foosball Table?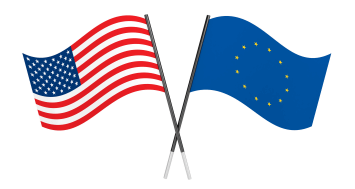 There is a distinct difference in playing styles between American foosball tables and European foosball tables. By far the most striking contrast is that European table are typically designed to promote a slower, more tactical style of gameplay. More emphasis is put on precision and accuracy.
American foosball tables are built more for speed, power and aggression. This is certainly by no means to say that there is no precision or finesse involved in the American style, but on the whole it is more suited for those seeking faster play.
Another key difference is that European tables almost exclusively have one goalie, accurately reflecting the actual game of soccer, whereas American foosball tables usually come with three.
More information on the differences can be found on our page: What is the Difference Between European and American Foosball?.
Best American Foosball Table - The Tornado Tournament 3000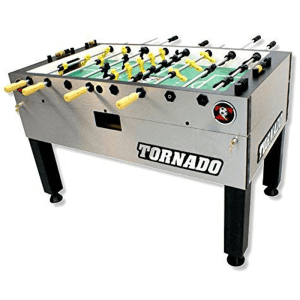 A mesmerizing piece of American ingenuity and craftsmanship, the Tornado T-3000 brings a professional grade foosball table into games rooms of ordinary foos-loving folks all around the world.
The T-3000 boasts a never-ending list of enthralling features that have helped cement Tornado's spot as the preeminent provider of premium foosball tables the world over.
This terrific Tornado foosball table is available in both single-goalie and 3-man goalie setups, and provides an unparalleled foosball experience thanks in no small part to the esteemed Tornado patented counterbalanced men that are ingeniously designed with razor sharp corners and a larger more effective cross section that deliver unrivaled ball control and incredible accuracy in passing between your foosball men.
The rod movement on this table is sublimely smooth due to the inclusion of the superior split bearings design, and the rods themselves are remarkably robust, constructed from commercial quality .156" hollowed steel.
The cabinet is just as tough, beautifully crafted using heavy-duty MDF and wrapped in a hard wearing and aesthetically pleasing silver and black laminate with eye-catching Tornado graphics placed around the table.
Another unique feature is the full-access hinged top setup that makes general maintenance and cleaning of the table a remarkably simple process.
Read Review
Check Latest Price
Best European Foosball Table - The Garlando G-5000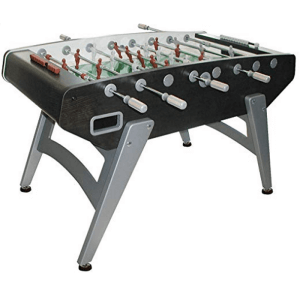 The Italian based Garlando is a well-established company in the European foosball industry with well over sixty years' experience in delivering only the finest quality products, and the G-5000 is an incredibly innovative foosball table with an inimitable design that will modernize any games room setting.
The resilient cabinet is constructed from top tier 1.5" plywood and finished in a dark wood imitation hard-wearing plastic laminate that will keep the table looking in fine form for years to come.
The durable plastic laminate playfield delivers great traction and is completed with silk-screen printing for a vivid soccer pitch replica look.
The telescopic rods make life a lot easier during heated play, and they are coated with an anti-rust chromium coating to ensure the rods last as long as the rest of the table was intended to, indefinitely.
The table also boasts steel-roller bearings that deliver super speedy response times and a strikingly smooth action.
Being of European descent, this table is set up for single goalie play, and the formidable molded plastic foosball men are so tough they will never need to be replaced.
The Garlando G-5000 is the gold standard when it comes to European Foosball tables.
Read Review
Check Latest Price
How Much do Foosball Tables Cost?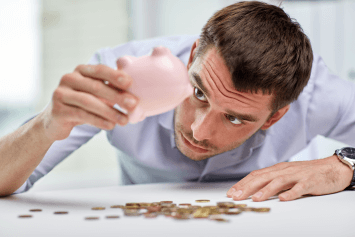 Foosball tables vary greatly in how much they cost. You can purchase a brand new kids' or tabletop foosball table for about $50, whereas top-of-the-range tournament acceptable tables can easily require you to spend over $3,000 to own one.
As we have seen mentioned throughout this page and the website as a whole, the most expensive foosball table on the market today may not actually be the right choice for you in terms of where you want to setup the table, who will be playing on it mainly and what features you want it to have.
At the upper end of the price spectrum, unless you are wealthy and have an abundance of cash to spend, this sort of cost will be a significant purchase for you. Even though you would undoubtedly be buying a high-spec foosball table, it would in some ways be a waste of money if it is, for the most part, unsuitable for your requirements. There is little point in splashing out a lot of money on the beautiful and ornate Fairview Game Rooms Foosball Table with Queen Anne Legs if what you really want is a lightweight folding foosball table you can quickly set up outdoors whilst having a family BBQ!
For more information on price versus value, and getting the foosball table that is right for you, check out our page: Best Foosball Table for the Money.
Foosball Table Buyers Guide: Factors to Consider Before Buying a Table
Buying a foosball table can be an ideal way to liven up a games room, add some character to a child's bedroom, or introduce a sense of fun to a living room, garden or workplace. However, there are a number of different things you will need to consider first that will help you decide on the best foosball table for your needs.
1. What is Your Preferred Budget?
One of the most important things is your budget. Generally speaking, foosball tables of $300 or less are regarded as being at the lower end of the price scale, with around $300 to $1,500 representing mid-range options. Tables above $1,500 tend to be aimed at the most serious players.
The amount of money available to you will help you narrow down your options. At the same time, it is important to consider factors beyond your budget too, as the most affordable option might not meet all of your other requirements, while two different tables available for a similar price may offer different pros and cons.
2. Where Will the Foosball Table Go?
Next, you need to think about the intended location for your foosball table. Common options include:
Living room
Bedroom
Office or workspace
Games room
Garden
Knowing which room in your house the foosball table will go in can help you to make decisions about the color and the size of the table, as it will need to fit in the room comfortably and you may want to match the decor too. You are also going to need to choose between an indoor and outdoor foosball table.
In terms of function, do you want the foosball table to be permanently set up, in which case a stand-alone table will be best, or would you prefer a folding foosball table that you can set up and put away again?
There are also options like foosball coffee tables, which serve a dual purpose, or multi-game tables, which can include other games aside from foosball. For the most casual players or those with limited space available, tabletop foosball games can be placed on an existing table in your house for maximum convenience.
3. Who Will Use the Foosball Table?
A major factor that you will need to consider when choosing your ideal foosball table is who will actually be using it. If it is intended for casual play, or for use by children, a lower budget or tabletop foosball table may be ideal, whereas if you are a competitive foosball player, or have the cash and just like to buy the best available, you will want a much higher quality option.
If you have other people in your house who will play the game with you, you can opt for a table with non-weighted men, whereas if you intend to practice alone, a table with counter-weighted men can be essential. The question of who will use it may also influence the size of the table you opt for and also the playing surface.
4. Which Brand Do You Like Best?
You may also wish to give consideration to the different foosball table brands that exist and what they offer. Some of the most significant brands include names like Tornado, KICK, Shelti and Roberto Sport, with each having different areas of specialization, pricing strategies, and reputations.
KICK, for instance, have a reputation for selling high-quality tables at affordable prices. Tornado on the other hand, is the most popular brand for serious players, who are seeking a robust, professional foosball table, sized according to international regulations and capable of withstanding frequent use.
5. What Do Other Customers Say?
Finally, one of the best ways to decide on your foosball table is to find out what other players think of the options available. Reading foosball table reviews can provide you with valuable insight into how well tables function, whether they meet players' expectations and also some of the potential problems or limitations.
Reading the opinions of real owners can help you to gather information that may not be included in a product description. A sensible step here is to try to narrow down your decision to a few different foosball tables that meet your needs, then read the reviews for those tables and compare the plus points and drawbacks.
Latest Pages to be Added to Site: