How to Find the Best Foosball Table for You
In order to find the best foosball table for You, the first step is to choose the type of foosball table you want to buy: stand-alone, tabletop, or a multi-game. Coin-operated tables are available as well for those who want to charge people for using it. These are common in pubs, arcades, and businesses in general.

Budget
If you're buying a tabletop, then how much you're willing to spend isn't going to matter very much, as most are priced under $100. If you plan on buying a stand-alone however, the price could be more of a factor. These tables range anywhere from $100 to several thousand. How much do you want to invest in a table? How long do you plan on keeping it?

Who's It For?
Aside from how much you are willing to spend, this is the most important question to ask. Who will be playing it? How old are they? Are they beginner, intermediate, or at an advanced skill level? Plus, is the foosball table for a home or somewhere else, like an office for example?
Beginner
If the table is for children, beginners, or casual play in general, then buying cheap makes sense. For little kids and beginners, buying a tabletop might be the way to go, especially if you aren't sure if they will like the game or not. If they don't like it, no big deal, you won't be out of a lot of money. If they happen to really like it, then you can always go bigger. Tabletops are great for little kids because standard-sized ones are too high. They aren't so cheap that they're not worth playing, but they aren't meant for anything more than casual play.
Related Article: Foosball is a fun game for all the family, but there are also hazards, especially to small children. To keep the kids safe, take a look at our new article "Foosball Safety Tips for Children".
Intermediate
For those who have experience playing foosball, look for mid-level tables with smooth rods, adjustable table legs for a flat playing surface, and durability so it can withstand vigorous play over a long period of time. Mid-level tables are more sturdy and made with higher quality materials. They are priced in the $500+ dollar range and ideal for those who play often and want to further their skills. Look for a table that at least weighs 125 pounds. The heavier the table, the more stable it will be.
Advanced
For those who are either highly skilled or want the ideal playing experience, only the top-of-the-line models will do. These tables are regulation sized, incredibly sturdy, have a flat playing surface, and made with the highest quality of materials. They are also very heavy, some weighing more than 300 pounds. These tables are priced in the $2000 range.

Table Materials
The price of the table will usually tell the story in regards to the quality of materials it was built with.
Particle Board
If a table has particle board, then durability is going to be a concern. Particle board can deteriorate over time, which can loosen the screws, and lead to the table falling apart. How do you know if a table has particle board? If the walls are less than 1/2" thick or the table weighs less than 70 pounds.
These tables are suited for those who just want a table for their kids to play with casually for awhile, or don't want to invest a lot of money in one. However, what you gain in affordability, you lose in quality of play and durability.
Composite or Wood
Most of the expensive models are made with either composite or solid wood. However, not all wood is created equal. Some of it is pressed wood, and can warp over time because it tends to absorb moisture. Composite is more resistant to moisture, humidity, and less prone to damage. It's as durable as any material out there.
Not all wood is made with the same thickness however, so make sure to buy one that is at least 1" thick for more durability. Some of the higher end models are 1.5" thick. A thicker sidewall helps eliminate movement so the game isn't affected.
If you see any patterns or logos on the table, check to see if they are imbedded in the wood. Some of them are stickers, and will peel over time, which affects the look of the table.
Steel Rods
The three types of rods are hollow, solid, and telescoping. Hollow, steel rods are the highest quality. They are lighter, which allows users to play with more speed. This is ideal for very experienced players. Mid-level tables will often have solid steel rods, which are better for intermediates because the game is a little slower.
Some high-end tables have telescoping tubular steel rods, which consist of two pieces of metal. The inner piece slides into the outer, so it doesn't stick out on the other side of the table. The benefit is that you won't get poked by a rod from the opposite side. This is in place primarily so little kids don't get hurt.
Some tables priced over $600 or so come with machine grade cold rolled steel, which is the best steel you can get.
Surface
Smooth, hard surfaces provide the fastest game play. American tables tend to have harder surfaces, while European tables have wood surfaces for slower play. The thicker the surface, the more level and sturdy it will be. Some tables even have tempered glass for the highest-quality play.
The markings on cheaper tables tend to wear out more over time, affecting the quality of play and appearance. They are often applied using a stick-on process. More expensive tables have lines that are permanently dyed with a built-in design.

Adjustable Table Legs
The standard height is 36-inches, designed for teenagers and adults. Some tables come with adjustable legs, which allow the height to be adjusted a few inches. The main benefit however for having adjustable legs is being able to even the table on an uneven floor. The better tables have levelers for this purpose also. This is a feature to keep your eye out for.

How Much Space?
How much room do you have for a foosball table? A full-size table is 56Lx 30 W x 36H, plus you will need at least 7-8 feet of playing space around the table. Also factor in the playing the rods.

Three-Man or Single Goalie?
The three-man goalie table has the goalie mounted with two other defenders. Most American tables use this model, while European tables are more known for a one-man goalie. The three-goalie model is designed for faster play, while the one-goalie requires more precision and skill. Hence, a one-goalie table could be more ideal for advanced players.

Players
Some tables come with counter-weighted men, meaning they stay in a horizontal position until the rod is turned. By staying horizontal, they are out of the way when you are shooting. This feature is valued more by intermediate to advanced players. Also, men can be made out of plastic or metal. The latter is heavier, which gives you more power when shooting.
When you see counter-weighted men as a feature, that will tell you it's a professional table.

Warranty
The standard warranty is for one-year, though furniture styled tables come with less because they're more decorative. However, these are built very well and will last for a long time.
---
Best American Foosball Table - The Tornado Tournament 3000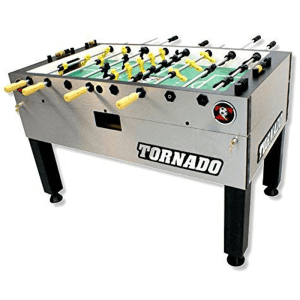 A mesmerizing piece of American ingenuity and craftsmanship, the Tornado T-3000 brings a professional grade foosball table into games rooms of ordinary foos-loving folks all around the world.
The T-3000 boasts a never-ending list of enthralling features that have helped cement Tornado's spot as the preeminent provider of premium foosball tables the world over.
This terrific Tornado foosball table is available in both single-goalie and 3-man goalie setups, and provides an unparalleled foosball experience thanks in no small part to the esteemed Tornado patented counterbalanced men that are ingeniously designed with razor sharp corners and a larger more effective cross section that deliver unrivaled ball control and incredible accuracy in passing between your foosball men.
The rod movement on this table is sublimely smooth due to the inclusion of the superior split bearings design, and the rods themselves are remarkably robust, constructed from commercial quality .156" hollowed steel.
The cabinet is just as tough, beautifully crafted using heavy-duty MDF and wrapped in a hard wearing and aesthetically pleasing silver and black laminate with eye-catching Tornado graphics placed around the table.
Another unique feature is the full-access hinged top setup that makes general maintenance and cleaning of the table a remarkably simple process.
Read Review
Check Latest Price
Best European Foosball Table - The Garlando G-5000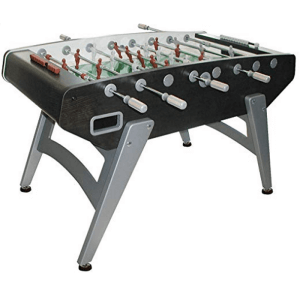 The Italian based Garlando is a well-established company in the European foosball industry with well over sixty years' experience in delivering only the finest quality products, and the G-5000 is an incredibly innovative foosball table with an inimitable design that will modernize any games room setting.
The resilient cabinet is constructed from top tier 1.5" plywood and finished in a dark wood imitation hard-wearing plastic laminate that will keep the table looking in fine form for years to come.
The durable plastic laminate playfield delivers great traction and is completed with silk-screen printing for a vivid soccer pitch replica look.
The telescopic rods make life a lot easier during heated play, and they are coated with an anti-rust chromium coating to ensure the rods last as long as the rest of the table was intended to, indefinitely.
The table also boasts steel-roller bearings that deliver super speedy response times and a strikingly smooth action.
Being of European descent, this table is set up for single goalie play, and the formidable molded plastic foosball men are so tough they will never need to be replaced.
The Garland G-5000 is the gold standard when it comes to European Foosball tables.
Read Review
Check Latest Price