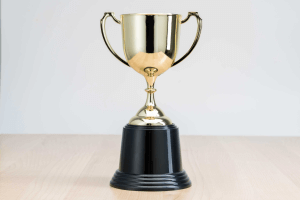 One-off games with your friends are all well and good, but nothing beats tournament play when it comes to foosball.
Whether you are looking to increase competition levels, make new friends, earn money from foosball, or just prefer that winning feeling after besting all challengers, on this page we look at how to get invited to upcoming foosball tounements, and how to put together your own.
How to Get Invited to Tournaments
Are you considering taking part in professional foosball competitions? That dream is achievable, but it is not easy to attain. The main hindrance is that foosball is a relatively new game in certain parts of the world.
Therefore, getting into a major tournament if you are in such regions can be difficult. Nonetheless, you can still get yourself invited to a competition.
The following tips are the keys you need to unlock your foosball career:
1. Sharpen Your Skills
The first step to winning a chance at a tournament is to learn the game. No one will notice you if you are the one who takes the thrashing at the foosball table (or if they do, it will be for the wrong reasons). However, if you prove yourself a worthy challenger, you can attract the attention of someone who has a say in an upcoming tournament.
Training consistently is the only way to improve. Therefore, take the time to play with your friends at the foosball gaming room. You will probably also want to buy a foosball table for home training sessions.
2. Join a Foosball Club
Joining a foosball club will help in several ways. First, most tournaments are club based; it is easy to invite a club than individuals. Being in a club also gives you an opportunity to train with fellow players. The membership to a foosball club will provide you with a reference point; those who wish to invite you to a tournament will contact your club for recommendations. Clubs also have internal competitions, which will help you to hone your foosball skills.
3. Create Your Own Tournament
Creating your own foosball tournament can be easy if you run a foosball game room or have a personal foosball table at home. Additionally, you can talk to the owner of a bar or fellow players and organize an in-house tournament.
The benefit of an in-house tournament is that it is cheap. As more people learn about your tournament, they will start looking forward to it. If your game is good, professional foosball players might invite you to be their teammate in an upcoming tournament. Also, invite other foosball players and clubs to your tournament. They are most likely to return the favor by inviting you to their competition.
For more information about creating your own tournament, see the section "How Do You Organise a Foosball Tournament?" further down this page, or click here to jump straight to it.
4. Share Your Skills on Relevant Social Media Platforms
Technology has made marketing easy and cheap, thanks to social media and other platforms. Join foosball groups, share your foosball tips, and follow other foosball players on Twitter, Facebook, and Instagram.
Connecting with other foosball players will keep you updated on upcoming foosball tournaments and application details. You will find people in your locality who will invite you to their tournaments and competitions.
5. Join the Global Foosball Community
In addition to using social media, you can join the rest of the foosball enthusiasts on online platforms through table soccer mobile applications. Through these apps, you will be able to learn of all the coming championships, their registration details, and cost. You can also use the apps to get people to attend your tournaments.
6. Apply for Tournaments
The other way to get invited to a foosball tournament is to show interest. Do not assume that there are already enough applicants taking part in a tournament, just because it is widely marketed.
To find upcoming foosball tournaments, check the websites of the leading foosball table manufacturers since they sponsor most tournaments.
Remember that foosball is still new in many regions. Therefore, you might be the only one applying from your region. In such a case, the event organizers will be willing to have you in the tournament, even if only for PR purposes.
7. Win
Getting an invitation to your first tournament might not take much effort. However, subsequent invitations depend on how you perform in your first games. Winning your games will always make your sacrifice worthwhile. The prizes will also motivate you to prepare for the next professional competition.
Conclusion
Since professional foosball playing is still not common, you can develop yourself into the most sought after foosball player in your region. Consistently work on your foosball skills, take steps to avoid foosball injuries, grab tournament opportunities, and make the best out of them.
How Do You Organise a Foosball Tournament?
8 Steps to Make Your First Foosball Tournament a Success
Ready to take your hobby to the next level? Foosball tournaments range from casual neighborhood fun to hardcore international competitions. Whether you're working out of your backyard, or going for something a lot bigger, the principles stay the same.
Foosball doesn't have to just be a casual hobby. Ramp it up with your very own foosball tournament. We tell you everything you need to know to get started.
1) Find a Venue
You'll want to have enough space for the foosball tables you're going to use - but there are other things to keep in mind, too. How long is your tournament going to last? You might want to organize drinks and snacks, or at least make sure players have somewhere they can buy them. An area to sit and chill is important, too. For casual fun, get in touch with your local bar and see if you can set up a foosball league, with tournaments on a regular basis.
2) Set the Date
Weekends are ideal if you're looking to attract a family crowd, while evenings are better if you want to take foosball back to its bar/entertainment roots. Think about the duration of your tournament, too, although this might not be easy to gauge until you've had some sign-ups, and you get an idea of how many players to expect.
3) Choose your Format
There are dozens of options for foosball formats. Some of the most popular include:
Open Doubles - Anyone can compete in teams of two (this can keep things nice and simple).
Mixed Doubles - Each team must consist of a man and a woman.
Age Brackets - A good choice if you are expecting kids or teens to compete.
Surprise Partner - Partners are drawn from a hat at the beginning of the contest.
Get this sorted early, and make it clear in your advertising. A bigger tournament may have multiple categories, but if it's your first time running the show, you might want to keep it simple.
4) Organize the Tables
You may not want to buy foosball tables, especially for your first local tournament. However, it's worth looking into hiring extra tables, to prevent too much downtime between games. In a tournament, tables matter. Read the foosball table reviews on this site to find one that fits your needs. If you want to attract serious players, make sure your advertising announces the brand and model of table you'll be using.
5) Make the Rules Clear
This is essential. Tournaments - not just foosball ones, but many other sports and disciplines too - can quickly descend into major disputes if clear rules are not set at the outset before play begins. Nip it in the bud by publicizing the rules you'll be using. Keep printed copies handy on the day, so you can quickly put a stop to any arguments. The USTSA has published a set of official rules that can be adopted (or adapted) for any tournament.
To combine room decoration with a handy rules guide, check out the Hathaway Foosball Game Rules Wall Art!
6) Organize Prizes and Entry Fees
How do you attract players to your tournament? By giving them a reason to compete. Prizes don't have to be spectacular (never underestimate the added bonus of bragging rights), but they should provide an incentive to enter the competition.
Depending on the size of your event, a single grand prize may not be enough. You might want to pick up prizes for second and third place, too. Ask local businesses if they're interested in sponsoring the tournament. If you're serious about making this an annual event, look out for a trophy, too.
7) Sort out Registration
Don't mind surprises? Then let players just come on the day, and see how many show up. However, it's smarter to get organized in advance. This will help you see how many people to expect. Provide some kind of incentive for players to sign up before the tournament. The simplest option is a discount on entry. Players can still sign up on the day, but they'll have to pay a little more.
8) Publicize the Event
Think about where and how you'll be advertising your tournament, because this will affect the demographics of your players. Posters around your local high school are good for teenagers, while flyers in bars are better for adults. Don't underestimate the influence of social media, but don't be totally reliant on it, either. A poster in real life can be a lot more memorable than an invitation to a Facebook event.
Conclusion
Remember, the easiest way to get started? Throw yourself in at the deep end. Sure, some things may go wrong on the day, but as long as your players are having fun, you'll do great, and it's all a learning experience.
Featured Tournament Table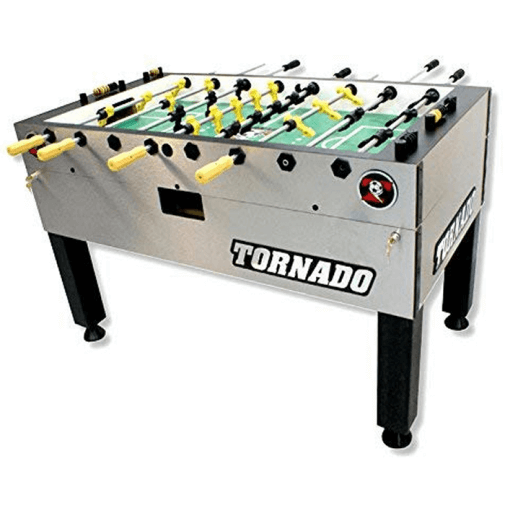 Tornado 56" T-3000 Foosball Table
56"(L) x 30"(W) x 36"(H)
355 lbs
The Tornado T-3000 is for anyone, but is primarily built for intermediate and professional level players. It's also for anyone who wants to invest in a top-of-the-line table that will last a lifetime, and for anyone who has $2,000 to spend on a table.
It's as good of a table as you will probably find on the market.
Read Review
Check Latest Price