Introduction
Whilst some people (weather permitting) are able to play foosball outside, the majority of times foosball is an indoor game.
Whether inside or outdoors though, the game and the people playing it can get noisy, and while those playing will probably not care or even be aware of it, for others nearby this noise can be a real nuisance. However, with a few simple adjustments, you can reduce the noise impact of your foosball table, to enjoy your favorite game while keeping the neighbors happy too.
Tips for Toning Down Your Foosball Noise
We all know a foosball table at home or in the office can soon become the focal point of entertainment. Whether playing against family or friends, it is a fun way to spend time together. Yet for most of us, a fun game of foosball can become pretty competitive. Whether through sheer exuberance or an adrenalin-pumping desire to win, noise levels can soon start to rise.
Between the foosball player striking the ball, trapping it under their foot, the ball hitting the back of the goal and the rods slamming into the side of the table, there is a lot of potential for noise. This will only increase as the excitement levels rise and as the accompanying chatter and laughter rise too.
However, for non-participating neighbors or housemates, the rising noise levels can lead to friction. If you live somewhere where noise could be an issue, then a little planning and a few adjustments to your foosball table and foosball room should be considered. Nobody expects you to eliminate all noise completely, but making an effort to reduce noise will be greatly appreciated by your neighbors.
Where to Place Your Foosball Table
A foosball table can be heavy and difficult to move from one room to another. If you are buying a new table, take a little time to consider your neighbors. Consider which available room is most likely to result in the least noise while playing. This could just be a matter of simple distance, putting the table in the room furthest away from the nearest house to yours.
A room that is heavily carpeted with good solid walls and doors can also help muffle the sound of a foosball game. Keep in mind that a carpeted floor may make it more difficult to achieve a level playing surface than if the table is situated on a smooth wood or concrete floor. If the table is going to be placed on carpet, try and choose a heavy foosball table with high quality leg levelers like the Tornado Classic if your budget will allow.
Sometimes the Obvious Gets Forgotten
Yes, it may sound an obvious point to make, but when your friends and family are gathered around the foosball table, make sure the doors and windows to the room are completely shut. Obvious things often get overlooked. For example, the last person who arrived may have left the door open, or a window was opened on a hot summer's day. Such things allow more noise to escape than normal.
Making Adjustments to Your Foosball Game
The stock equipment for a foosball game is not necessarily geared toward peace and quiet. After all, it is one of those games that should become naturally fun and a little raucous. However, that line of argument may not cut it with your closest neighbors. To help reduce some of the noise generated from the foosball table, there are a few adjustments that can be made:
Replace the ball – this is the simplest and cheapest noise reduction tip. By switching to a lighter, cork ball you could reduce the noise levels of its impact, though this type of ball can take a little getting used to.
Pad the goal – try padding the back of the goal with a material, such as rubber matting, to reduce the impact of the ball when it strikes.
Extra stoppers – the rods striking the foosball table can be one of the noisier elements, but extra stoppers on the ends can muffle some of this.
Address the table legs – if the foosball table is sat on hard flooring and not in a carpeted room, the vibrations through the table legs can make a considerable amount of noise. Placing something, even just a foam rubber mouse mat, under the legs can help reduce some of this noise.
Soundproofing Your Foosball Table Room
If you have made all the adjustments possible and are still having issues with noise, soundproofing the room is a further option, though a potentially expensive one. From adding thick carpeting and rugs, through to additional sound-proof insulation and heavy curtains, there are always ways to further reduce the sound emanating from a room.
When all is said and done, it can still be the cheering and shouting while playing foosball that causes the most annoyance to neighbors. Sometimes the noise from the actual foosball table is just more fuel on the fire. It is not always easy, but by calming down the celebrations when scoring and reducing our own decibel levels, we can create the biggest positive impact on noise reduction.
---
Featured Table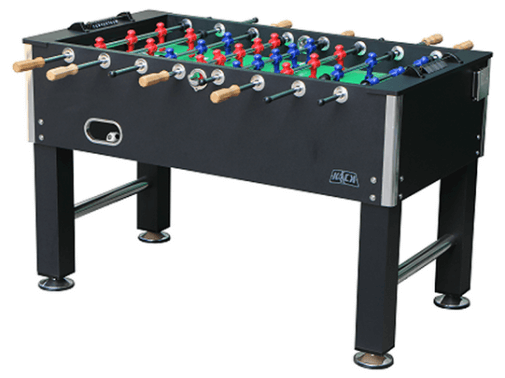 KICK Triumph Black
Combining high quality gaming, durability and stylish looks at a price point which won't break the bank, the 55" KICK Triumph Black is one of the best value foosball tables in the market today.
Read Table Review
Check Latest Price