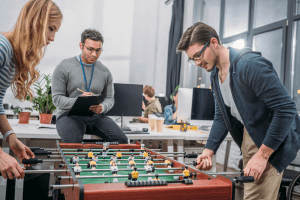 You won't find a shortage of foosball table brands. Sorting through all of those brands can be overwhelming for those shopping for a table and wanting to get the best for their budget.
A list of the top foosball table brands is pretty subjective. How exactly does one create such a list? What's the criteria? The common denominator among top brands in any industry is quality. Here are some brands that we believe deliver in this area.
Tornado
You won't find many who will dispute that Tornado has the best line of tables. They're used at professional tournaments all around the world. Tornado originated in 1970, so they have stood the test of time.
If you read enough customer reviews, you will notice a trend. That is, if you really want a high quality foosball table, get a Tornado. I recall reading a customer review that was dissatisfied with the table they bought. They went on to say that they should have just bought a Tornado. You simply can't go wrong buying one.
They have six tables to choose from, all priced between $1000-$2000. You could argue that each one is the best table out there at their respective price.
The best of the best is their T-3000 model, which has just about everything you ask for. What I really like about their tables is the 3/4" playfield. I have seen few other brands match this thickness. I have seen some as thin as 3/16" - such a surface is bound to warp and break down sooner rather than later.
---
Featured Table: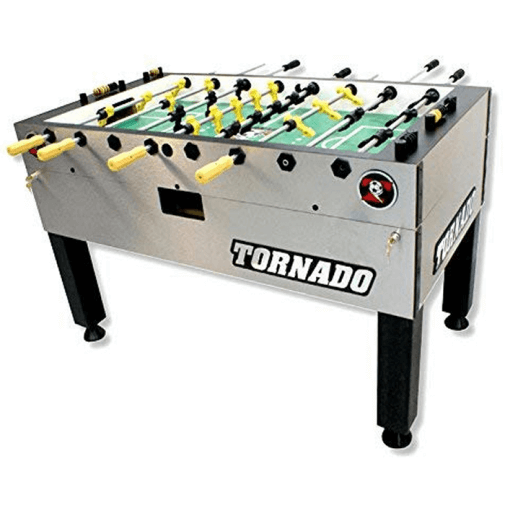 Tornado T-3000 Tournament
The Tornado T-3000 is for anyone, but is primarily built for intermediate and professional level players. It's also for anyone who wants to invest in a top-of-the-line table that will last a lifetime, and for anyone who has $2,000 to spend on a table. It's as good of a table as you will probably find on the market.
Read Table Review
Check Latest Price
---
Click Here to View All Tornado Foosball Tables
KICK
KICK are one of the newer foosball companies which quickly gained respect from their customers for offering quality products at affordable prices. Those are not just empty words as they are one of few companies on the market which offer a lifetime warranty on all their tables.
Their best tables go for less than $600 and for that price you get a quality table with leg levelers, counterbalanced men, 1 or 3 goalie setup, front ball return, 6 foosballs and excellent customer support which will help you with any issues you might face and make sure you are completely satisfied with your purchase.
Unless you're a competitive player who needs a tournament level table any of their 55" tables will surely do the job.
---
Featured Table: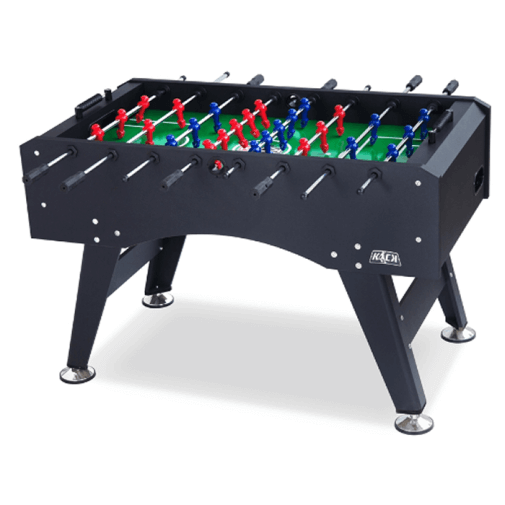 KICK Topaz
The minimalistic design of the counterbalanced foosball men brings more focus on the foosball ball, allowing the players to easily track its location. The counterbalanced feature also aids the game when playing one-on-one, since the foosball men balance themselves horizontally when you are not holding the grip.
Read Table Review
Check Latest Price
---
Click Here to View All KICK Foosball Tables
Garlando
Garlando is an Italian company that has been around for more than 60 years manufacturing ping-pong tables, pool tables, air hockey tables, and of course foosball tables. Some of their foosball tables are very unique in design, but others are more traditional, giving the customer a wide range of choices.
The G-500 in particular has an indoor and outdoor version that is built to handle the elements.
You can see the European flavor in their tables, but they do make ones that are geared towards an American style of play. Garlando has received awards for safety, and that is evident with their telescopic rods that prevent players from being poked. They don't have the heaviest tables, but the quality is top-notch.
They have coin-operated tables for commercial use, but have a vast line of residential tables. The G-5000 is their highest priced non-coin operated table. It features a highly durable 1-1/2" thick plywood cabinet and 2/3" diameter steel telescopic safety bars.
---
Featured Table: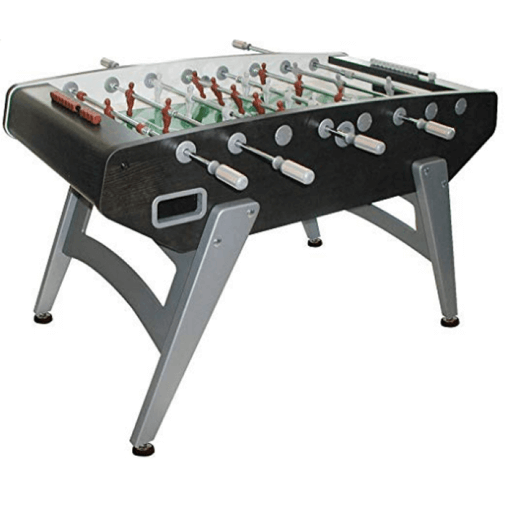 Garlando G-5000 Wenge
The Garlando G-5000 Wenge is made for beginners and professionals, children and adults alike. But anyone used to counterbalanced players may not appreciate the rest of this table.
This is especially true for those who love to play a singles game, or those who do not like a slower, more technical style of play.
Read Table Review
Check Latest Price
---
Click Here to View All Garlando Foosball Tables
Shelti
They haven't been around as long as Tornado, but might be one of their biggest competitors long-term. Shelti is a brand under the company Gold Standard Games, which has been in the business of producing arcade games for over 65 years.
A man named Mark Robbins bought Shelti back in 2010. He is well-known for his work in the Dynamo Company that produces the Tornado tables. You can tell that Robbins values quality based on what he has produced so far.
Shelti's top-of-the-line table is the Pro Foos III, weighing in at a robust 375 pounds. Their professional series tables are as nice as any you will find on the market outside of Tornado. They're attractive, made with high quality, and have features that experienced players value.
---
Featured Table: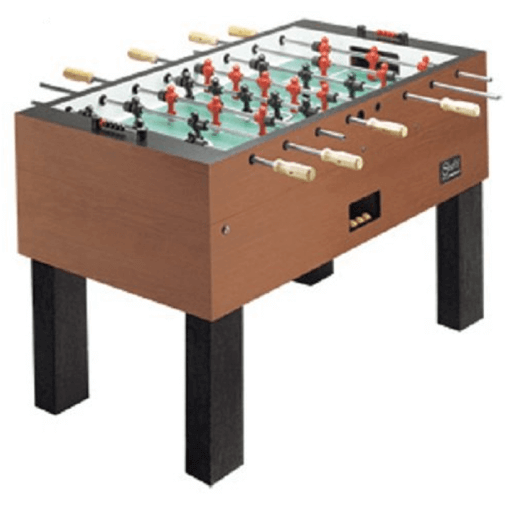 Shelti Pro Foos III
The Shelti Pro Foos III is for the more serious foosball players that can really take advantage of all that this table offers.
The table's robust construction also makes it a perfect choice for use in high traffic areas like bars or community centers.
Read Table Review
Check Latest Price
---
Click Here to View All Shelti Foosball Tables
Atomic
Atomic foosball tables are some of the newest on the block, although they have already caused quite a stir with the quality of product and new features that they boast. Atomic are part of Escalade Sports, a company which has been around for around eighty years now and has produced all manner of sporting goods, including pool, fitness equipment and air hockey.
---
Featured Table: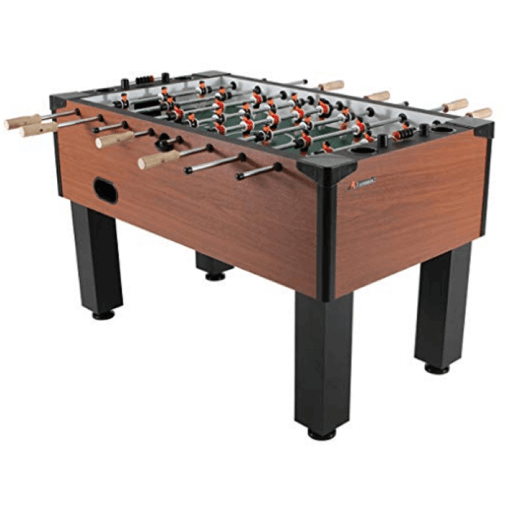 Atomic Gladiator
The Gladiator is built for teenagers, adults, beginners and intermediate players who don't mind not having counterbalanced men. It's a solid table that will withstand vigorous play.
The rods and surface create fast play that intermediate players will enjoy.
Read Table Review
Check Latest Price
---
Click Here to View All Atomic Foosball Tables