Introduction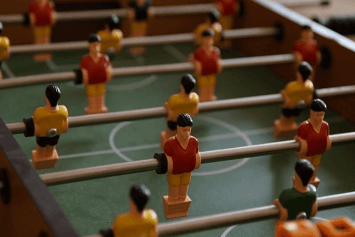 Foosball tables come in all different sizes, ranging from small tabletop foosball tables such as the Sport Squad FX40 right up to the large tournament tables like the Tornado T-3000. Well, unless you count the longest foosball table in the world according to the Guinness World Records site which measures in at a colossal 451 ft 11 in!
But assuming you don't have the space or know enough people to make use of such a table, you'll probably be looking at foosball tables sized between the Sport Squad FX40 and the Tornado T-3000.
What are the Dimensions of an Adult Foosball Table?
Professional/Serious Recreational Play
Most foosball tables intended for adults measure 56 inches in length. Unlike in a game such as tennis, where the size of the court is standard in every tournament around the world, there is no one foosball table that is used in every foosball tournament that takes place. Instead, a number of tables by different foosball manufacturers are approved by governing bodies such as The International Table Soccer Federation and The United States Table Soccer Organization, and any of these tables can be found being used in tournaments.
That being said, the dimensions of these tables are very similar, so it is not really as much of a mix of sizes and standards as it sounds. Typically, a tournament foosball table measures 56 inches in length, 30 inches in width, and 36 inches in height. Other officially sanctioned tournament tables may be an inch or two different in places, but they will all conform roughly to these specifications.
Plus, of course, it is not just size that is important in terms of being accredited to have your tables approved for use in official tournaments and competitions. Only the very best foosball table brands that have proven their pedigree in terms of producing robust, high-quality and well-performing tables will be chosen to have their tables used in professional foosball competitions. After all, nobody wants to have to cancel a tournament mid-way through because the table has collapsed and fallen to pieces!
Other Sizes
Unfortunately, not everyone will have the space or be willing to spend the money that would be required to have a 56 inch foosball table in their home, the office or other premises. There are a whole range of foosball tables that come in smaller sizes. Some even perform other functions, such as foosball tables which also double up as coffee tables when not in use!
What are the Dimensions of a Kids Foosball Table?
Again, this can vary, although this time the key determining factor is often the age of the child or children that will be using the table. For example, younger children will appreciate the slightly smaller KICK Monarch foosball table which is 48 inches in length and 24 inches in width. Parents and guardians may also like the fact that this table folds up. A folding foosball table is a great space saver as the table folds up when not in use, so does not sit there taking up floor space like a regular foosball table does.
Older children and teenagers, however, are likely to prefer playing on a full-sized table. As great as it is for them to play on a professional foosball table like the Tornado T-3000, spending over $2,000 on a foosball table for the kids is not going to be a viable option for a lot of people! Fortunately, there are a number of full-sized tables available in the market today that are of great quality and do not cost a fortune to buy.
One such example is the KICK Topaz foosball table. Not only does it look cool with its black color and chrome-plated rods, but it is:
A heavy and sturdy table;
Is made of high quality, durable materials;
Is a full-sized table with dimensions of 55"(L) x 30"(W) x 36"(H);
And costs about a quarter of the price of a Tornado T-3000 table!
---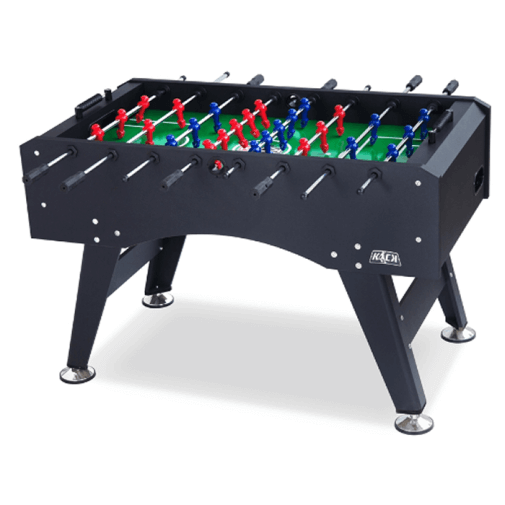 KICK 55" Topaz Foosball Table
55"(L) x 30"(W) x 36"(H)
115 lbs
The non-slip wooden handles that are coupled with steel rods allow the table to take some punishment from strong blows and jerks during a game. The rubber stoppers ensure that the players don't slam the men against the wall in an intense game.
The men are made of hard plastic and can withstand some hard beatings for a couple of years before they need to be replaced - this adds some serious durability points.
Read Review
Check Latest Price
---
Other Things to Consider when Looking at Foosball Table Dimensions and Sizes
Space For Players To Stand and For Moving The Player Rods
One of the most important considerations to think about before buying a foosball table is the room in which it will be located. Or, more specifically, ensuring that there is enough space in the room not only for the table itself, but also plenty of space for players to stand at the side of the table and pull the roads all of the way out without impediment.
It will severely impact the fun and enjoyment you get from your brand new foosball table if you miss shots or your goalie lets the ball go in because you can't quite extend the rod all the way and have to cope with gaps that are impossible to close.
So, when looking at available foosball tables for your budget, always consider the amount of space necessary for people and player rod extension, and not just the space that the table itself will occupy.
Storage Space
We mentioned earlier how fantastic an idea folding foosball tables are, in that they can be folded up and stored away when not in use. As well as thinking about how much space a foosball table will require when it is being played on, it is also important to consider the space it will take up when it is not being used.
Unless you are fortunate enough to have a dedicated games room in your home or office where the foosball table will live, for others the table will have to go in a room of their house that will be used for other things. It may be in a dining room where people need to eat, in a garage that needs to fit in a car, a child's bedroom where they need to sleep and have space to play with other toys and activities etc. Where a room serves a number of functions, it is necessary to remember that a foosball table will occupy space, and when looking at dimensions before buying you need to ensure that the table won't fill the room and prevent whatever else needs to happen or get in the way of other items that need to be stored in there too.
Buying a Foosball Table for Children? Remember That They Grow Bigger!
It is true that, almost without exception, foosball tables for younger kids are smaller and cheaper than their full-sized counterparts. But one think to keep in mind before you rush out and spend money on a smaller kids foosball table is that all too soon they will have grown bigger and stronger and may then have outgrown the kiddies table.
When this happens, would you be ok with forking out more money again to buy a bigger table? Or would you be better off buying a larger table now which they will grow into? It may mean more expense, but will in all likelihood cost less overall than having to buy two tables. The table might be too big for the child to get maximum enjoyment out of initially, but as they grow up and get older, they will appreciate the larger dimensions and hopefully get many years' worth of enjoyment out of the full-size foosball table.
Weight. Is it Too Heavy for Where you Want to Put It?
A lot of the focus of this and every other article about foosball table dimensions will be concentrated on the length, width and height of the table, but not many will also consider that related topic: weight.
A heavy table is a necessity for serious foosball players. The heavier it is the more sturdy the table, meaning that it can withstand enthusiastic gameplay without moving around all over the floor. Not only is this annoying, but it also makes playing skill shots extremely difficult, as a player will have to constantly move and realign themselves to cope with a table that is shifting position all of the time.
As a general rule, the bigger the table is the heavier it is likely to be, although it does depend also on the materials used in its construction (e.g. real wood versus MDF, hollow rods versus solid rods). It may not be the first thing you think about when browsing available foosball tables, but the weight of the table could end up causing you issues.
One is the inconvenience and effort that would come with maneuvering a table that might weigh over 300 pounds into the right room and its final position. If not done properly, all kinds of injuries could ensue such as slipped discs and dislocations.
And while it may be fine if the table is going in a ground level room, what about if you wanted to put it in a room upstairs? Can your floorboards cope with such a weight concentrated in one small area of the floor? Can you even physically carry it up the stairs? All of these questions regarding foosball table weight need to be thought about before you make the decision of which table to purchase!
Conclusion
While there are a myriad of considerations to think about for the tables themselves in terms of playability, features and the like, it is also imperative that you factor in the dimensions and weight of a foosball table before choosing it as the one to buy. Not doing so could result in a costly mistake when you try to set up your new foosball table and just want to get playing on it.
---
Featured Table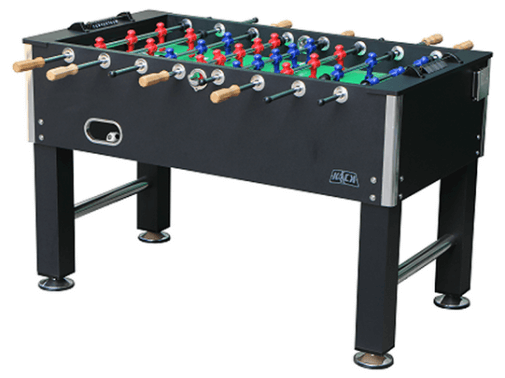 KICK Triumph Black
Combining high quality gaming, durability and stylish looks at a price point which won't break the bank, the 55" KICK Triumph Black is one of the best value foosball tables in the market today.
Read Table Review
Check Latest Price