Introduction
Foosball is an incredibly fast and fantastically fun pastime that just keeps on growing in popularity.
What makes foosball so unique is that it has successfully recreated the impassioned intensity and raging rivalry of outdoor action sports, like football and soccer, but in a more accessible and relaxed social environment.
Previously the exorbitant price tag and a lack of space prevented us from owning a table of our own.
Folding foosball tables have destroyed those limitations, and so we present you with this detailed buyer's guide to help you find the Best Folding Foosball Table to fit your needs and budget.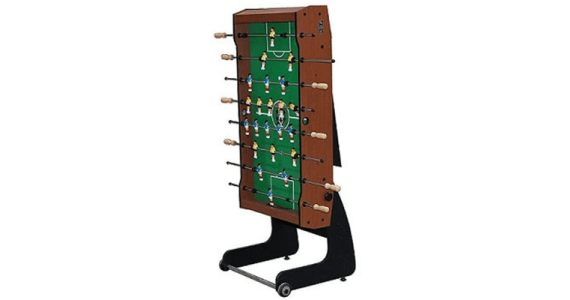 Choosing the Right Folding Foosball Table
Nowadays it is not that uncommon to arrive a friend's place only to discover a foosball table surrounded by a passionate pack of enthusiasts utterly absorbed by the thrill of the game.
So, if you are looking to bring a bit of that magic to your own humble abode the next time you to throw a little shindig, you will want to be confident that your table is of a good enough standard that it doesn't disappoint your guests.
What exactly should you be looking for when shopping around for your very own foosball table?
A few important things to keep in mind are:
Materials Used
There are a lot of substandard foosball tables on the market that lure you in with their cutthroat pricing.
But rather shop around a bit longer and spend a bit more to ensure you don't land up with a table that is cheaply made and doesn't have enough weight on it to allow for decent playability.
A lot of decent foldable tables are crafted with sturdy MDF and finished off with a quality PVC laminate veneer, giving you a nice looking sturdy foosball table.
There are also a few quality heavy duty plastic tables out there, but make sure the table isn't too light or flimsy.
You also want to make sure the table comes with strong hollow steel rods that won't easily bend if play gets a bit aggressive.
Make sure that the playing field itself is not too thin and that it isn't made from a material that will warp as that will result in dead zones and kill the enjoyment of the game.
Features
Have a look at the features of each table you are considering. You want to make sure it has score dials on either end, and a ball return that doesn't take too long to return after a goal is scored and that the balls won't get trapped in.
Whether a feature is a must have or not is generally down to your own preferences. Some tables have cup holders, some offer both 1-man and 3-man goalie set ups, some offer only one.
One feature some tables offer that can make a big difference in your overall experience is whether the players are counter balanced or not.
If players are counter balanced that means they have equal weight in the feet and head area, which means if you turn the rods half way and leave it there your player will not return to the upright position. This is particularly useful if you are playing one on one, and you don't want your unattended players to block your shots on goal.
Adjustable Legs
This is an important feature for foosball tables as it prevents the table being unlevel and giving one side an unfair advantage.
The Best Folding Foosball Tables
Please see below for a selection of the best folding foosball tables currently available to buy: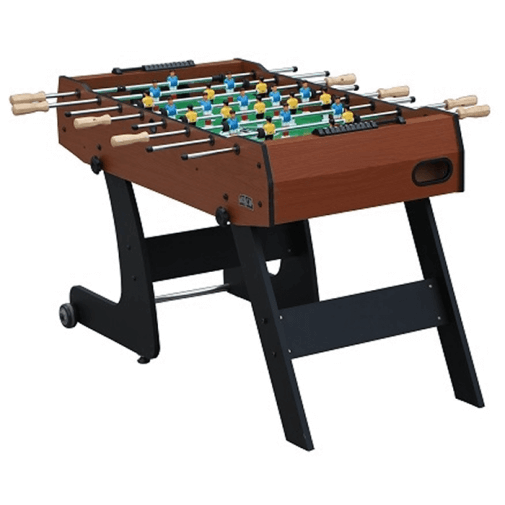 KICK 48" Monarch Folding Foosball Table
48"(L) x 24"(W) x 31"(H)
75 lbs
A sturdy and stylish foosball table selling at a very attractive price. It conveniently folds away for easy storage or for transporting. As with all KICK products, this table comes with a lifetime warranty on all parts. It also allows for both 1-goalie and 3-goalie style of play, and comes with a built-in leveling system.
Check Latest Price
---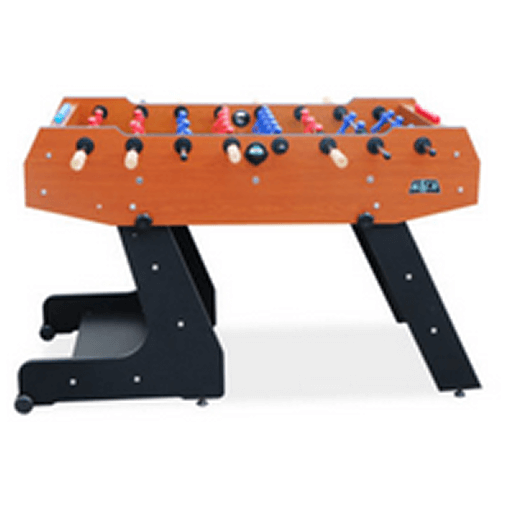 KICK 55" Majesty Folding Foosball Table
55"(L) x 30"(W) x 35"(H)
119 lbs
Want a folding foosball table but don't want to be forced to play on a small table when it is in use? The KICK Majesty is the answer! Not only does it fold up for easy storage, but at 55" it is larger - and heavier (therefore more sturdy) - than most other folding foosball tables available to buy.
Check Latest Price
---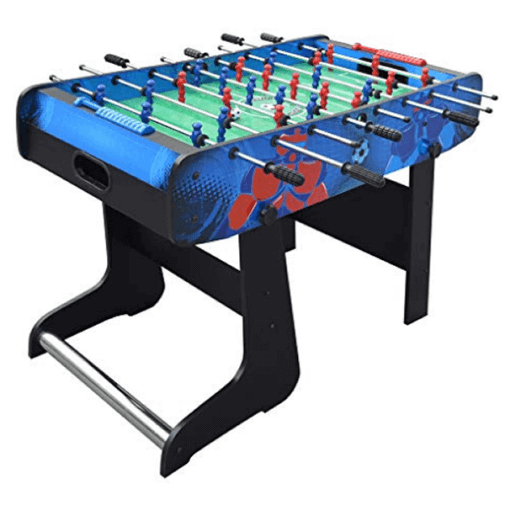 Hathaway 48" Gladiator Folding Foosball Table
48"(L) x 24"(W) x 32"(H)
60 lbs
The robot-inspired graphics should be a clear enough indication that this is a table with children and fun in mind rather than the more serious foosball enthusiasts, but is flamboyantly vibrant foosball table intended to be enjoyed by the whole family.
Check Latest Price
---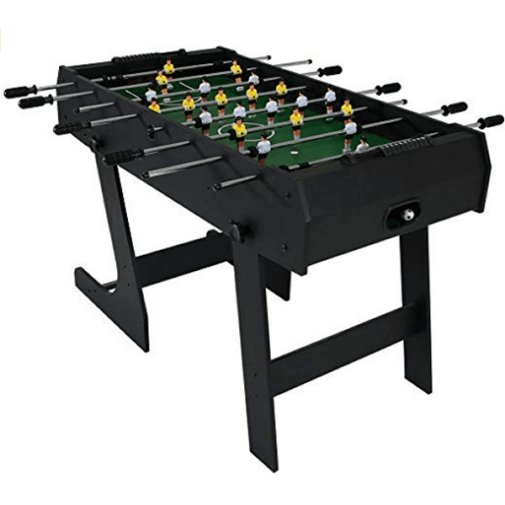 Sunnydaze 48" Folding Foosball Table
48"(L) x 24"(W) x 32"(H)
48 lbs
The Sunnydaze Folding Foosball table is a space-saving and affordable product that is far more resilient than many other tables in this price range.
Made from 15 mm MDF and finished off with a respectable looking PVC laminate, the table is designed to make the transformation from fun foosball table to easy to store compact unit as hassle-free as possible.
Check Latest Price
Tabletop Foosball As A Cheaper Alternative
This is an excellent alternative if you want to play foosball at home or in the office, but don't have the space for a full-size foosball table.
Simply set this tabletop unit on your coffee table or any other surface, and you can start having a fun foosball game with your family and friends.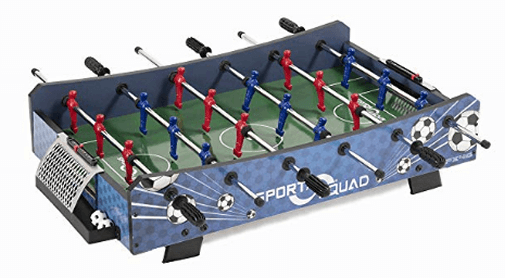 Sport Squad 40" FX40 Tabletop Foosball Table
40"(L) x 20"(W) x 8"(H)
15 lbs
Whether you're looking for an enjoyable gift for the kids, the workplace, or something that the whole family can enjoy, the Sport Squad FX40 Foosball Table is a good and affordable option.
Solid and well-constructed, this table top game provides tight fittings and relatively easy assembly.
Read Review
Check Latest Price