The game of foosball can generally be considered safe to play for people of all ages. Nevertheless, it does require you to perform the same motions repeatedly, and this, coupled with the fact that serious players may spend hours practicing the various techniques on their own foosball table at home, means there is a small injury risk.
One of the main areas of your body that can suffer as a result of regular or prolonged play is your wrist. Of course, many of these injuries can be prevented if you take the right precautions. Furthermore, with the right treatment, you should be able to recover from these injuries fairly quickly and get back to playing.
The Most Common Foosball Injuries
Although injuries caused by playing foosball are relatively rare, wrist injuries represent one of the main exceptions. When it comes to the injuries that can be sustained from playing the game, some of the most common are:
Repetitive strain injury (RSI)
Tendinitis
Carpal tunnel syndrome (CTS)
Wrist sprains
As the name suggests, a repetitive strain injury in the wrist occurs as a direct result of repeatedly using the same movements, and this can be a problem for regular foosball players. Tendinitis is caused by inflammation in the wrist tendons, while carpal tunnel syndrome can occur as a result of repeatedly bending the wrist or gripping hard. This causes the carpal tunnel to swell, applying pressure to the nerves, ultimately leading to pain and/or numbness.
Prevent Injury While Playing Foosball
Many of the wrist injuries that occur at a foosball table are caused by fatigue or repetitive motions. For this reason, getting adequate rest is the single most effective preventative measure you can take. You should pause for regular breaks when practicing your skills at home, and it is important to rest between games too.
Pre-game stretching exercises may help you to avoid muscular injuries, so it can be sensible to make these part of your routine. Some players opt to wear gloves, which can enhance your grip on the rods, while others opt to wear wrist supports. These may be sensible precautions if you play often and are particularly prone to wrist injuries.
It is worth taking the time to read foosball table reviews, so you can find one with comfortable grips and the rods positioned at the right height. If you buy a table that is too high or too low, you may find your wrists are positioned at awkward angles during play. If you buy a folding foosball table, take care when setting it up and putting it away.
Learning the right techniques when playing foosball can also help to prevent injury. Avoid falling into bad habits, like prioritizing power shots over technique. Try to stop playing at the first sign of injury too, as continuing to play foosball through the pain could lead to further damage to the tendons, ligaments or muscles in the area.
How to Treat and Alleviate Injuries
It is important to stress that if you do sustain a painful wrist injury, you should seek professional medical advice. With that being said, the kinds of wrist injuries that are typically caused by playing foosball can usually be treated at home, resulting in pain relief, and, eventually, leading to full recovery.
The first step is to make sure you rest your wrist sufficiently. This may mean temporarily ceasing all foosball activity until the injury heals. If you are going to continue to play, you will need to make sure your wrist is adequately supported and that you are taking the preventative steps outlined above to avoid causing further damage.
Painkillers, like paracetamol or ibuprofen, can help to relieve the pain. However, you should wait at least two days after sustaining an injury before you start to take ibuprofen, as it has been known to slow the healing process for certain injuries, including tendinitis. This occurs because ibuprofen inhibits collagen production.
Carpal tunnel syndrome is often treated by wearing a wrist splint, especially overnight, while hand exercises may help too. Finally, the inflammation and swelling associated with injuries like strains and tendinitis can be relieved by icing the area, wrapping it in a bandage for additional support, and elevating your wrist whenever you are lying down.
---
Featured Table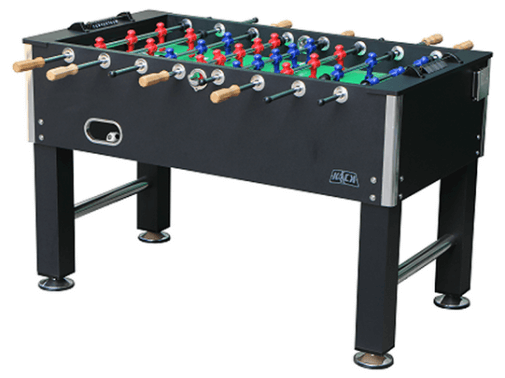 KICK Triumph Black
Combining high quality gaming, durability and stylish looks at a price point which won't break the bank, the 55" KICK Triumph Black is one of the best value foosball tables in the market today.
Read Table Review
Check Latest Price