Introduction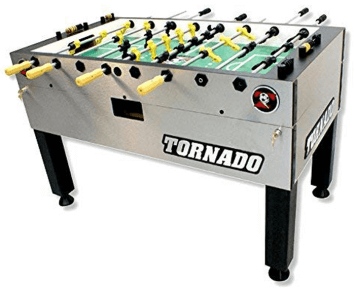 Believe it or not, there is a subtle art to choosing the right foosball table. Your choices can depend on the skill level of the people you expect to be playing, the area you intend to have the table in, and even the aesthetics of the foosball table and its surroundings. If you're looking for a foosball table that meets one or all of these key features, then you're likely looking for a Tornado.
The Tornado brand has been making foosball tables for decades, and has been hailed as one of the pioneers of the sport because of how durable their tables are. They can be found in bars, arcades, and homes all across the world and have been used in the World Championships ever since 1986.
Tornado Foosball Tables are used in America's most important championships. They are sanctioned by the International Table Soccer Federation (ITSF), United States Table Soccer Association (USTSA), United States Table Soccer Federation (USTSF), and Valley International Foosball Association (VIFA) governing bodies.
Tornado tables have been crafted in various different styles - although there are key features that are consistent throughout every design - and are made to make sure you are able to keep a high amount of control over the ball while playing. Tornado is so good at their craft, that many of the ideas and innovations that have become part of their tables have been patented by the company. Their craftsmanship, combined with their well-known practice of using top-notch materials, ensures that once you've bought a Tornado table, you can expect it to keep it for many years without it losing functionality.
History of Tornado Foosball Tables
Tornado's history actually begins with another table game company called Valley.
Valley, which was founded in 1940, was the foremost leader in the coin-operated pool table industry. In 1970, the Tornado company was born from within parent company Valley when a man named Bob Furr came up with an engineered table to be used commercially inside of foosball halls and bars within the US.
Since that time over 40 years ago, Tornado has made several different models of foosball tables (both coin operated and non-coin operated) and has even been recognized as an official table of the ITSF (International Table Soccer Federation).
Today, Tornado is recognized the world over as the best playing table makers by many foosball players.
What Makes Tornado Brand Foosball Tables A Step Above The Rest?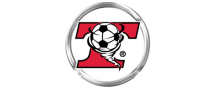 By now, you've probably caught on to the fact that Tornado foosball tables are well regarded by many people. What you might be really wondering though, is the why. What is it that makes these particular tables so much better than any other? Sure, if you've read this far, you've gotten some vague ideas as to why, but if you're looking to buy a Tornado foosball table, you're probably wanting something more substantial. Fair enough, if you really want to know what makes Tornado tables so sought after, then this list will put the company's quality standards in clear perspective:
Plenty of Experience
They've been making foosball tables for over 40 years. As is the case with practically all skills, that's more than enough time to at least become proficient at it. In Tornado's case, this was enough time for them to become undisputed masters at creating quality foosball tables. They know how to read the market and what it is that consumers want, and are able to combine this with their high-quality craftsmanship to make excellent products.
Durable Products That Can Be Used Both Commercially and Professionally
It may not seem like it, but a game of foosball can get pretty intense. In both competitions and commercial areas, the players can become rather absorbed in the game, so to speak. This can lead to rough, sporadic, and violent movements as each player tries to get one over on their opponents. Tornado brand foosball tables are made with top-notch materials so that damages caused by roughness are minimized.
Each table is made with tough, durable materials which makes them difficult to damage accidentally and long-lasting. Tornado products may be on the more pricey side compared with other foosball table manufacturers, but it's worth it to ensure that players of any skill set and classification can play to their heart's content and not have to worry about rough play damaging their tables.
Replacement Parts Are Easily Accessible
Even Tornado foosball tables may need to have some parts swapped out eventually. As stated above, foosball games can get rough, and even though it may not happen often, some pieces may break and need replacing. Or it could just be the case that after having your table for so long, a component has simply worn down and needs a new one to take its place.
The thing about foosball tables in general though, is that there's either not too many brands that have replacement parts, the parts can only be used for specific brands or there's just flat out not very many places to find spare parts. With Tornado, on the other hand, it's as easy as calling them up and telling them what you need or searching about online. Because of Tornado's seeming preparedness for people needing replacement parts, you can rather easily get a hold of them and they are even compatible with other table brands.
You Can Put Them Anywhere
Just because it's a foosball table doesn't mean that it can't be well designed. The thought and care put into the aesthetics and build of each table mean that you can place them anywhere, be it a bar, your home or inside of an office. Depending on which model you pick, it can either stand out as the centerpiece of the room or can blend into a quiet corner until the time comes to play a good game of foosball.
As stated before, Tornado tables are great for bars and can also be placed inside of game rooms or arcades. If you like, you can purchase a coin-operated model as well. The need for change can limit traffic to the table and provide extra revenue to your establishment.
General Tornado Foosball Table Features
Some of the most popular brands in the world are popular because most if not all of their products have some of the same or similar features. These brands are well regarded because of consistency. They've perfected a particular trait and have incorporated it in a way that pleases their customers. Tornado is among one of these companies. This list of features contains some of the main components that you can expect to see as a part of a Tornado table.
Natural solid-wood handles and leg support
Patented, counterbalanced Tornado men
Adjustable levelers
Lightweight rods
Increased cross-section which allows for better passing and control of the ball
Durable 0.25 inch thick laminate playfield made with Tornado's patented split bearing design
Made to be easily removed for cleaning and replacement
Classically styled black and blond colored goal counters
Each table is built in Richland Hills TX, USA
Conclusion
The fantastic thing about Tornado is that regardless of what skill level you are, what kind of table you're looking for, what your decorating sense is or even if you know absolutely nothing about foosball; they've got a table for you. There are so many options to choose from and so much skill and care that goes into making each table that you're likely to be satisfied no matter which model you decide on.
At the end of the day, most of us have at least one luxury item that we really wish we had, for some of us, that luxury item just so happens to be a foosball table. Sure the Tornado brand can be a bit pricey, but look at it this way; you're paying for a high-end, excellently crafted, beautiful piece of furniture that you can play with, and that can go pretty much anywhere you'd like it to.
With Tornado, you are paying for your forever foosball table. It could potentially last a lifetime, but if for some reason something on it breaks, it can be rather easily replaced. If one day you want or need another table, you'll already know who to go to. Professional organizations and novices alike choose Tornado as one of their most favored foosball table brands because with them you get quality assured products. Tornado offer plenty of reasons why you should choose their tables. One thing is sure though, if you choose Tornado, you won't have any reason to regret it.
Tornado Foosball Tables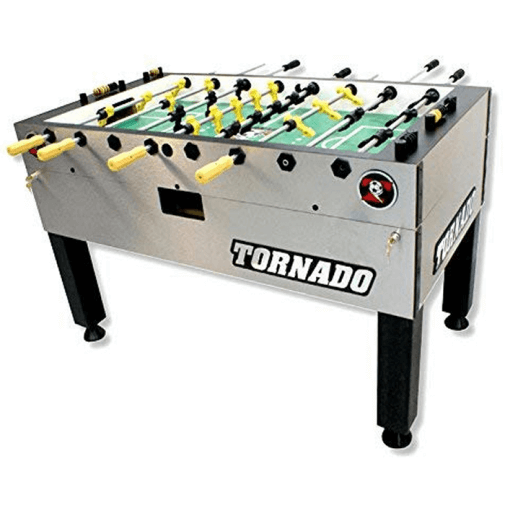 Tornado Tournament 3000 Foosball Table
The Tornado T-3000 is for anyone, but is primarily built for intermediate and professional level players. It's also for anyone who wants to invest in a top-of-the-line table that will last a lifetime, and for anyone who has $2,000 to spend on a table. It's as good of a table as you will probably find on the market.
Read Table Review
Check Latest Price
---
---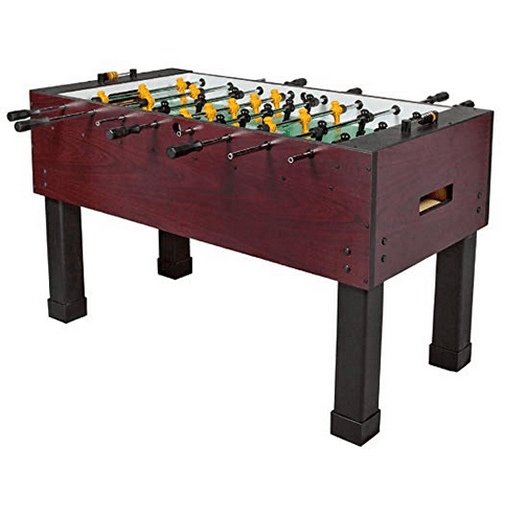 Tornado Sport Foosball Table
The Tornado Sport is suited for teenagers, adults, intermediate, and beginner players. It's heavy enough to handle aggressive play, but not too advanced for a beginner. If you want a table that is built to last for around the $1,000 mark, I don't think there is a better one out there.
Read Table Review
Check Latest Price
---
---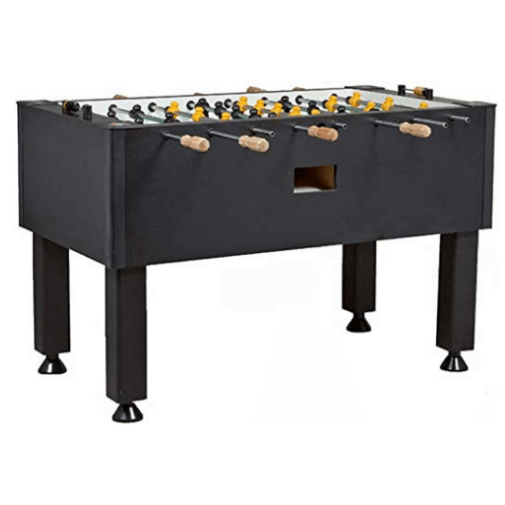 ---
---
Tornado Elite Foosball Table
The Tornado Elite has a Victorian Cherry laminate finish and a very traditional, heavy appearance. The wood finish, dark legs, and green playing surface are very common among foosball tables. The yellow and black robo style men and light colored handles provide contrast. If you are looking for a traditional, high quality table, you can't do much better than the Elite.
Read Table Review
Check Latest Price
---
---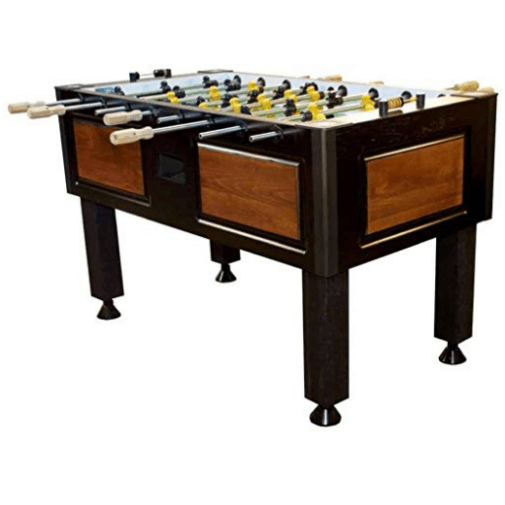 Tornado Worthington Foosball Table
The Tornado Worthington table is in the high-price range among the rest of the foosball tables made by Tornado Foosball tables, and it promises a commercial-grade quality table for a great performance. It includes a variety of quality features that make it exceptionally functional and valued at its price.
Read Table Review
Check Latest Price
---
---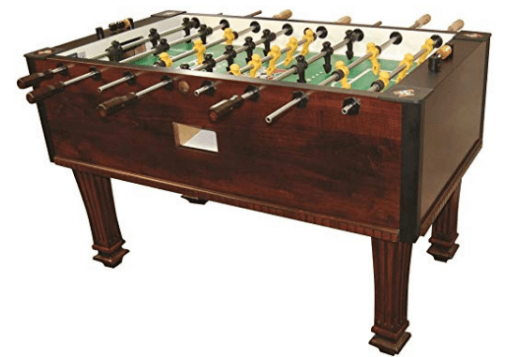 Tornado Reagan Foosball Table
The Tornado Reagan must be one of the most aesthetically astounding foosball tables available on the market today. It boasts a classically elegant design, from the magnificent maple finish to the decorative dentil moldings, which means this table would be right at home in even the most sophisticated of settings.
Read Table Review
Check Latest Price
---