Introduction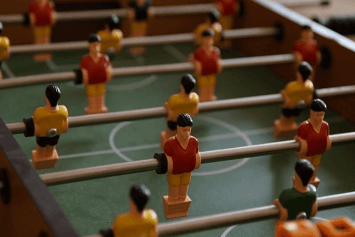 So, you're a foosball fanatic and are looking to make sure that you take the best care of your table. It's understandable and definitely something to applaud. After all, there are people who buy all sorts of things but never take care of them, resulting in overused, broken technology that someone else would have killed to have and taken care of.
The thing about cleaning and maintaining your foosball table is that, like most things, you must do it often. It is needed because the odds are that you're using it a lot and it will wear down accordingly. Here are the essentials to remember.
Firstly, make sure you keep track of how often you use your table, approximately. You must make sure that you clean your table once a week if you use it continuously and often. If you are a more recreational player or only use it during parties, cleaning it once a month should keep it in order. That being said, make sure you keep an eye on it to make sure it is holding up over time. If you notice that it's starting to look rundown, you may want to consider cleaning it more often.
How to Clean Your Foosball Table
You must make sure that you clean and take care of every part of your foosball table. Start with a can of compressed air to blow away any particles and dust that are in hard-to-reach places. Make sure you get into all the nooks and crannies with this can, as it can lead to a better overall appearance and health of your machine. The main problem that keeps you machine under the weather is the fact that food and drink often get spilled onto the table while playing and get struck in the tiny spaces a cloth can't reach. Make sure you start the process with the compressed air and you'll see the difference it will make.
Next, get a dry cleaning cloth (soft and free from chemicals) and wipe down every part of your machine, including the rod handles and men. This will free the surfaces from any noticeable debris and spillage. You may notice, upon finishing, that there are still some stains. Don't worry, as that will come after the initial cleaning stage. If you can, remember to wipe down the legs and even the bottom part of the foosball table, as you never know how far dust can run to hide from you, after all. This stage is great for making the next one easier.
Take a clean cloth (also soft and chemical free) and apply some rubbing alcohol to it. For best results, use one that is 70%-80% by volume. Carefully wipe down every surface of the table like you did with the dry cloth. If you use it sparingly, you'll notice that the rubbing alcohol will evaporate quickly. It will not leave residue or a smell as long as you use it in the right quantities. This alcohol will both clean and sanitize your table from top to bottom, so make sure you are thorough and get in all the hard-to-reach places. If there are black marks from the balls, rub at them as hard as it takes to get them off, being careful not to harm the rods or men, of course.
Lastly, use foosball silicone on the rods, which will apply a slick (not slippery) finish to the rods resulting in a smoother and well-working game. This is something that is specifically designed for foosball tables, so it will not impact your game and will actually keep everything functioning as well as possible. After all, it's all well and good to have a clean table, but it's no good if the rods aren't working properly. On that same note, make sure to never use WD-40 on the rods, as it will make the rods too slippery at first and then degrade them overtime, causing poor games and malfunctioning equipment.
If you find that your foosball balls are looking ragged, clean them down with the rubbing alcohol as best you can. If they are still looking worse for wear, put them in a tied off sock and run them through the washing machine with a load of whites. Do not put them in the dryer, and let them air-dry instead. Odds are, they'll look much better after this process. If not, it is worth replacing them. They have such a significant impact upon gameplay and cost relatively little in comparison with the amount of money you've paid for the foosball table already, so it is worth the expense. For inspiration, check out our article on the best foosball balls here.
Maintaining Your Foosball Table
It should be mentioned that foosball tables, aside from ones specifically built for the outdoors, are only meant for indoor use, so your table will wear down faster if you are using it outside or anywhere the elements can get at it. Make sure you keep it at room temperature, and keep it away from direct sun exposure as much as possible.
In maintaining your foosball table, check your rods and mend regularly. They may need to be fixed and realigned, especially if you use your table roughly and regularly. If the men are not properly aligned, they will cause a poor game with bad passing, and quite often, they will splinter and break mid-game. So, take care of the men and they will provide you with the best quality game you could ask for.
When moving your foosball table, make sure you don't drag it, so lift it instead. Put the anti-slip grips on the feet of the table when you first get it, and this will keep the feet in perfect condition and keep it from unnecessarily moving and damaging the table, especially when the game gets rough and wild. Additionally, remember to keep food and drink away from the table as much as possible so that you don't have as much debris to clean up.
You've got a lot to do to take care of your foosball table perfectly, but if you follow these crucial rules and tips, you'll see the results in the long run. You will have plenty of great games where your row of men don't let you down, and your friends won't be able to wait to come over to challenge you to another game. You can host the perfect party with a clean foosball table, so get going.
Top tips to maintain your Foosball table
You've bought yourself a shiny new foosball coffee table for your next party or social event, and you can't wait to challenge your friends and family to a game. Then, several tabletop foosball games later, you find your professional foosball table is starting to look a little worse for wear and no one wants to touch it anymore. Even the best foosball tables will start to look and play badly if not properly maintained, so here are some tips to keep your foosball table from becoming neglected and unplayable.
What You Need
To maintain your foosball table, you will need the following items:
A clean cloth
A can of compressed air
Rubbing alcohol
Silicone lubricant
Super glue
A table-sized covering
A white sock (optional)
Maintain Regularly
How often you choose to maintain your foosball table really depends on how often you use it. If you are a regular user, then at least once a week is ideal. Otherwise, once a month is probably fine. Maintain your foosball table to avoid it falling into disrepair.
Removing Dust
Use a can of compressed air to blow out any dust that has built up in any cracks or other hard-to-reach areas. Take a clean, dry cloth and use it to wipe away any dust you find on the surface of the table.
Removing Stains
Over time, food and drink may get spilled on your foosball table causing it to not only look unpleasant but potentially affect play, particularly if the liquid is sticky. To remove any stains, you will need to apply a small amount of rubbing alcohol to a clean cloth and wipe down the surface, taking care to clean the foosball playing figures as well.
Cleaning the Foosball Balls
To maintain the foosball balls you can either use the cloth and rubbing alcohol method above or if you want to keep the ball looking as good as new, put it inside a white sock tied at the end and run it through a washing machine with other white garments. Leave the ball to dry in the open air and it should maintain its original whiteness.
Lubricating the Rods
Making sure the rods controlling the foosball playing figures are functional is important if you want your foosball table to remain usable. Silicone lubricant should be applied when maintaining the rods, carefully moving the rods back and forth to ensure the lubricant is applied evenly. This will prevent your rods from becoming stiff and difficult to move. Under no circumstances should WD-40 be used as this will cause the rods to degrade much faster over time.
Repairing the Foosball Table
Over time, parts of your foosball table will become damaged, which may affect both how it looks and functions. While cleaning, be aware of any loosened screws or unaligned parts that you may need to fix. Check each part to see that it is working correctly and replace it if necessary. Use super glue to fix any parts that have become unstuck or peeled away from the foosball table. Take care not to spill any glue on the playing surface itself. You may be able to purchase replacement parts for your foosball table if a part is too damaged to function properly.
Keeping Your Foosball Table Safe
There are several ways to keep your foosball table in perfect working order:
Keep your foosball table indoors when not in use. Outside weather conditions, such as rain, sunlight, and moisture can cause your foosball table to deteriorate very quickly, so store it in a safe, dry place whenever possible.


Keep the foosball table covered with a sheet or similar covering when not in use. This will protect the table from a buildup of dust particles.


Keep any food or drink away from the foosball table, even when drink trays are provided. If possible, use a small table nearby for any consumables to prevent any accidental spillage that may occur during an intense game.


Make sure when moving your foosball table that you lift it at both ends. Do not drag the table as this could damage the legs and cause the table to no longer be level.
Conclusion
By keeping your foosball table clean and in good functioning order, you can make sure that it remains a popular social activity among your group for years to come.
---
Featured Table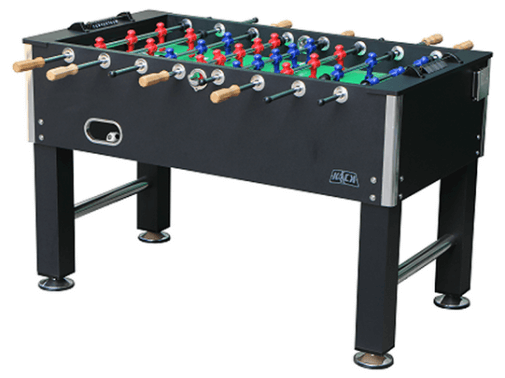 KICK Triumph Black
Combining high quality gaming, durability and stylish looks at a price point which won't break the bank, the 55" KICK Triumph Black is one of the best value foosball tables in the market today.
Read Table Review
Check Latest Price