1) Nobody knows the exact origins of foosball
Well, we know that foosball was invented in soccer-loving Europe, but apart from that, it's a mystery. The Germans, French, and Spanish all claim to have invented the foosball table. We'll probably never know the truth.
We do, however, have a pretty definite explanation as to why it's known as "foosball" though, particularly in the United States (see point 2 below).
2) The name "foosball" comes from Germany
We may not know where the game originated, but the American word "foosball" has a pretty straightforward background. In German, soccer is called füssball, so "foosball" is the Anglicized version that G.I.s came up with when they brought the game back to the United States after the Second World War.
3) The longest game in history lasted over two days
In 2012, players in Innsbruck, Austria entered the Guinness Book of World Records for playing foosball for 61 hours and 17 minutes. The book doesn't mention what the score was at the end of that marathon session, but it was probably quite high.
4) There are several different World Championships.
If you've never played foosball in Europe, you might not know that European foosball tables are often different than their US equivalent. In fact, each major professional foosball table manufacturer organizes its own championship:
Leonhart
Bonzini
Fireball
Since 2005, the International Table Soccer Federation has also held a multi-table tournament to crown the best of the best.
5) The greatest player in history is from Belgium
Frédéric Collignon is regarded as the Lionel Messi of foosball. This ambitious Belgian won the multi-table World Championship seven times, and the US Tornado table championship five times. He was the only non-American to win an American foosball championship. He retired in 2012 after dominating international foosball for 15 years, but he still comes back to play occasional games and strike fear into his opponents' hearts.
6) In fact, Belgium is the spiritual home of competitive foosball
Maybe Collignon's success shouldn't come as a surprise. Belgium was the first country to launch a national foosball league, way back in the 1950s. Belgian players aren't quite as dominant as they used to be, but this European nation continues to be held in high regard by the international foosball world. What Brazil is to soccer, Belgium is to foosball.
7) The Mafia used to be fond of foosball
Not for a good reason though. In the 1970s, gangsters used the hollow-bodied tables to store drugs. Eventually, the police wised up to this trick, and you don't need to worry about your contemporary table being used to hold contraband.
8) Female foosball tables are available
In 2011, a Barcelona-based company launched the first foosball table with female players. They've made custom tables featuring just one female player, mixed teams, men vs women, and all-female teams. However, you're still more likely to find male foosmen on the average foosball table, despite more women playing foosball than in years gone by.
9) Foosball balls can move up to 35 mph
Hit your foosmen with force, and that ball will go flying. How fast? 35 mph. To put that in perspective, Jamaica's Usain Bolt, flew into the record books at 27 mph. If the fastest man in human history can't outpace the ball, what chance does the goalie have?
10) The most expensive table ever sold went for €85,000
This sleek, limited edition foosball table was made in Italy from chrome and onyx. If you don't have a spare €85,000 lying around, look at our suggestions for more cost-effective foosball tables.
11) It has different names in different countries
Ask about foosball in a bar in Europe and you might not get the answer you're hoping for. The Brits call it table football, the Spanish futbolín, and the Italians know it as biliardino. Things get stranger in France, where it's known as babyfoot, but you'll find the weirdest name of all if you travel to Zimbabwe. In this Southern African country, the game is called Slug. Nobody seems to know why.
12) Human foosball is growing in popularity
A massive, life-size version of the table game, with one person taking the role of each foosman, has become a cult craze in recent years. Human foosball is played in countries as far away as Singapore. We'll be surprised if it ever becomes more popular than the classic table-based format, though.
---
Featured Table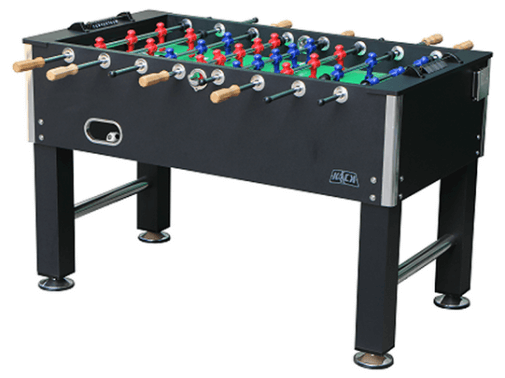 KICK Triumph Black
Combining high quality gaming, durability and stylish looks at a price point which won't break the bank, the 55" KICK Triumph Black is one of the best value foosball tables in the market today.
Read Table Review
Check Latest Price