Introduction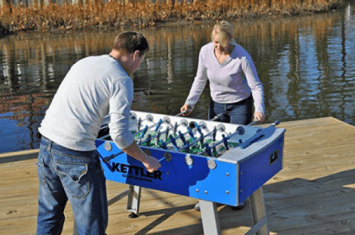 Until advances in robotics give us an artificial opponent to play against (surely it can't be far off?!), it means foosball will remain a social activity involving at least two people to play. And like the majority of social activities, it can feel much more enjoyable outside in the sunshine and fresh air.
Foosball is no different, and while the pro players may prefer the absence of nature's distractions, for the majority of people there will be nothing better than playing outdoor foosball with friends and family and a social gathering such as a BBQ.
Of course, if it is a nice day you could pick up your indoor foosball table and carry it outside. If it is particularly light, such as the KICK Glory foosball table which weighs just 53 lbs, then this is an option. But if you are fortunate enough to own a Tornado T-3000, weighing in at a hefty 355 lbs, then you will need a lot of strong friends, and will probably all have bad backs and won't feel much like playing on it anyway when you do finally get it outside!
And if you live anywhere like I do, the weather can change in an instant. What was a glorious sunny day without a cloud in the sky only ten minutes ago, has suddenly given way to dark clouds and heavy rain. Now your lovely, probably expensive, foosball table is now getting wet - doing it no good whatsoever, and you and your friends (who all still have bad backs) have the unenviable task of picking it up and carrying it straight back in again.
A far better solution is to buy a specialist outdoor foosball table. These tables are specifically designed to withstand outdoor elements such as rain and UV sunlight. Rather than having to endure all of the problems associated with moving an indoor table in and out, these outdoor tables can be left outside, ready for action whenever they are needed.
Space Saving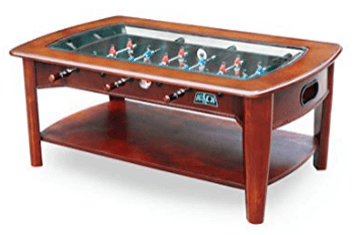 An outdoor foosball table can also help if you are otherwise struggling for space indoors. You can keep this table outside and play foosball whenever you like, particularly if it is underneath a roof covering which keeps the rain off you, without having to worry about a table taking up a lot of your living space inside.
If you have a dedicated games room, this won't be an issue. But if you don't, buying a foosball table and putting it in a room will sometimes not be an option, or it will at best be an inconvenience with it getting in the way.
There are alternative options with regards to space issues. For instance, there are folding foosball tables which fold up when not in use, as well as table top tables such as the small Sport Squad FX40 that can simply be placed on top of any hard surface like a table and then put away in a cupboard again afterwards. And of course there are the coffee tables which are also foosball tables, combining a useful piece of furniture with the ability to play foosball table in your home.
But for those who have their heart set on a full-size foosball table, having one that can be kept outside all of the time really helps from a space saving point of view.
Do I Need a Cover for an Outdoor Foosball Table?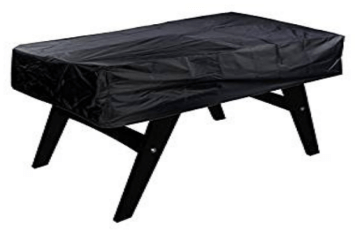 The simple answer is... yes, if you want to keep your table in tip-top condition. Whilst an outdoor foosball table is designed and built to be weatherproof and stand up to the elements, it will stay in better condition for a lot longer by covering it with a protective cover when not in use.
Although they may not be damaged, leaving an outdoor table exposed will eventually begin to see its colors fade, green algae to grow on surfaces, a covering of bird mess etc. Having to give your outdoor foosball table a thorough clean before playing takes away a lot of the fun and enthusiasm. Most of the time, unless it is a special occasion and a big social gathering, people will decide not to bother and the outdoor table will just sit there, getting even more dirty.
Plus of course, outdoor tables can only protect from elements such as rain water if they are not damaged. Cracked glass can let rainwater onto the board, warping and distorting it and making the table practically unplayable. Chips or nicks to the coating of rods or metal components can cause them to rust. So if your table does suffer some sort of damage, then a waterproof cover is essential.
A lot of foosball table manufacturers recognize the need for an outdoor table to have a cover, and so will include one in the price of an outdoor foosball table. Not all do though, so it is always worth checking in the product description to make certain.
If you already have an outdoor table and either it did not come with a protective cover, or you have lost/damaged yours, you can see a range of outdoor foosball table covers available at Amazon by clicking on the button below.
View Covers on Amazon
The Best Outdoor Foosball Tables
Please see below for some of the best outdoor foosball tables currently available to buy today.
Kettler 58" Weatherproof Indoor/Outdoor Foosball Table
58"(L) x 46"(W) x 35"(H)
132 lbs
This table is built for durability, since it's meant to withstand exposure to outdoor conditions. It's made out of high quality laminates and weatherproof resin, and the playfield is made out of glass. The rods have anti-rust chromium plating, and the unbreakable men are moulded on the rods.
Read Review
Check Latest Price
---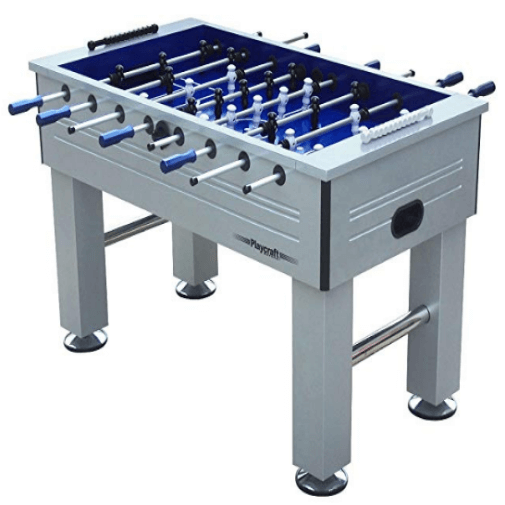 Playcraft 56" Extera Outdoor Foosball Table
An extremely solid and durable foosball table, designed for outside. Featuring a 12" deep cabinet with 1.5" thick walls, it is built using weatherproof composite materials with UV resistant PU coating. It is also easy to assemble, typically taking 30-60 minutes, and comes with a cover.
Check Latest Price
---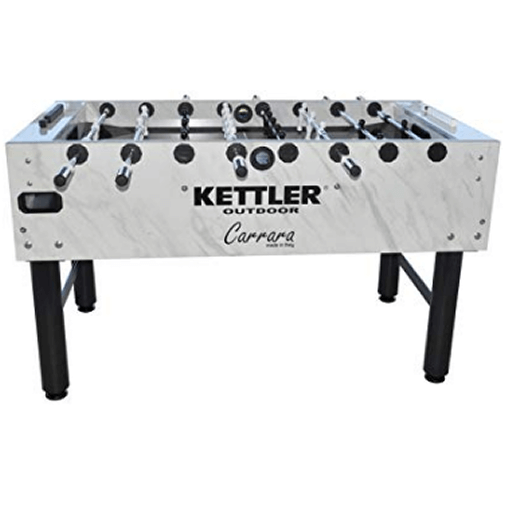 Kettler 58" Carrara Outdoor Foosball Table
This is a great looking table, with its solid marble look and strong square shape. Made in Italy, it features anti-rust chromium plating on the rods and sloped corners/sides to prevent dead zones. It also comes with 5 cork balls, 5 resin balls, and a cover to keep the table protected outside.
Check Latest Price
---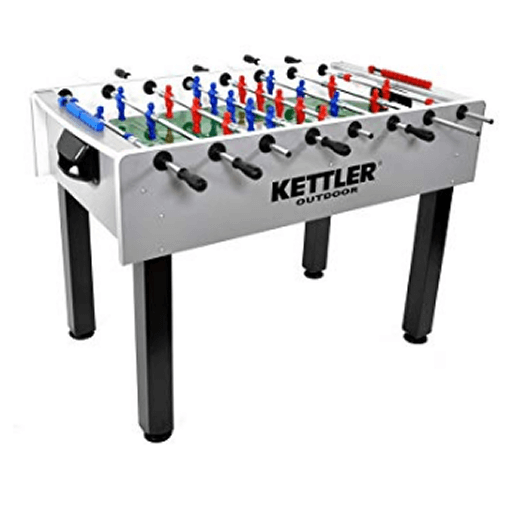 Kettler 59" Carbon Outdoor Foosball Table
This table has a glass playing surface, which as well as being able to withstand rainwater, also makes for an extremely fast-paced game as the ball glides easily over the surface. Also comes with anti-rust chromium plating on the rods and a durable protective cover.
Check Latest Price
---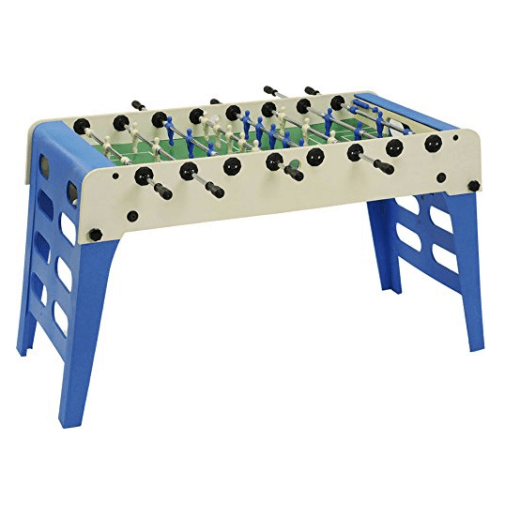 Garlando 60" Open Air Indoor/Outdoor Foosball Table
This table looks like no other on the market. It will certainly divide opinion, but this is a premium table, made out of innovative compound plastic materials, reinforced with fiberglass for outstanding sturdiness. The legs also fold for easier storage and transportation. It does not come with a cover, however, so it is worth investing in one.
Check Latest Price