What To Consider When Choosing Your Foosball Table Design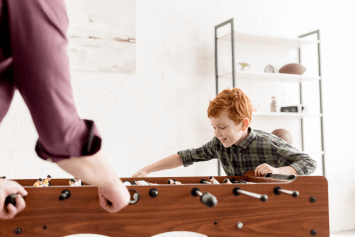 So you've played a little foosball at the office or you've had a bit of a kick around with your buddies on a Friday night down in the bar. Now you want to go to the next level, hone your skills, and have some serious fun at home.
That's right, you need your own foosball table, but what is the best choice for your home?
From an outdoor foosball table to foosball coffee tables, there are a lot of options, and it can be difficult to decide which is the best foosball table for you. Luckily, there are plenty of foosball table reviews right here on this site, and in this short primer, we're going to go through some of the factors you'll need to think about when deciding on what to buy.
The issues come down to:
Quality: Do you need a really high-end table or just something for the kids?
Cost: What's your budget?
Space: Do you live in a mansion or a small apartment?
Type: Do you want it to double up as something else?
Your Home, Your Foosball Table
You'll need to consider your home environment. How does the way you live impact the kind of furniture you can have in the house? It may well be that you're not the only one living there. In this case, you might need to compromise on visual design, durability, space, and positioning.
How Much Should I Spend?
You will, of course, be asking how much a foosball table costs. Good question. It would be easy to say you get what you pay for, and it would be partly true. If you're not too serious, a mini kids' foosball table will cost you around $30, while a professional quality table will likely be ten times that.
However, there are plenty of other choices. For example, tabletop foosball games offer a perfectly solid playing experience and start at around $50. Or if you really want to splash out, high-quality foosball coffee tables will cost you around $500-600. Expensive, but classy.
What Quality Do I Need?
This, again, really depends on how serious you are. There's a big difference between the playing experience on a low-end kids' foosball table and a professional foosball table. If you're not going to play that much, and don't much care about working on your skills, something cheaper will serve you well. However, the finesse you get from the best foosball tables is something else.
Good play means good control of your men, and therefore, good ball control. For this, you need a table that is smooth, solid, responsive and durable. If you really want to get good at foosball, don't skimp on the quality.
What Are The Types of Foosball Tables Available?
As we've already seen, there are different quality levels for foosball tables. There are also several different types. A straight foosball table is one thing, but if your space is restricted, you might want it to double up as something else.
Consider, a foosball coffee table. This is a table that allows you to have fun on your own or with some good friends around, and then reverts to a beautiful piece of furniture when it's not in use. That means you're not only getting more boys' toys, but also a nice piece of interior design into the bargain.
Space-Saving Foosball Tables
If you're pushed for space, you could also consider tabletop foosball. As well as being cheaper, this unit takes up much less space by simply sitting on top of your existing table. It can then be stowed away easily in the garage.
A similar space-saving solution is a folding foosball table. Folding foosball tables are great for saving space, but bear in mind that they may not be as solid as a professional foosball table. If you have little space indoors, you could also consider an outdoor foosball table.
Finally, if soccer's not your thing, there's no need to miss out on the fun. Also available are hockey foosball tables. The principle is the same: A miniature version of your favorite team sport, with your players controlled by rotating rods, but here the model is hockey, rather than soccer. Click here to see an example of this on Amazon.
Whatever you choose, be sure to have fun. Play hard, play well and develop those foosball skills!
---
Featured Table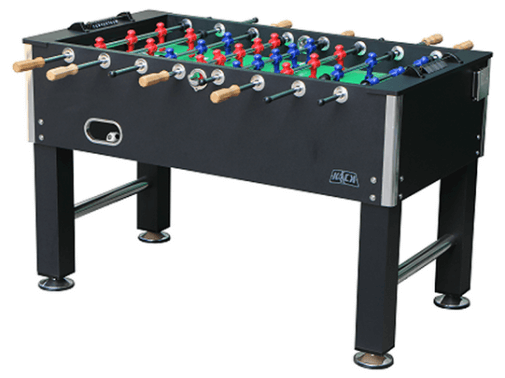 KICK Triumph Black
Combining high quality gaming, durability and stylish looks at a price point which won't break the bank, the 55" KICK Triumph Black is one of the best value foosball tables in the market today.
Read Table Review
Check Latest Price