Foosball: Not Just for Boys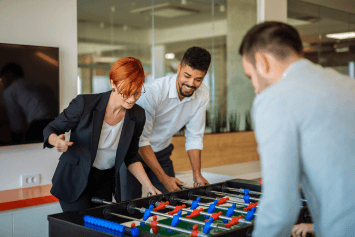 We all know that women's soccer is big news, but when it comes to foosball, the stereotypical player tends to be a man. With the notable exception of Monica from Friends, foosball is often seen as a guy's hobby.
However, this doesn't have to be the case.
Let's take a look at the world of women in foosball.
Competitive Foosball Leagues
In most sports, men's physical advantages over women mean that the sexes compete separately. However, foosball is a game, like darts, where it really doesn't matter, and women can play alongside men. There have certainly been plenty of cases of women winning championships and beating male players. Despite this, some women feel uncomfortable and may be put off by what seems like a very testosterone-heavy environment, so more men can usually be found in the upper echelons of the best leagues.
Some leagues have separate women's categories, which is a friendly and less intimidating way for female players to start playing competitively. Mixed doubles leagues also exist. Like in tennis, each team consists of one man and one woman playing together.
Female Foosball Tables
One undeniable fact is that almost all foosball tables are designed around the game of men's soccer, with male players. The first women's soccer-based foosball table was launched in Barcelona in 2011. Called "Ella" (Spanish for "she"), the table was functionally identical to other European foosball tables. However, the foosmen were, in fact, fooswomen.
The Ella table had some limited success, but most players chose to stick to the more familiar male design. Fooswomen haven't really taken off in the last decade. However, it's worth mentioning that in 2019, the U.S. Women's National Soccer Team received a pretty spectacular gift before jetting off to France to win the World Cup. A custom foosball table was made, with each fooswoman a detailed 3D-printed replica of one of the real-life players. It certainly caused a stir, but we can't say how much play it's actually seen.
Outside of these isolated cases, female foosball tables haven't really taken off, but who knows if this will change in the future?
Making Your Foosball League More Female-Friendly
Want to attract more women to your local league? Whether your table is in a bar or in your office rec room, you may have noticed that most players are male. Here are some tips that might help encourage women to join in:
Organise women-only sessions. While women don't struggle in foosball because of any physical disadvantages, they may feel uncomfortable with the atmosphere around the game. Having one day of the week when only women are allowed to play can create a gentle initiation into the hobby.
Try mixed doubles events. These are actually a great way to encourage female participation because a man simply can't take part unless he's got a woman with him. What's more, a good game of foosball requires both players on a team to be participating equally, so women quickly feel more at home.
Monitor the language around the foosball table. Nobody wants to be the fun police, but the conversations that the guys are engaging in may be off-putting to women. If your foosball table is male central, look for ways to make the atmosphere a bit friendlier. This is particularly true if you find players are discussing women in a degrading way or talking about their dating experiences.
Let women play in the forward position. A lot of the time, women feel disappointed to be relegated to always being the goalie. Why not organize a rotating mixed doubles event, where players have to swap positions after each game?
Why Encourage Women in Foosball?
Ultimately, you might be thinking this is a lot of effort to go to - but there can be a big pay-off. Having women in your league makes it a more inclusive space, and once a few women start attending, others are likely to follow. This can boost the number of players who join in, like other people - and not necessarily women, but men too - who may have been put off by a macho atmosphere take up the game.
At the end of the day, both men and women enjoy foosball, and creating an atmosphere that excludes 50% of the population is never a good idea.
---
Featured Table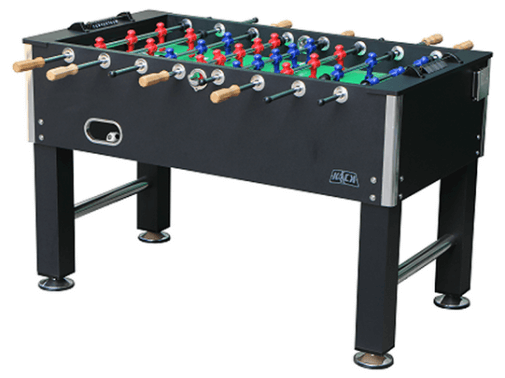 KICK Triumph Black
Combining high quality gaming, durability and stylish looks at a price point which won't break the bank, the 55" KICK Triumph Black is one of the best value foosball tables in the market today.
Read Table Review
Check Latest Price