Introduction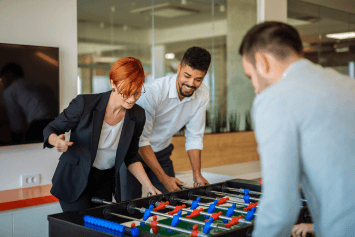 Having a foosball table in the office is becoming an increasingly common sight in businesses and organizations all around the world. Gone are the days when staff recreation areas consisted of a few chairs, and perhaps a coffee machine if you were lucky.
Managers in today's companies realize that happy employees are both more loyal and more productive, which is why they ensure that employee break areas are of a high standard. This includes providing amenities and items to entertain workers as they take a rest from their daily tasks with the company.
There are a number of benefits to having an office foosball table:
Increased Loyalty and Productivity
As stated above, a clean, comfortable and well-equipped recreation area will make employees feel like they are valued by company management. This will often create a stronger desire within workers to help the company achieve its goals. It may be hard to believe, but a few items such as a television and a foosball table can really make a big difference.
Workers who feel valued will also be less likely to want to move to another company, possibly a competitor, in order to try and find some place where they do feel more valued. Not only does this minimize the risk of a firm losing its best employees to a potential rival, but it also saves all the hassle and cost of having to find replacements for all these exiting workers.
In both cases - a stronger desire to progress the business and increased loyalty - the organization will find it has a stable workforce which is highly productive and achieves far in excess than a group of employees who could not care very much about the success of the company. This will soon filter down to the company's bottom line and improve profitability.
Increased Team Spirit and Communication
Team building events have been used for decades by companies. The intention is that by getting employees out of the office and having a good time, it will get them to bond and become better at communicating and working together on tasks when back in the workplace.
A team building event provides an environment for employees to relax and have time to talk to each other far more than they could at work. Quite often, managers frown upon employees chatting during working hours, believing that they should be getting on with work, when in actual fact this often limits their likelihood of communicating and collaborating on those tasks in the future which do need them to work together.
Whilst this is all well and good, team building days can be expensive, and do mean that all or part of the workforce is absent from work, meaning that there is a big drop in output too. Rather than investing a lot of money in team building or business coaching sessions, sometimes a simple solution such as an office foosball table is all the company needs.
Most full size foosball tables are big enough to have at least two players per team. This means players will need to work together and communicate, all whilst they are having fun. This provides a similar environment and outcome as team development days, at a fraction of the cost. Whilst some would argue that professional team building days would achieve more, there is no denying that having a foosball table in the office can break down barriers and increase communication and co-operation when break time is over and everyone is back at work.
Increased Adrenaline Makes Employees More Alert
There are those times of the day, especially on Monday mornings, when employees feel a little bit sleepy and not quite up to full speed yet. Some people rely on the caffeine in coffee or energy drinks to wake up, but this can take time to kick in, and there are always stories about how much caffeine is actually good for your health.
A competitive game of foosball will be sure to get the adrenaline flowing and get workers wide awake! Even if it is a quick game lasting only a few minutes, it can wake a person up and make them feel fresh and ready to get started, when it could otherwise have taken them a good hour or so to crank up to full productivity.
The Downsides of an Office Foosball Table
Whilst there are many advantages, there will also be some potential negatives and possible problems that having a foosball table set up in the office may bring:
Should Employees be Doing Work?
An office foosball table is a luxury, but also a responsibility. Whilst some workplaces will have very strict times for breaks, in many offices an employee is allowed to do things like get a coffee or go for a break when they choose.
Managers need to be careful that employees don't spend so much time "bonding" over games of table foosball that they begin to not spend enough time actually doing work!
The Potential for Arguments
We saw above how table foosball can assist with team spirit and communication, but there is the potential for this to have the complete opposite effect. Games of foosball can often get quite competitive, and with any sort of competition, there is a possibility of things getting a little heated and arguments occurring.
Whether it be a table moving accidentally (or deliberately) during game play, starting before somebody is ready, excessive spinning of the rods, or even something bizarre like an argument over which player gets the red team and which gets the blue... anything could trigger an argument.
If things are not resolved there and then, this conflict could make its way back into the workplace. It can seriously damage teamwork and communication, especially if others in the office begin to get involved and start taking sides.
Noise
Some offices don't have the space to provide a large break area that is completely separate from the rest of the office. In some companies, the foosball table will be in the corner. In such a circumstance, the noise coming from those people playing, and the sounds of the foosball itself hitting the sidewalls or goals, may be extremely distracting for those who are not playing and are trying to get on with their work.
This can also cause arguments and unwelcome conflict amongst the company's workforce which managers will have to sort out, and will be far from impressed at having to do so.
Cost
Of course, there is also the cost of the foosball table itself. Depending upon the model and brand you choose, this may not be much in the grand scheme of the company's expenditure, but any cost is something which needs to be taken into account. It may not be in the firm's best interests to purchase that top of the range expensive Tornado Tournament 3000 table if it means there will be no money left for advertising next month.
Conclusion
Like with most purchases, whether in business or in your personal life, there will be pros and cons, and certain factors to consider regarding its benefits and how much it will get used in relation to the cost.
But with the increasing number of foosball tables being seen in offices and firms of all industries across the world, there can be no doubt that managers of companies believe there are more potential benefits than pitfalls of buying a foosball table for the office.
---
Featured Table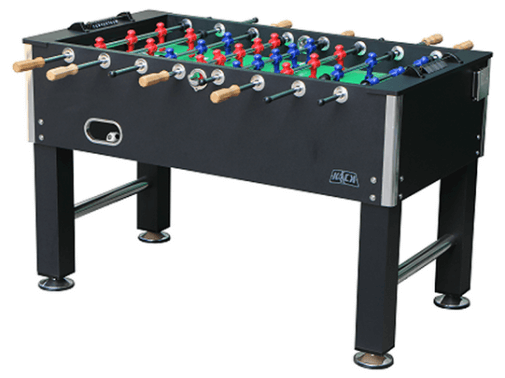 KICK Triumph Black
Combining high quality gaming, durability and stylish looks at a price point which won't break the bank, the 55" KICK Triumph Black is one of the best value foosball tables in the market today.
Read Table Review
Check Latest Price