How Foosball Can Help Rehabilitate Military Veterans
Foosball is just a bit of fun, isn't it? Not always. This much-loved game may be most commonly seen in bars, offices or rec rooms, but it also plays an essential role in veterans' hospitals.
The Extraordinary Benefits of Foosball
The most commonly discussed benefit of foosball is hand-eye coordination. Even an unskilled player will need to use dexterity and finesse to score a goal, and, of course, the more you play, the better you'll get. For veterans who have suffered injuries that affect their coordination, this game can be a lifeline. It provides a structured, simple, and, above all, a fun way to rebuild the neural pathways that have been damaged.
Having said that, there's a lot more to foosball than just improving hand-eye coordination. It can also be used to treat a number of other conditions:
Osteoarthritis. This condition, the most common form of arthritis, is caused by wear and tear on the joints. Playing foosball is a low-impact exercise that still keeps the joints engaged and not stiff.


Brain injuries. The coordination involved in a game of foosball can help those suffering from brain injuries to recover faster.


Loss of limbs. Patients who have been fitted with prosthetic limbs often find that they adapt more quickly to using their new prosthetics when foosball is part of their rehabilitation process.


Some mental health issues. In addition to providing physical rehabilitation, foosball is used in social rehabilitation programs with great success, as players redevelop the cues needed to communicate effectively.
The History of Foosball in Rehabilitation
You might think this sounds like a new, modern idea, but in fact, the health benefits of foosball have been known about and used for rehabilitation by the U.S. military since the Second World War. American servicemen first discovered the game when fighting in German-occupied territory. It was already popular in Europe, and it began to be exported to military hospitals at the veterans' request. In fact, the name "foosball" comes from the German word "fussball" (soccer), which World War II veterans knew it by.
When foosball first appeared in military hospitals, medics weren't thinking about its physical benefits. Instead, they saw it as a way to lure wounded servicemen out of bed, and get them up and about. Recovery is a long, difficult, and draining process. Veterans often fell into depression, and foosball was seen as a fun way to motivate them.
As wounded servicemen started to use the foosball table, the physical benefits began to make themselves clear, so it's no wonder that in the U.S., foosball tables have been used in rehabilitation centers since 1939, and that doesn't look like it's going to change any time soon.
The Hidden Advantages of Foosball
Why is foosball such an effective tool in recovery? The answer is simple: It's fun. It's very easy to underestimate the importance of enjoyment when it comes to rehabilitation. Daily exercises can be monotonous and unpleasant, and if progress isn't being made, extremely frustrating. Foosball, on the other hand, is a game. Veterans don't need to be ordered to play it or prescribed it as part of a daily routine. Amputees find an intrinsic motivation to get up and start using their new prosthetic limb, without a doctor standing over them.
Ultimately, foosball provides something more than just a physical workout. It lifts spirits, motivates, and reminds patients that they are capable of doing something. After a major wound, many veterans feel that their world has been turned upside down. A victory on the foosball table may seem minor, but it's still a victory and a symbol of hope.
Foosball in Other Rehabilitation Programs
In the military, foosball proved incredibly successful in not just physical, but emotional and mental rehabilitation. Due to this, its use spread. Nowadays, foosball tables are a common feature of correctional facilities, where they can help inmates with social rehabilitation. Foosball teaches essential social skills: Cooperation with your teammate, grace in victory and defeat, and healthy competition.
Foosball has been an effective rehabilitation tool for over eighty years. Even as new technologies replace older techniques, the foosball table is still a familiar, and much-loved, sight in many rehabilitation centers around the country. This simple game has made a huge difference to generations of servicemen and women.
---
Featured Table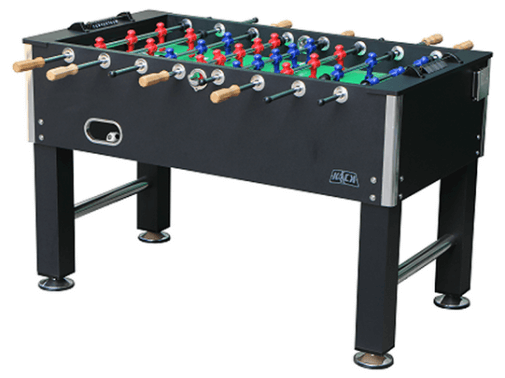 KICK Triumph Black
Combining high quality gaming, durability and stylish looks at a price point which won't break the bank, the 55" KICK Triumph Black is one of the best value foosball tables in the market today.
Read Table Review
Check Latest Price