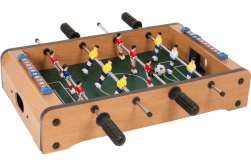 Foosball tables come in three basic types: stand-alone, tabletop and multi-game. All have their advantages and disadvantages. None of them are necessarily better or worse, it all comes down to what you're looking for.
The price range for both is quite different, as is the quality and overall playing experience. Consider who it's for and what you want to get out of it.
---
Stand Alone
A stand-alone foosball table is the traditional version. It stands on it's own. It comes with legs attached, and therefore is a lot bigger than a tabletop, while also costing a lot more as well. However, a quality stand-alone will last a long-time and provide more authentic play. It's ideal for older children, teenagers, and adults, and anyone in general who wants to play competitively.
---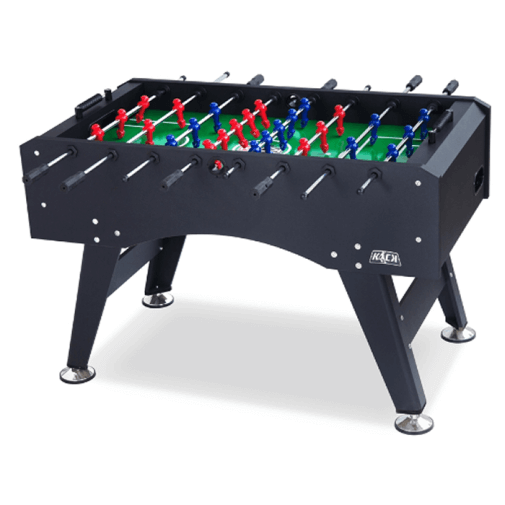 KICK Topaz
The minimalistic design of the counterbalanced foosball men brings more focus on the foosball ball, allowing the players to easily track its location. The counterbalanced feature also aids the game when playing one-on-one, since the foosball men balance themselves horizontally when you are not holding the grip.
Read Table Review
Check Latest Price
---
Tabletop
A tabletop on the other hand is designed to sit on top of sturdy surface. It's a lot smaller, lighter, and can be transported around the house or taken anywhere you want to go. What's neat about tabletops is that you can set them on a table, floor, or any hard surface, depending on what is most comfortable for the players. The quality of tabletops vary, just like stand-alone versions, with some being made out of plastic.
They are ideal for young children just starting out and beginners who are testing the game out to see if they'll like it or not. They are far less expensive, so this might be the way to go if you just want to get your kids a toy to play with until they get board. If you buy one, be sure it the base has non-scratch, non-slip pads to protect the surface it's on.
---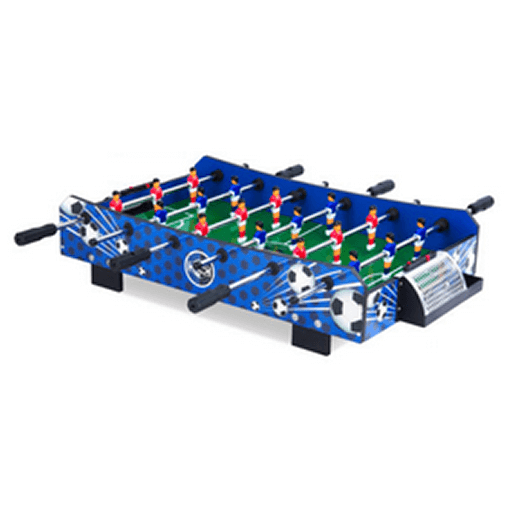 KICK 33" Squire Compact Mini Tabletop Foosball Table
33"(L) x 20"(W) x 8"(H)
15 lbs
Ideal as an introduction to foosball for kids, or as a tabletop game in its own right, the KICK Squire combines the high-quality build of all KICK tables with the portability to take it wherever you want.
Read Table Review
Check Latest Price
---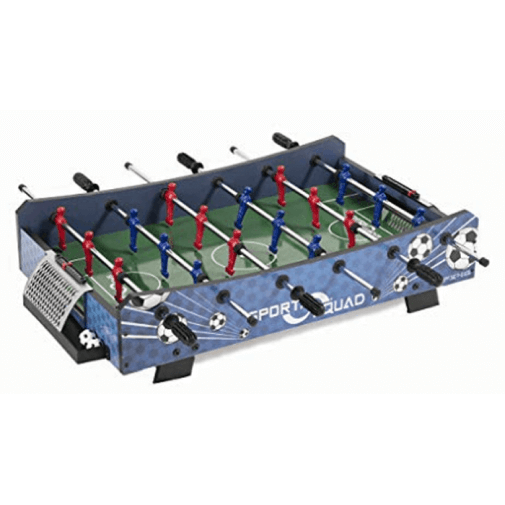 Sport Squad 40" FX40 Tabletop
40"(L) x 20"(W) x 8"(H)
15 lbs
Whether you're looking for an enjoyable gift for the kids, the workplace, or something that the whole family can enjoy, the Sport Squad FX40 Foosball Table is a good and affordable option.
Read Table Review
Check Latest Price
---
Multi-Game
Another type is a multi-game, which includes a foosball table that can be converted into many other games, such as air hockey, table tennis, chess, checkers, bowling, shuffle board, and so on. This is ideal if you have a lot kids who like to play a lot of different games, but aren't really serious about any of them. It's also very space-efficient for those who don't have a lot of room in their home for games.
Converting from foosball to another game involves removing the rods and placing one of the other surfaces on top. Multi-game tables are available in stand-alone and tabletop versions. They are more expensive, but offer a lot of variety for those who want it.
---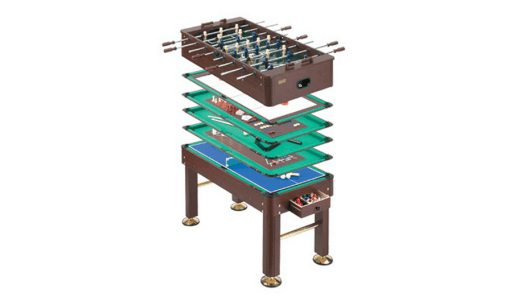 Multi-Game Tables
A variety of different multi-game tables are available to buy. They can include many different game options including foosball, pool, air hockey, ping pong and many more.
View on Amazon
---
Things to Consider When Deciding Which Table to Buy, Where and How to Set it Up, and Maintaining It
Foosball or table soccer is an exciting table game that can be played by at least two people. With so many soccer fans around the world, you cannot have this in your bar or café and lack interested players. There are many types of foosball tables on the market. This guide offers insight on how to select a foosball table and essential maintenance tips.
Factors to Consider When Selecting a Foosball Table
Owning a foosball table is a worthy investment, however, if you need to make the best of the investment, consider the following before making the purchase:
1. The Experience of the Players
Beginners: A tabletop foosball table is ideal for those who are learning the basics of foosball.
Intermediate players: For beginners who do not play often, a medium-range foosball table is an ideal choice. These are more complicated than tabletop foosball tables but not as advanced as tournament tables.
Advanced players: They deserve professional foosball tables, which are designed for tournaments. These tables can handle the pressure that comes with competitive gaming.
If you are buying a foosball table for your business, then you should have at least one table for every experience level.
2. Your Space
Depending on the space you have, you can opt for a full-sized foosball table that is 7 feet by 8 feet long or opt for smaller tables. A foosball coffee table is suitable for playing at home, as it is flexible and takes less space.
3. Configuration of the Table
The standard foosball table has 11 players and can be played by a maximum of four people. The other consideration is the configuration of the goalie. You can have a foosball table with one goalie or opt for a three-goalie configuration. Your choice will depend on your particular preferences and skills.
4. Portability
This is an essential consideration if you need a table that you can set up outdoors and dismantle or carry back to the house when the game is over. Folding foosball tables are the ideal tables if portability is a deal-breaker for you. Check out our foosball table reviews to find out the features of the best portable foosball tables on the market.
5. Material
Materials used in making foosball tables include solid wood, composite, plastic, and particleboard. They all have advantages and limitations. Plastic and particleboard tables are less expensive and lighter but are also less durable than solid wood ones.
6. Types of Rods
The common types of foosball rods are solid steel and hollow steel rods. Solid steel rods are stronger and deliver more powerful shots. However, their weight limits your gaming speed and increases the strain on your wrists. Consequently, many players prefer hollow rods.
7. Table Height
Standard foosball tables are 36 inches high, hence suitable for teens and adults. If you plan to play with kids, then a shorter table is preferable. Alternatively, you can opt for foosball tables with adjustable heights.
8. Table Levelers
This feature ensures that your table does not lean on any side, as this would put the player on the lower end at a disadvantage. Therefore, you should ensure that the foosball table you buy has a leveler of some kind.
Installing a Foosball Table
Setting up a foosball table takes time. However, with the right tools, you can do it yourself. The requirements are:
At least two people
Screwdrivers, a hammer, a level, and Allen keys, which should all come with a new table
The installation manual
Once you have all of the above, check whether you have all the parts, then follow the instructions on the installation manual. If your table did not come with a manual or you misplaced it, download a copy from the internet.
Maintaining Foosball Tables
Regular cleaning and maintenance of your foosball table is necessary if you need the table to serve you for years. Essential maintenance practices are:
Lubricating the rods with liquid silicone at least monthly
Repairing or replacing any broken parts as soon as possible to avoid further damage
Putting up clear signs to stop people sitting on the table or putting drinks on it
Conclusion
Choosing the right foosball table is the key to enjoying table soccer. Check out our foosball table reviews to find the best table for your gaming needs. Also, if you cannot install the table yourself, hire an expert to avoid destroying your investment.
---
Featured Table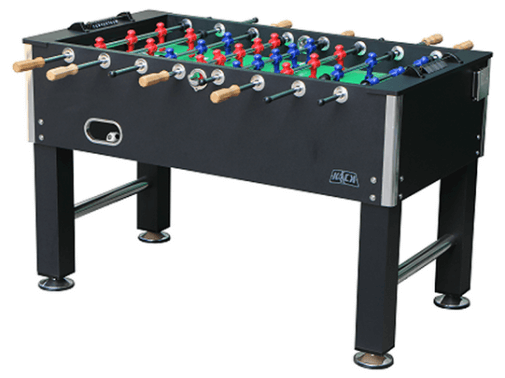 KICK Triumph Black
Combining high quality gaming, durability and stylish looks at a price point which won't break the bank, the 55" KICK Triumph Black is one of the best value foosball tables in the market today.
Read Table Review
Check Latest Price