Choosing the Best Foosball Table for Your Money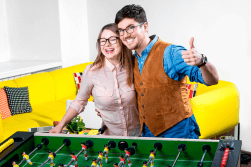 Everybody wants the best. Whether it is a foosball table, a computer, a hotel... getting a superior product over an inferior one is always preferable.
"The Best" is typically a subjective term, as what constitutes the best will depend upon a person's priorities and what they value the most, and this applies just as much when it comes to purchasing a foosball table.
A few of the things to consider when choosing a foosball table to buy with your hard-earned cash include the following:-
Construction Materials
Some people will prioritise the quality and finish of the construction materials over everything else. They want a foosball table which is built to last and will provide good value for money, rather than one which will quickly fall apart during robust play and have to be replaced all too soon.
Not surprisingly, sturdier materials often come at a premium over their more flimsy contemporaries, which is why the Tornado T-3000 Tournament foosball table, weighing in at a whopping 355lbs looks and plays like it would withstand a military tank running over it (a slight exaggeration maybe, but it is still impressive).
---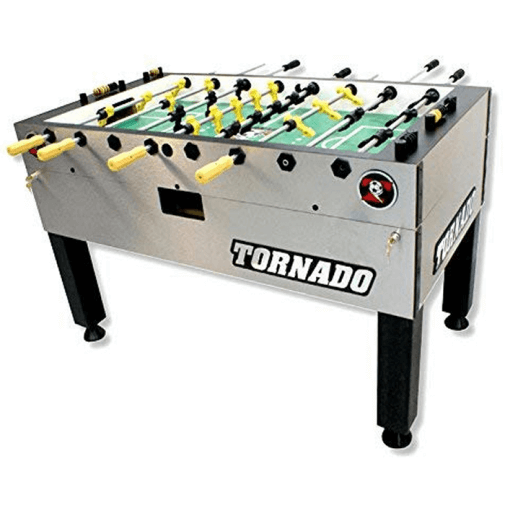 Tornado T-3000 Tournament
The Tornado T-3000 is for anyone, but is primarily built for intermediate and professional level players. It's also for anyone who wants to invest in a top-of-the-line table that will last a lifetime, and for anyone who has $2,000 to spend on a table. It's as good of a table as you will probably find on the market.
Read Table Review
Check Latest Price
---
Robust tables that weigh a lot are also essential for professional or serious foosball play, as this weight means that the table does not end up moving during play. Everyone at some point will have played on a lightweight foosball table that has ended up diagonal or much closer to the wall than at kick off, due to the player's enthusiasm getting the better of them during the game!
The Best Looking Foosball Tables
Others will choose a table which they believe looks the best. Quite often a good looking foosball table is also made of superior quality materials too.
For instance, the Fairview Game Rooms Designer Home foosball table has elegant Queen Anne style legs and a choice of a chestnut or mahogany wooden finish, making it one of the most beautiful foosball tables available in the market today. Again, at 160lbs, it is also a table which will stand up to all but the most exuberant of players.
---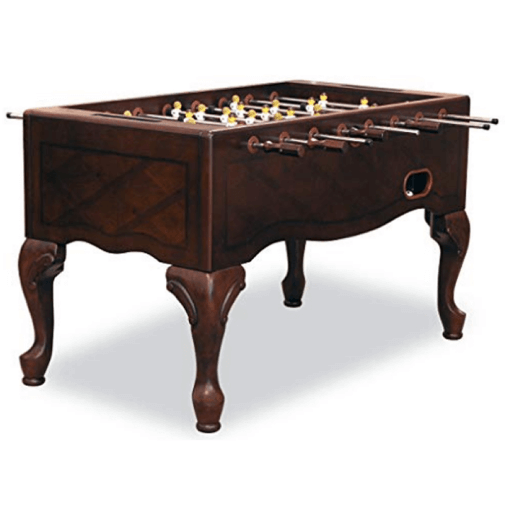 Fairview Game Rooms Designer
A table with a classy feel that is geared towards people who don't want to blemish their homes with a clunky, plastic foosball table, but still want all of the gameplay necessities in order to enjoy and entertain.
Read Table Review
Check Latest Price
---
For those not a fan of this rather majestic look, the Rene Pierre Champion foosball table is another high-end table worth taking a look at. Its somewhat classical appearance will bring back memories of happy times in colleges or games arcades, not to mention boasting superior game play as well as the looks.
Whilst the above concentrates at expensive, beautiful foosball tables, it is worth remembering that it might not be you who is going to be doing most of the playing. Chances are the table is being bought for kids, in which case their vision for the best looking foosball table will be ones such as the Playcraft Sport or the Sport Squad FX40 tabletop foosball table which feature cool graphics and colors which are far more attractive than their "plain and boring, more grown up" tables. There's no point spending extra money on a foosball table which boasts fancy graphite rods or beautifully finished woodwork corners when your children would far rather have stickers or the logos of their favorite sports team on the side.
Indoor or Outdoor?
The location of the table and where it will be situated also plays a part in any purchasing consideration. The vast majority of people will be storing the table and playing indoors all the time, or at the very least only taking the table outside if it is a hot, sunny day and the table is portable enough to be carried and transported easily.
But there are foosball tables which are weatherproof and are built to withstand the outdoor elements, although a cover is advised when the table is not in use, particularly overnight or for prolonged periods of inactivity.
The Kettler 58" Indoor/Outdoor foosball table is one such example. This excellent table is made out of high quality laminates and weatherproof resin, whilst the playfield is made out of glass. Plus, the rods that the players are attached to have an anti-rust chromium plating, so you won't be able to use the "my goalie rod wouldn't move" excuse when a goal is scored against you.
Although heavy at 132lbs, it is possible for it to be carried (with a few friends) indoors also, thereby offering maximum flexibility for those who enjoy playing inside as well as outside such as at BBQs or other such outdoor get-togethers.
---
Kettler Indoor/Outdoor Foosball Table
This table is for anyone who wants a high-class, outdoor foosball table at a reasonable price (relatively speaking). The overall quality is excellent. It's built to handle aggressive play from intermediate and advanced players, and to repel the elements for outside gaming.
Read Table Review
Check Latest Price
---
Coin-Operated
So far we have only talked about foosball tables from a personal point of view, but many tables are provided in a commercial setting for the enjoyment of customers and for financial revenue. In these locations, coin-operated foosball tables are the best option, as it would be pretty inconvenient for all concerned having to take payment manually every time somebody wanted to play. Some of the higher-end tables, such as the Tornado T-3000 again, are available to purchase with or without a coin-operated mechanism fitted.
Table Size
The best table you can buy is one which satisfies your requirements and actually fits comfortably into the space it is intended to occupy. It sounds obvious, but there is probably somebody somewhere in the world every day who orders a foosball table, only to find that it doesn't fit where they wanted it to go.
Whether it is simply a case of getting their measurements wrong, of the old classic of measuring the space and forgetting about the additional room needed for players to stand and the rods to extend, the problem is a common one. Plus of course there are the people who buy the heaviest, sturdiest table they can find, only to excitedly assemble it downstairs and then think about how they might get it to its destination upstairs...
Careful thought and planning needs to be done before you commit to buying a foosball table to avoid avoidable headaches further down the road. It may also be the case that a smaller table ultimately provides more enjoyment than buying a bigger table and having to cope with restricted movement during play.
Adjustable Legs
Remember how annoying it is to go to a restaurant and find you're sat at a table that wobbles? And you or the waiter spend the next 10 minutes trying to source napkins, bits of paper etc to wedge under the leg to level it, and even when you think it's sorted it never quite is and you spend the rest of the evening thinking about it...? Well that's just with crockery that doesn't move. Imagine that problem with a little foosball ball that's rolling around on the surface! Lining up shots or moving your goalie to make a save is virtually impossible.
Contrary to popular belief, a lot of floors are not level, especially those outside. For this reason, it is highly worthwhile considering spending money on a foosball table which has leg levellers. Trust us, playing a game where the ball constantly runs into the same corner and gets stuck soon becomes tiresome and extremely frustrating!
Counterbalanced Players
A lot of beginners and novice players probably haven't heard of, or even care, about their little foosball men having weights in their heads. For professionals and serious players though, it is an essential feature.
These weights in the head balance the weight present in the feet, which means that the men will stay in position when a player lets go of the rod. Non-counterbalanced men will immediately fall back into an upright position. Whilst this is an advantage from a defense perspective, just about all serious players prefer counterbalanced players so that they can set them horizontal to the table playing surface and leave them like that, in order to have a clear path at goal. This is why expensive foosball tables, and even some at the lower end of the pricing spectrum, will have counterbalanced players (also known as counterweighted or even just "weighted").
This feature need not break the bank either, as it is becoming more and more of a standard feature with foosball table manufactures as they bring out new models. For instance, the KICK Topaz is one such high-quality yet affordable table which includes counterbalanced men.
---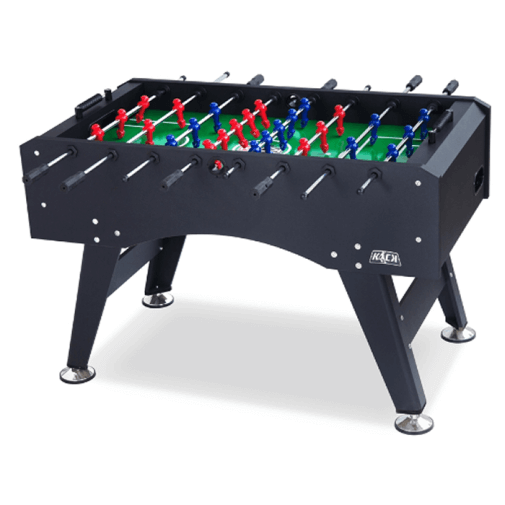 KICK Topaz
The minimalistic design of the counterbalanced foosball men brings more focus on the foosball ball, allowing the players to easily track its location. The counterbalanced feature also aids the game when playing one-on-one, since the foosball men balance themselves horizontally when you are not holding the grip.
Read Table Review
Check Latest Price
---
I must be one of the odd ones as I actually prefer having the feet down to block the opponent's shots, despite it meaning I have to shoot between my own players. But i'm a goalie in "real life" soccer, so perhaps I just naturally err on the defensive side of things I don't know!
Getting the Best Foosball Table for Your Money
The above contains the most important things to look out for and consider before spending money on a foosball table. There are others, but take into account these features, at least as a starting point, and you should be able to purchase a foosball table that provides you with many years of enjoyable gaming time, particularly when you clean and maintain it regularly.
Also remember that whilst generally speaking, the more robust the table and the more features it has the more expensive it will be, there are some foosball tables out there which offer features for a lower price than are usually only found on a high-end expensive table. For example, the Shelti Foos 200 is just as good as the Tornado Sport but costs less money at most retailers, and is 50lbs heavier than the Garlando G-500 and at last check was over $100 dollars cheaper. So it is definitely worth doing your research before parting with money, and checking out the reviews on foosballtablereviews.com of course!
Featured Table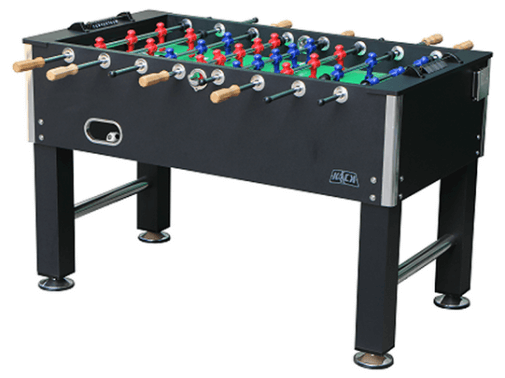 KICK Triumph Black
Combining high quality gaming, durability and stylish looks at a price point which won't break the bank, the 55" KICK Triumph Black is one of the best value foosball tables in the market today.
Read Table Review
Check Latest Price