Training Aids to Make You a Foosball Star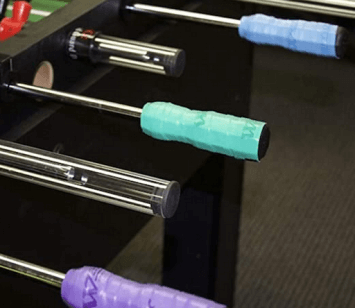 Most people would say that the best way to improve your foosball game is to practice against an opponent. That's not always possible, though.
If you're alone with just your foosball table for company, here are some training aids you can use to work on specific areas of your game, such as your pull shot for example.
Rod Locks
Rod locks are a simple product that settle into place over your foosball table rods. They ensure that your rods will stay in place while you practice.
Why use them? The benefits are clear. There are essentially two dimensions to every foosball shot. Your foosmen can move forward and backward as the rod rotates, but they will also move from left to right as the rod shifts.
Rod locks take away the left and right movement. This allows you to fully concentrate on the rotation of your rod and helps you get better at setting up tricky shots.
Rod locks are particularly useful if you're working on specific shots. Once you've gotten used to the exact wrist movement needed, you'll be able to practice the shots without the rod locks.
Practice Plate
A practice plate is a piece of wood with one or more holes that slots over the goalmouth of your foosball table. The size of the goal is reduced to the holes in the plate, making scoring far more difficult.
This tool is excellent if you want to improve precision. Using a practice plate, you'll find that your aim needs to be much more accurate than usual. Wild, haphazard shots are now useless. You'll need to be extremely precise to get the ball into these new, smaller holes.
It's quite easy to make your own practice plate. If you're just getting started with this training aid, keep the hole or holes quite big at first. Over time, you will want to use a practice plate with smaller and smaller holes, until you're confident of your shooting accuracy.
Snake Shot Trainers
The snake shot is a key maneuver that most foosball champs use regularly. If you hope to be a foosball master, perhaps to compete in tournaments or even have a goal of making money from playing foosball, you'll need to figure it out. In this shot, you'll move an offensive foosman very quickly horizontally to shoot at the goal.
Snake shot trainers are a bit more complicated than other training aids but are still easy to attach to your foosball table. They use a spring to attach two rows of foosmen together, making one row copy the other's movements, with a very short delay.
As you practice your snake shot, the trainer causes the row of defensive foosmen to move. If you're too slow, your shot will be blocked.
Some snake shot trainers come with multiple springs, with different difficulty settings. For newcomers, the springs move quite slowly; as you work your way up through the system, you'll find that the defensive foosmen are just a split second behind your offense.
You can practice your snake shot without trainers but the movement of the opposing foosmen means that this is the closest you'll get to a real opponent if you're training alone.
Handle Grips
Solo foosball time is a great moment to experiment with different handle grips and find the right ones for you. Many players prefer to use wraps, but you might want to try gloves.
Play around with different handle grips. You might discover that, if you're using wraps, you prefer them to be set up in a particular way. Your solo training time is the perfect time to explore.
View Handle Wraps on Amazon
The Right Ball
This is essential and often overlooked. If you're ever going to make it to a tournament, then the basic plastic ball that comes with most foosball tables is not your friend.
The three most common types of ball are:
Basic plastic balls. These are what everyone starts out playing with, but aren't used in serious tournaments.
Textured balls. These are extremely dense balls that can move at very high speeds. They are standard in US tournaments.
Cork balls. These are standard in Europe. They are lighter and quieter than the U.S. balls. They move slower and require more skill to manage.
Choose a textured ball if you want to play to US standards, or a cork ball if you prefer the European game. Just throw out the plastic ball; it will only hold you back.
More information on foosball balls can be found on the page: Best Foosball Balls.
---
Featured Table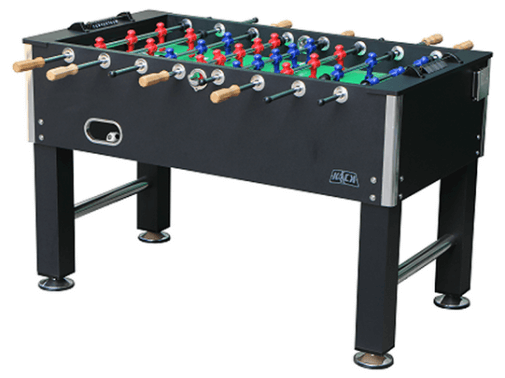 KICK Triumph Black
Combining high quality gaming, durability and stylish looks at a price point which won't break the bank, the 55" KICK Triumph Black is one of the best value foosball tables in the market today.
Read Table Review
Check Latest Price