7 Celebrities Who Love Foosball...and 1 Who Doesn't
We've said it before, and we'll say it again: Foosball is for everyone! Men and women, young and old, this game attracts fans from all walks of life - and that includes celebrities. You might be surprised to learn that these famous faces can often be found at the foosball table.
1) Prince William
The future king of England is a foosball player? Yep, that's right. You might not see Prince William joining any leagues in the near future, but he's been spotted playing the game to raise awareness for mental health, alongside British professional soccer players.
Maybe it's not surprising that he's a fan, as Prince William is the head of the Football Association, the official governing body of soccer in England.
Image Source:
justjared.com
2) Shakira
Unfortunately, while Shakira's hips don't lie, her wrists aren't her strong point. The Colombian singer has posted videos of herself playing foosball on a miniature children's set with her two young sons - and getting roundly trashed each time. It seems the boys take after Dad, F.C. Barcelona star Gerard Piqué (see below), rather than mom! Don't worry, Shakira... it's the taking part that counts, right?
3) Gerard Piqué
Shakira's long-term partner could probably give her some pointers. F.C. Barcelona defender Gerard Piqué has often been caught in the act of playing foosball. Each year in January, this charity-conscious soccer player visits children's hospitals around his hometown of Barcelona in Spain to spread a little Christmas magic, and to play some foosball with the patients. Maybe it's not surprising that this World Cup-winning soccer hero is just as successful on the foosball table as he is on the field.
4) Chris Pratt
The star of Guardians of the Galaxy was outed as a foosball fan on a trip to the Children's Hospital in Los Angeles in 2017. He was there to fundraise for much-needed medical supplies for sick children, but when one young patient challenged Pratt to a game, he leaped into action. He didn't hold back, either, showing off great foosball skills against the starstruck youngster.
5) Depeche Mode
The classic British 80s band members are huge foosball fans. In fact, they love the game so much that they insist on a foosball table being present backstage at all their gigs. Living a clean lifestyle after their drink and drugs-fuelled heyday, Depeche Mode now use foosball as a way to unwind and get ready to go onstage. We're giving them the thumbs up - it's definitely a healthier alternative!
6) Matt LeBlanc
Every foosball lover has seen the iconic episode of Friends where Monica faces off against Chandler and Joey for hours on end. The foosball table was an essential piece of furniture in the guys' apartment for years and became an iconic part of this classic 90s TV show. In fact, it was so iconic that when filming finished, Matt LeBlanc - the actor behind Joey - stole the original ball from the foosball table. He's still got it today, as a memento of his time on one of the most successful sitcoms in history.
7) Ted Cruz
What do politicians do when they get some downtime? In the case of Ted Cruz, hit the foosball table! The Texan senator was spotted playing a truly intense game of foosball against journalists from Bloomberg during his 2016 presidential primary campaign. Maybe Cruz should have taken the opportunity to relax with a more chilled out game, as ultimately he lost the race to Donald Trump.
Bonus: A celebrity foosball hater!
Barack Obama
Well, we don't know if the former POTUS really hates foosball. What we can say, though, is that he turned down a challenge from a 7-year-old boy. In December 2009, Obama took time off from the White House to visit a local Boys' & Girls' Club to bring cookies and share festive greetings with the kids. When one youngster challenged him to a foosball game, the then-president declined. Foosball hater, running scared, or just too busy leading the free world? We'll let you make that call...
We're sure there are more celebrity foosball fans out there, but they're not coming forward...yet. Still, keep your eyes peeled for any famous people showing up at your local league, and remember: If you do end up across the table from a celebrity, never go easy on them!
---
Featured Table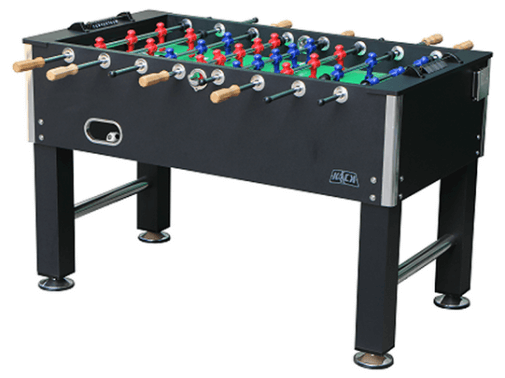 KICK Triumph Black
Combining high quality gaming, durability and stylish looks at a price point which won't break the bank, the 55" KICK Triumph Black is one of the best value foosball tables in the market today.
Read Table Review
Check Latest Price