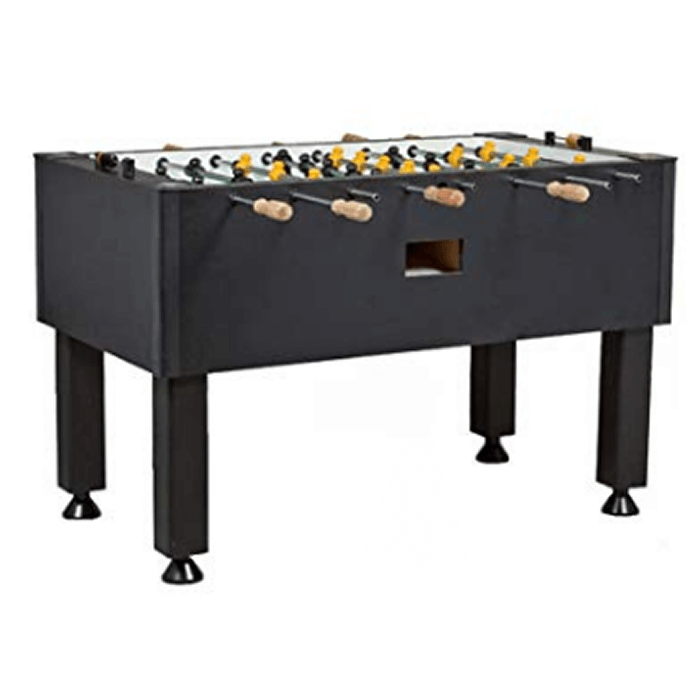 Composite Rating:
Pros
Durable, sturdy, counterbalanced players, professional quality table, made in USA
Cons
If you see any, let me know.
Buy
Specifications

Materials
MDF
Board Thickness
1-1/2″
Rods
Hollow steel
Dimensions
56″L x 30″W x 36″H; 225 lbs
Features
Commercial grade levelers, 3/4 laminate playfield, solid wood handles
Price
$$$$ (check here)
Warranty
1 year
Manufactured
USA
Durability
The Tornado Classic, like all Tornado models, is built to last. The 1-1/2″ cabinet is as thick as any I have seen on a foosball table. The higher the price of a table, the thicker the cabinet it is. This provides extra stability and durability. All of the Tornado's are manufactured in the USA, while most other brands manufacture in China. In general, the quality of US made tables is better.
Overall, all of the parts on this model are high quality, from the cabinet to the rods, to the playing surface. Nothing is cheaply made. All signs point to this model lasting for as long as you want it to. The warranty is for 1-year.
Gameplay
I have seen tables priced near $1,000 that don't have counterbalanced players. Even the Tornado Sport, priced about $300 less, doesn't have this feature. Many Intermediate players value it tremendously because it clears more space for shots, since the men say horizontal. Plus, it just gives them more control over the rods.
Weighing in at 225 lbs and being 1-1/2″ thick, this table is solid as a rock. You can play as aggressive as you want to without being concerned about movement or durability.
The Classic has a thick playing surface (3/4″), which makes it more level and sturdy. It also has commercial grade levelers, which allow for height adjustment and leveling the table if it's on an uneven floor. Having a table with stability and an even playing surface creates fair competition.
The hollow steel rods are light, smooth, and as good as you will find on the market. They are built to last and provide faster play, which is what intermediate to advanced players want.
The natural wood handles are designed for comfort and style. The ball returns are on the sides, making retrieval very convenient. I'm not sure why every table doesn't have this.
Aesthetics
The black leather laminate finish is very modern. The light wood handles, green surface, and yellow players provide some contrast. This table is ideal for contemporary style game rooms. Like wood finishes, black goes well with just about anything.
Who's It For?
The Tornado Classic is suited for teenagers, adults, intermediate, and advanced players. If you want a professional-quality table, this is what you're looking for. It weighs well over 200 pounds, is very attractive, and has the features you want to see from a table priced over $1,000. You can't go wrong with this one.
Customer Reviews
Store 1:

Store 2:

Store 3:
The composite rating is 4.6 stars. The consensus among customers:
first class table
professional quality feel
fast play
fun to play
smooth rods
need two people to assemble