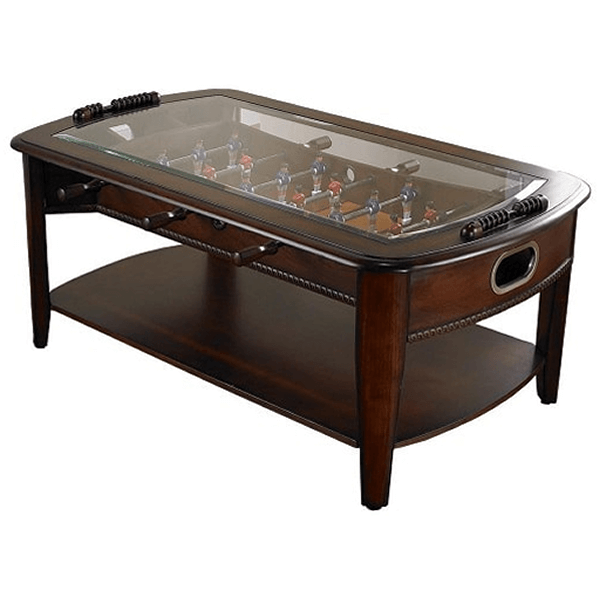 When it comes to decorating their den, gaming room, or living room, many families find it hard to account for everyone's tastes. Husbands, for instance, want to invest in indoor gaming equipment, but these usually clash with the classic and elegant interior design that their wives strive to create.
In other cases, kids beg for arcade games, but their parents don't know how to incorporate these into their decor.
Fortunately, these families have several solutions they can explore, and one of these is to buy a foosball coffee table. As its name implies, it combines the functionality of a foosball table with the beauty of a coffee table — all in one piece of furniture.
This is a great choice for people who want a foosball table that can easily blend with their existing furnishings. It's also great for parents who want to introduce their kids and teens to foosball without investing in a full-sized table. Homeowners and apartment dwellers with limited spaces will likewise appreciate the compact size of foosball coffee tables.
It's important to note that these products can't match the gameplay offered by full-sized foosball tables. Instead of the traditional eight rows of foosball men, they usually only come with six rows, giving each player just three rows to control.
This can make the game less challenging and exciting, particularly for those who are used to playing on full-sized tables. Foosball coffee tables are geared towards incorporating fun and games with functional furniture — not about providing players with the authentic foosball experience.
CHOOSING THE RIGHT FOOSBALL COFFEE TABLE
Foosball coffee tables can be found online easily, and there are a lot of makes and models to choose from. So, before you make a purchase, you first need to do your research, learn about the different options available, and select a unit that best fits your needs and budget.
But how exactly can you choose the right foosball coffee table? One factor you should consider is the design of the product, which is important if you're trying to incorporate a foosball table into your den, rec room, or living room without destroying its overall look.
Find a unit whose color and design match your existing interior decor; if your game room is furnished in a vintage-inspired style, for example, find a foosball coffee table that has an antique finish.
Another thing you should look into is the size. Foosball coffee tables are obviously smaller in size than regular arcade units, but this doesn't mean you can just pick one and assume it would automatically fit in your home.
To ensure you'll make the right purchase, you need to measure the space where you want to place your foosball coffee table, and then search for a unit that has the right dimensions. This way, you won't end up buying something that's too large for your rec room or family room that will stick out like a sore thumb.
You should also look into the materials your foosball coffee table is made of. Just like many other products, a table that's made of high-quality materials will often be more expensive than those made of cheap wood and plastic. Because of this, it often pays to buy the most expensive product you can afford.
Of course, it's important to remember that a high price tag doesn't automatically equate to quality. There are a lot of top-quality foosball coffee tables built with excellent craftsmanship but don't cost too much. The key to finding these units is to research different makes and models and compare them with each other to see which one comes up on top.
Don't forget to check the weight, too. Foosball coffee tables need to be sturdily built so they don't rock from side to side even when you and your family get too rowdy and/or forceful. But they shouldn't be too heavy, either; you should still be able to easily move them around with some assistance when you want to rearrange your furniture.
THE BEST FOOSBALL COFFEE TABLES
Now that you know what to look for in a foosball coffee table, you're ready to start shopping for one for your home. You can browse through various online stores to find the right option, but to make things easier for you, we've rounded up some of the best foosball coffee tables online and listed them below:
Chicago Gaming Signature Foosball Coffee Table
If you want a mini foosball table that can last a long time, you won't go wrong with choosing the Chicago Gaming Signature Foosball Coffee Table. This is considered the best among all foosball coffee tables since it's packed with many great features.
The Signature is made of solid hardwood, so unlike units built with laminate wood, it can withstand rough play and stay in good shape for years. Weighing 75 lbs, it's sturdy and stable and won't wobble around even when you play vigorously.
Its solid hardwood construction — paired with its rich, dark brown color and hand-carved detailing — helps it complement any type of furniture.
However, the Signature is far from perfect. Some customers have complained about the lack of assembly instructions in the package, missing hardware, and pieces that are impossible to put together. The table surface isn't entirely flat since the wooden scoring beads don't sit flush with the glass — which can be a dealbreaker for shoppers who are looking for a completely flat table.
The table has an overhang on the sides to cover the handles, ensuring that people won't walk or run into them, preventing injuries. However, many buyers have found out that the overhang hinders the forearm actions typically used when playing on full-sized foosball tables.
This means players will have to rely more on their wrists than their forearms, making the table difficult to use for adults used to full-sized tables.
Check the best price on Amazon
Barrington Foosball Coffee Game Wood 42″ Table
This table is similar in design to the Chicago Gaming Signature Foosball Coffee Table, although it has a darker brown color.
Each player controls three rows of hand-painted foosball men using chrome-plated steel rods.
The table is topped with a 3/8-inch thick sheet of heat-treated tempered glass, which can withstand wear and tear and give you a sturdy surface for your drinks and snacks.
The shelf beneath the playing field gives you additional storage space for books, toys, and other items.
Check the best price on Amazon
EastPoint Sports Foosball Soccer Game Wooden Coffee Table
While the Signature comes with soft, elegant curves, this foosball table features rigid straight lines and an antique-inspired design.
Its wood veneer finish gives it a classic look, while its tempered glass tabletop makes it highly functional as a coffee table.
Its player rods (which come with ergonomic wooden handles) can extend to help you play with ease and telescope into itself to minimize the table's footprint when not in use.
Check the best price on Amazon
Foosball Tabletop As A Cheap Alternative: Sport Squad FX40 Foosball Table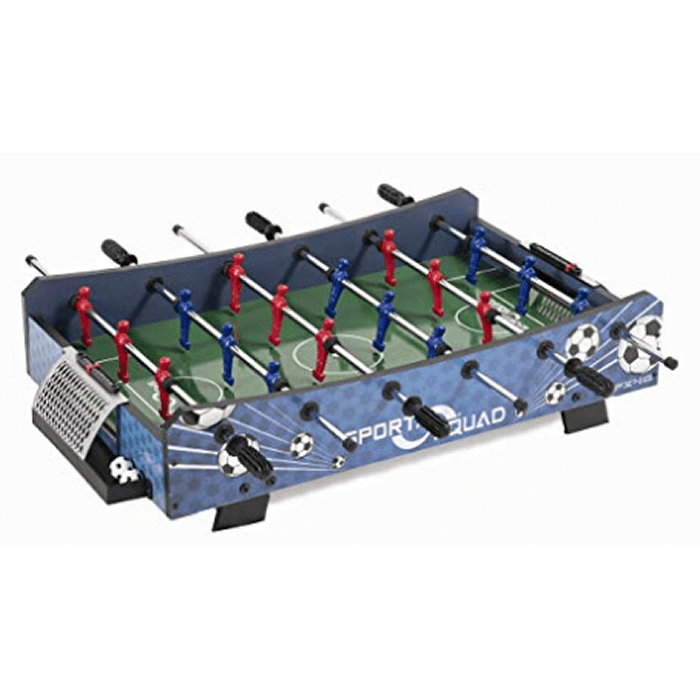 This is an excellent alternative if you want to play foosball at home but don't have the budget for the Chicago Gaming Signature Foosball Coffee Table.
Simply set this tabletop unit on your coffee table or any other surface, and you can start having a fun foosball game with your family and friends.
The table is made of MDF while the rods are made of chrome-plated steel with rubber handles. It's supposed to be sturdy, but some shoppers have complained it's not really that durable and can't withstand rough play.
Others point out that it's difficult to assemble and that some parts need to be replaced before assembly could be finished. Read our detailed review here.
Check the best price on Amazon
FINAL THOUGHTS
Investing in a foosball coffee table is a great idea if you want to play foosball at home but don't have the space for a full-sized table. Before buying one, though, it's essential to do your research so you can choose the best possible foosball coffee table for your home. Start by exploring the options we've listed above to see if they're the perfect choice for you!