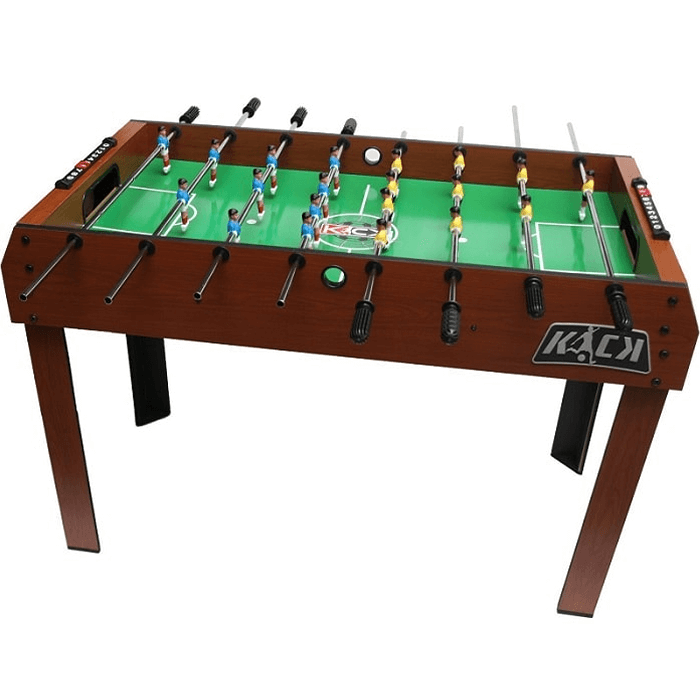 Composite Rating:
Pros
lifetime warranty, 1 or 3 goalie design, great customer service
Cons
no counterbalanced men (counterbalanced players included since November 2016), assembly instructions could be better
Buy
Specifications

Materials
MDF and hard wood
Board Thickness
1/2″
Rods
Steel filled rods
Dimensions & Weight
55″ L X 30″ W X 34″ H;135 lbs
Features
leg levelers, front ball return, 1 or 3 goalie design, 4 foosballs included
Price
$$ (check here)
Warranty
Lifetime Manufacturer Warranty
Manufactured
China
Official Manufacturer page
kickfoosballtables.com
Introduction
KICK Foosball Table's Triumph Black table design is a great addition to your home, and serves as a versatile and sturdy game table that matches its price. When determining the quality of a foosball table product, many factors go into deciding which one is the best for you, including preferred game style, design and durability, affordability, and aesthetic appeal.
Design & Gameplay
KICK Triumph Black clocks in at 55 inches for a sturdy and average fit. The design is developed for durability that features chrome detailing and chrome plated player rods that displays a metal edging to the mid-level game table for a more sophisticated and elegant finish. The chrome plated round leg casters and support beams provide solid strength for the table, making it a durable table even for more intense game play.
Metal casted game rods with sturdy bearings allow for the rods' smoother spinning. The solid leg levelers also make sure that the game is played on a flat, balanced surface so as to provide an even and smooth game playing experience. The table also comes with convenient front ball return on both ends of the table, as well as mounted slide scoring for a more authentic gameplay.
Eleven blue and eleven white foosball men line the gaming surface, with a one- or three-goalie design. The players are authentically crafted to look like actual players. The game also offers cup holders that can be installed if you want.
Aesthetic Appeal
The metal edges and chrome plated, chrome detailed features give KICK Foosball Table a sophisticated and elegant look that surpasses that plastic game table aesthetic. With its black, smooth finishing touch, this table matches and blends perfectly with furniture and has a modern appeal, allowing it to be displayed in any room. The black metal body over the wooden design gives it a more modern and sleek style that provides an expensive look despite its mid-level price.
The design and quality for its price point ensures that the table does not look like a cheap, plastic toy or a clunky piece of machinery, yet it provides a smooth and classy style that can look great among furniture. Not only does its surface appeal strike a chord with buyers, but it also has an authentic design of the foosball men and a smoothly finished gameplay surface with a color scheme that is professional yet stylish.
Quality and Affordability
KICK Foosball Table Triumph Black boasts a solid quality design for its price point. This table is priced at $539.85 and is considered a mid-level table for its price and design features. KICK Foosball Table's industrial engineers created this table to specifically tailor to an optimal gameplay experience by matching quality game features with an aesthetically appealing style of sophistication that lures in foosball enthusiasts and people looking to seamlessly incorporate an entertainment game table into their homes.
Durability
Made with chrome-plated and metal design, this table is sure to last a while and hold up even during intense game play. Besides that, the manufacturer offers a lifetime warranty, so you really don't need to worry whether your table will fall apart after several months.
Who's it for?
KICK's Triumph Foosball Table game product is great for foosball enthusiasts. It was designed for intermediate foosball gamers looking for a quality designed and sturdy table, yet it also accommodates other foosball players who are just looking for a game table to enjoy. With its price point and style, this table is definitely recommended for anyone who loves to play foosball and is looking for a table that provides an authentic game play experience, but cannot afford to spend over $1000 for a tournament level table.