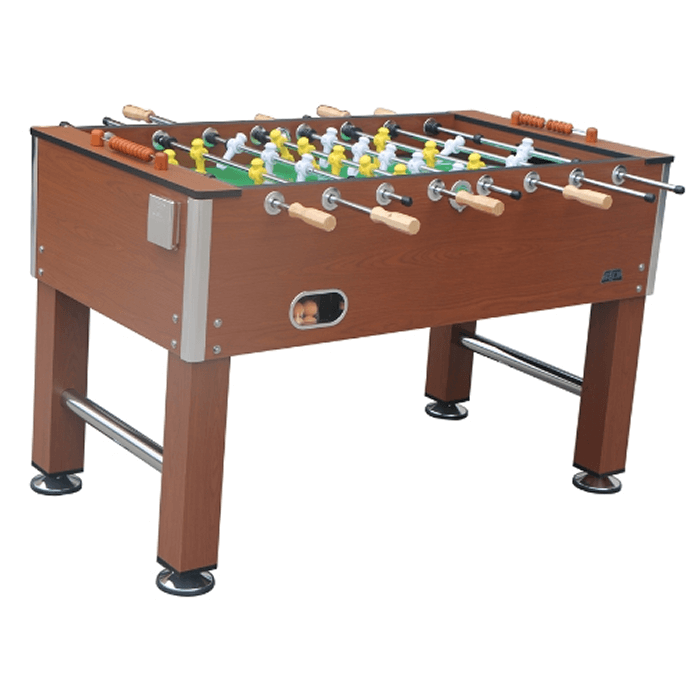 Composite Rating:
Pros
quality and sturdy build, looks good in any room thanks to the stylish design, convenient scoring and ball retrieval set-up, great customer service, 1 goalie or 3 goalie design, free shipping
Cons
no counterbalanced men (included since November 2016), little lighter than other KICK tables of this size
Buy
Specifications

Materials
MDF and hard wood
Board Thickness
1/2″
Rods
steel filled, chrome plated player rods
Dimensions & Weight
55″ L X 30″ W X 34″ H; 141 lbs
Features
leg levelers, side ball return, 1 or 3 goalie design, free shipping
Price
$$
Warranty
Lifetime Manufacturer Warranty
Manufactured
China
Official Manufacturer page
kickfoosballtables.com
Introduction
If you are in the process of putting together a games room in your home, chances are you're in the market for a quality foosball table. This is a must have for any sporty space, but with so many different models out there to choose from, it can be tough to decide which direction to go in.
There are definitely some tables that are much better than others, and KICK foosball tables are gaining a reputation for solid tables at a reasonable price.
They make foosball tables of different shapes and sizes, but it is their larger tables that are the most in demand. One of those is the KICK Splendor 55" Foosball Table, and this is one that certainly lives up to the reputation this company has developed over the last few years.
Quality of Build
This is a foosball table that just looks sturdy, and it quickly becomes apparent that those looks are in no way deceiving. At just 115 pounds, the KICK 55" Splendor Foosball Table is one of the lighter offerings from this manufacturer (in the 55" range), but that doesn't make it any less durable.
The color of the wood used in the table gives a classic look, and the thick, square legs are solid. The overall dimensions are 55" L x 30" W x 34" H, making this a full-sized table that is built for casual and even more serious play. The table gives a sturdy feel and all details of the table look well thought out. That includes the leg levellers that make it a snap to set up the table on any type of surface so consistent gameplay can be had every single time.
Gameplay
The playing surface is about an inch thick, and has a nice looking color design on top. Once the table has been levelled, you will find that the ball rolls nicely, and that there are no dead spots to be found, which can be a problem on cheaper tables.
The players are easy to handle, and the steel rods they sit on are sturdy and easy to control. There is a convenient ball return at both ends of the table, as well as a sliding score marker at either end. The balls themselves roll true, and you will receive two of them when you purchase the KICK 55" Splendor Foosball Table.
Who Is this Table Made for?
This is a foosball table best described as mid-range grade, making it perfect for casual play and will surely satisfy beginners and intermediate players. The sturdy build and design will allow it to easily handle more intensive play from players who are more serious about the game.
This is not necessarily a table made for kids, but they will surely get a kick out of it as well.