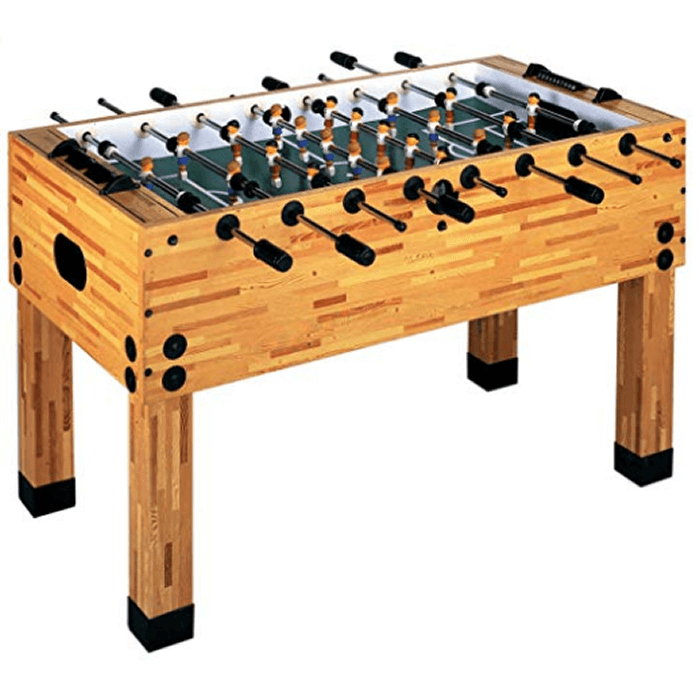 Composite Rating:
Pros
Sturdy, solid steel rods, butcher block finish, positive customer reviews
Cons
Thin cabinet and playing surface, no leg levelers, no counterbalanced players
Buy
Specifications

Materials
MDF
Board Thickness
5/8″
Rods
Solid steel
Dimensions
55″L x 29″W x 34″H; 150 lbs
Features
Butcher block finish, double chromed rods
Price
$$$ (check here)
Warranty
1 year
Manufactured
China
Durability
As a rule of thumb, tables priced over $600 are usually durable. The cabinet thickness however is only 5/8″, which is a little thin. The most durable tables are at least 1″ thick. I have learned that anything less than 1″ is not going to be as durable. However, it does weigh 150 pounds, so it has some meat to it. The playing surface is also thin (3/16″) compared to others in the price range that are 3/8″. The more thickness the surface has, the more durable it is.
The rods are double chromed and made with solid steel. They are quite durable. The only time I have heard of them being damaged is during delivery. The men are plastic, making them more likely to break. Rubber or metal are stronger materials.
The top customer review on Amazon said:
This table is super solid, super sturdy, and can take abuse!!!
Some customers raved about the durability, but one Amazon review also said:
The players are light, brittle plastic and the playing surface is very thin MDF/Cardboard with support bars holding it up (it was flaking apart as I installed it).
Draw your own conclusions. I am not sure what to make of this. The 5/8″ thick cabinet is a tad thin, but customers are saying it lasts for a long-time.
For almost the same price, you can the Carrom Signature model, which has a 1″ thick cabinet.
Gameplay
A table that weighs 150 ought to provide good stability, but the thinner walls take away from it some. The playing surface, at 3/16″ probably isn't completely level. I say that because only the really thick surfaces (3/4″) are totally flat. Thicker surfaces also lead to faster play.
It comes with leg boots, which act as levelers in a way, but don't allow for precise height adjustment like a lot of other tables have.
The solid steel rods are sufficient for a table in this price range. They aren't quite as fast however as the hollow rods found on higher priced tables, but they are easier for beginners to play with.
A few customer reviews said the ball flies out of the ball return sometimes when a goal is scored. One customer put a piece of cardboard up to block it. The ball returns are also on the ends, making retrieval more inconvenient than if they were on the sides.
The men aren't counterbalanced, which isn't unexpected, but still a feature that makes gameplay more fun. Beginners probably won't care as much about this. The men are plastic, which compared to rubber or metal aren't quite as fast.
Aesthetics
The butcher block finish is unique for foosball tables. It has a very natural, strong appearance. It doesn't have as much contrast however as other tables that have a wood finish on the cabinet, dark-colored legs, and chrome levelers. However, the black, rubber handles and boots along with the green playing surface complement the finish well. The humanoid men have a nice look as well.
Who's It For?
For starters, it's for anyone who likes the butcher block finish. Even though the price says otherwise, I think this is a beginner's table and it's designed for casual play. I think you can get a better table for the money. As I mentioned earlier, the Carrom Signature is probably a better buy. I will say that this table did get good customer reviews.
Customer Reviews
Store 1:

Wayfair:

Hayneedle:
The composite rating is 4.5 stars. Almost every review was positive. The consensus among customers:
sturdy
attractive
fun to play
need two people to assemble
dead spots
no counterbalanced players
If it means anything, I had a positive experience with their customer service. They replied to my e-mail very quickly, and answered all of my questions.
Check the best price of Imperial Butcher Block Foosball Table
2 Responses to Imperial Butcher Block Foosball Table