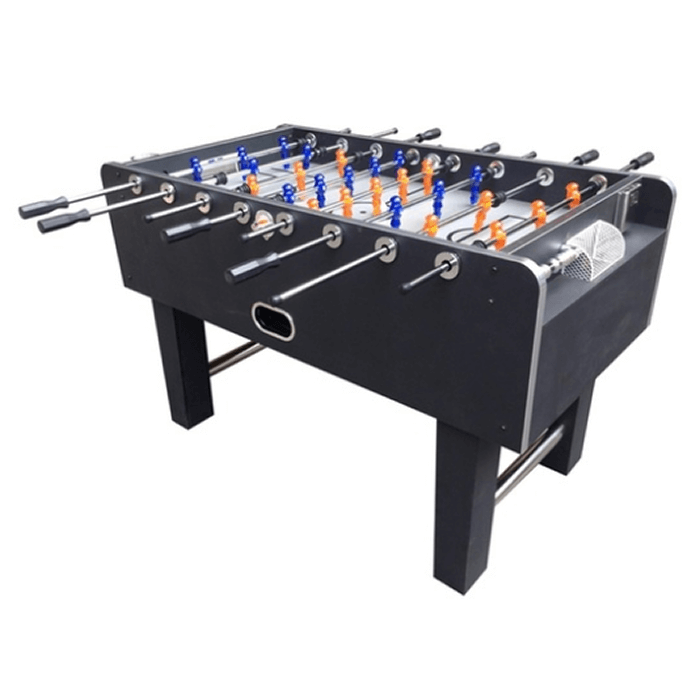 Composite Rating:
Pros
design, sturdiness, price
Cons
ball return, challenging assembly, no leg levelers
Buy
Specifications

Materials
MDF
Rods
tubular steel, chrome-plated rods
Dimensions
54″L x 29″W x 34.75″H; 133 lbs
Features
3-men goalies, sturdy legs, automatic side ball return
Price
$$ (check here)
Warranty
90 days
Manufactured
China
Introduction
Voit is a leading manufacturer for game room tables and makes a variety of foosball table products in all different sizes and designs, even spanning billiards, air hockey, and multigame table products. Voit's Pro Epic is their best foosball table and, although it will hardly match a professional gameplay experience, it is highly versatile and is great for family fun. This Voit foosball table model is a higher end design that offers a satisfactory gaming experience and is a solid quality for its price.
Design
The Pro Epic Tournament Foosball Table is designed to withstand fast-paced, action-fueled play with its many hefty features and solid construction. As the Voit flagship foosball table product, Pro Epic is made with a sleek surface for smooth game play that features three-man goalies, recessed scorers with automatic side ball return, and drink holders.
It also includes a mesh goalie net. The table is made with sturdy half-inch tubular steel, chrome-plated high quality player rods and durable cross-bracing legs that allow you to play as hard as you want without worrying about bending or breaking the table. A medium-density fiberboard wood dominates the construction of the table, and the players are made of solid acrylic. The dimensions of the table are 55 x 29 x 34.5 inches high, which adds to its professional style design.
Aesthetics
Pro Epic's foosball table resembles a tournament-style look while providing a sturdy, yet stylish aesthetic appeal. Its smooth chrome-plated, sleek look marries modern a color scheme and build with a classic design that ensures quality play.
The players come in orange and blue acrylic, which contrasts nicely with the grey and silver sleek color design. This table's popularity is not only in its model design, but its visual appeal is great for people who don't want a bulky, cheap table. Instead, this table gives the game room both a classy and modern feel at the same time.
Assembly
This foosball table comes separately and requires assembly. The assembly comes with instructions, and typically takes two adults to assemble. It may take some time to put the table together, but the end result is a well-made, sturdy assembly design that will allow you to jump right into the game.
According to customer reviews in rare cases a particular piece is missing, but a replacement part was always promptly supplied after contacting the supplier.
Durability
With a heavy duty build made of fiberboard wood and chrome-plated steel, this foosball table is guaranteed to be sturdy and durable for even the more challenging game play. Its features are constructed to withstand the standard wear and tear of foosball game play and it stands firm and still in its place, with no wobbliness or bending that would interfere with the game. The metal rods are hefty and solid, making the navigation of the game smooth and easy. Not only is it fun, but this game table will make you feel like you're playing in an actual arcade.
Gameplay
Pro Epic boasts a tournament style foosball table, although the gameplay design is pretty typical of medium quality foosball tables and consists mainly of standard features. Lets face it, this table wont be used at a profesional tournament, but it will provide a fun entertainment for the family. The most efficient aspect of the table is its smooth and durable style and reinforced game surface that makes gameplay fast and action-packed while allowing for sturdy play that won't break or bend the table.
According to the reviews, the ball return could be improved. A ball sometimes gets stuck in the goal or on its way back.
Overall, you will get a pretty normal gameplay experience out of this table.
Who's it for?
Voit Pro Epic Tournament Foosball Table is a great addition to the family home. Its reasonable price and durable quality build makes it excellent for beginner and intermediate foosball players and enthusiasts who are looking for something that will withstand more and last longer.
In addition, its sleek design can allow it to fit into your home seamlessly, with a modern color scheme and glossy finish that won't be an eyesore.
Check the best price of Voit Pro Epic Tournament Foosball Table at Amazon