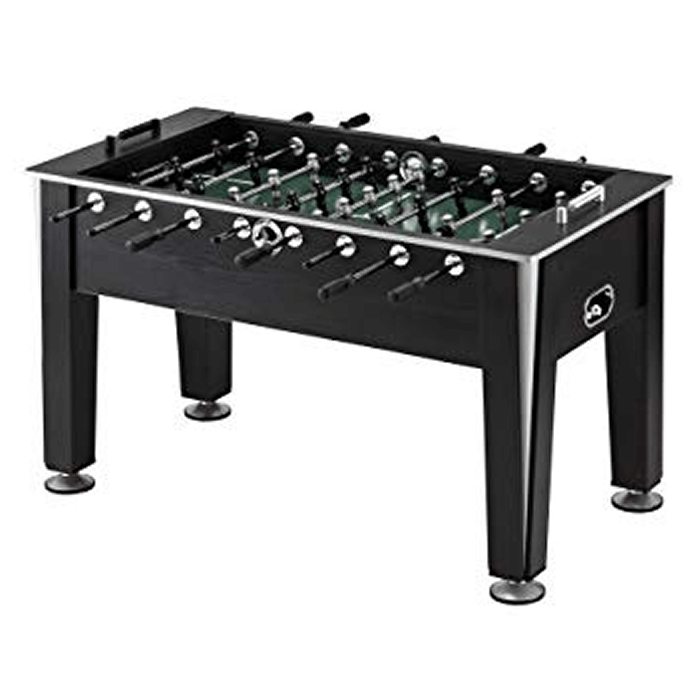 Composite Rating:
Pros
Affordable, sturdy, tournament sized rods, leg levelers, sharp appearance
Cons
Durability, not built for intermediate players
Buy
Specifications

Materials
MDF
Board Thickness
5/8″
Rods
Hollow steel
Dimensions
58″L x 30″W x 34.5″H; 120 lbs
Features
Tournament size hollow rods, chrome leg levelers
Price
$$ (check here)
Warranty
90 days
Manufactured
China
Durability
Durability is a concern for a lot of foosball tables priced at or below $500. The Viper Sheffield is no exception. The sidewalls are only about 5/8″ thick – tables described as durable are 1″ thick or more. It weighs about 120 lbs, which is adequate for beginners and casual play – but can it hold up long-term if play is continuously aggressive?
The most durable part of the table might be the rods, which are tournament sized, and made with hollow steel. The playfield is made with 3/8″ MDF – not bad for a table in this price range. There are more expensive tables out there with a thinner playfield. The thicker it is, the more durable it will be.
The rest of the table will likely hold up fine as long as it's used by children or teenagers casually. The chief concern long-term is the potential wear and tear of the cabinet if it's exposed to vigorous play.
Gameplay
One of the most important elements of gameplay is sturdiness. Can the table be still even when players get aggressive? If the table moves, it can affect the outcome of the game. Weighing 120 lbs, I wouldn't describe the Viper Sheffield as a rock that can't be moved. It probably won't move much or at all if kids are playing. However, if experienced adult players are using it, they will probably experience some movement.
As mentioned, the playfield is 3/8″ thick. I would describe this as adequate. The thickest one I have seen is 3/4″ on the Tornado Classic. The thicker the surface, the more level and sturdy it's going to be.
The table has levelers so users can adjust the height. The primary purpose of this feature is to level the table if it's on an uneven floor.
The best feature of this table is the tournament size 5/8″ hollow steel rods. I am surprised to see such high quality rods on a table in this price range. Hollow rods create fast play and are very durable. The PVC hand grips aren't the greatest, as natural wood or rubber are more preferred, but has little impact on gameplay.
It doesn't come with counterbalanced players, though most tables don't. Nonetheless, it's a feature that really enhances gameplay. The ball returns on the ends make retrieval more inconvenient than if they were on the sides.
For beginners and casual play, this table provides quality gameplay. Intermediate players however might not be as satisfied.
Aesthetics
The Viper Sheffield has a contemporary style. It has a real streamlined look. The black and chrome cabinet, leg levelers, and players give it a real stealth, modern feel. Aesthetics really come down to personal preference. Overall, I think its' a real nice looking table.
Who's It For?
The Viper Sheffield is built for children, teenagers, beginners, and casual play in general. I wouldn't buy this table if I were an intermediate player, or wanted something that is built to last. It's a quality table given that it's priced under $400 at Hayneedle.
If you want a heavier table with counterbalanced men for a similar price, you might be interested in the Hathaway Primo.
Customer Reviews
Store 1:

Walmart:
The composite rating is 4 stars. The consensus among customers:
sturdy
plays as it should
pre-drilled holes were missing
durability concerns