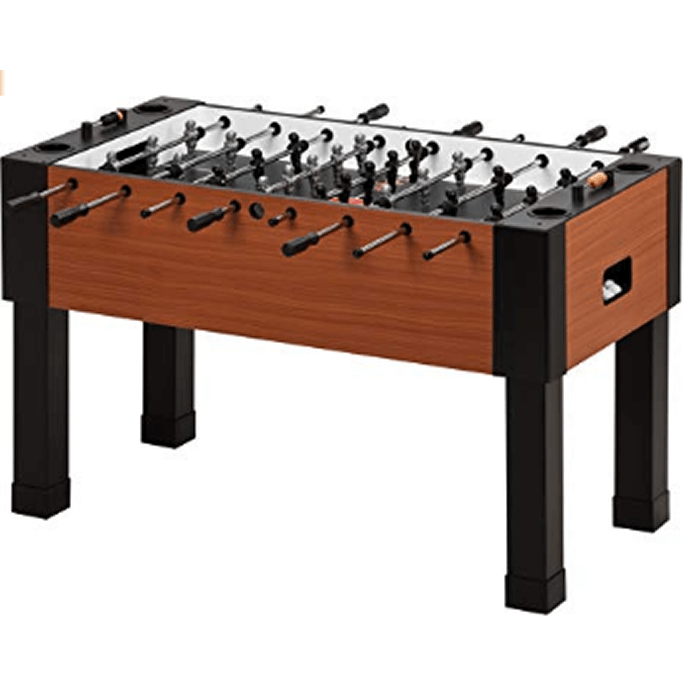 Rating:
Pros
Play surface is scratch-resistant, goal boxes have steel back plates, tournament-size rods are paired with heavy-duty hand grips, counter-balanced men
Cons
the scoring mechanism sometimes doesn't hold firmly
Buy
Specifications

Materials
Commercial grade mahogany cabinet
Rods
Chrome-dipped solid steel rods
Board thickness
3/4″ thermoplastic scratch-resistant play surface
Dimensions
57-3/4"L x 29-1/2"W x 35"H; 163 lbs
Features
Tournament size 16mm hollow steel, heavy-duty vinyl hand grips, end ball return, comes with 4 foosballs, counter-balanced men
Price
$$$ (check here)
Warranty
90 days
Durability
If you're looking for a foosball unit that's built like a tank and doesn't cost a fortune, the Viper Maverick Foosball/Soccer Game Table will not disappoint. It has a ¾-inch play surface that's made of thermoplastic material, is resistant to scratches, and has a block frame construction which promotes durability and longevity. On top of this, it has solid steel rods and heavy-duty vinyl hand grips, which complete the overall appearance and functionality of the unit.
All of these make the Viper Maverick Foosball/Soccer Game Table attractive, but what really caught my eye is its commercial-grade cabinet that's one inch thick. Units with sidewalls that are one inch thick or more can be considered "durable" enough to withstand a tougher play. Therefore, it's safe to say that the Viper Maverick has solid quality and can be expected to withstand rough use and last for a long time.
Gameplay
If you're familiar with cheap arcade foosball units, you'll definitely notice how different the Viper Maverick Foosball/Soccer Game Table is. Its steel rods and vinyl grips allow you to have more control over the ball, help you have a faster reaction time, and increase the power you can put into the shot. Its counterbalanced foosmen, on the other hand, promote better offense and defense and make it easier for you to block your opponents and score a goal.
The unit's goal boxes come with steel back plates, so it's easy to know when you've scored. It also has dual ball returns, which let you focus on making a goal instead of collecting foosballs, as well as scoring beads that help you monitor the number of goals you get.
Aesthetics
Aside from being durable, the Viper Maverick Foosball/Soccer Game Table is designed to be a beautiful addition to your man cave, rec room, or family room. The oak finish of its cabinet gives it a solid look and feel and makes it look chic and stylish, allowing it to seamlessly blend in with your wooden furniture. Unlike other foosball units that have colorful players, the Viper Maverick comes with black and silver foosmen that have a sleek and elegant look.
On top of that, the game table comes with cup holders where you can place your drink while beating the competition. It's a great way to have your favorite beverage at hand without having to worry about spilling it all over your foosball unit. The cup holders have removable inserts that keep your drink secure while protecting the table's oak finish from condensation.
The midnight black play surface also adds to the elegance of the Viper Maverick game table. The best part about this is that the surface is scratch-resistant, so it should stay in good shape no matter how often you play with it. This ensures that your investment will last for some time and that you can continue enjoying your foosball unit even after several months and years have passed.
Who's it for?
The Viper Maverick Foosball/Soccer Game Table is a great option for those who are looking for a quality unit which can last for a long time and give them their money's worth. This is not a professional or competitive-level table, but it's a great option as a home table for recreational use.
It's also an excellent choice for those who want to have a foosball table which has a chic and elegant appearance and won't look out of place in their stylish den or rec room. Of course, it's perfect for those who want to upgrade from the usual cheap, brightly colored foosball unit to a sleeker, more stylish, and more grownup version.
Those who are on a tight budget may find the table's price a bit too steep. If this is the case, they can check out cheaper options, such as the Viper Sheffield Foosball Table. It's important to note, though, that the decrease in price is often equal to a decrease in quality as well, so it's something that buyers should be prepared to face.
Customer Reviews
The composite rating is 4 stars. The consensus among customers:
Solid table with counterbalanced players
Certain parts (like the scorer) may come apart during play
Table has held up nicely