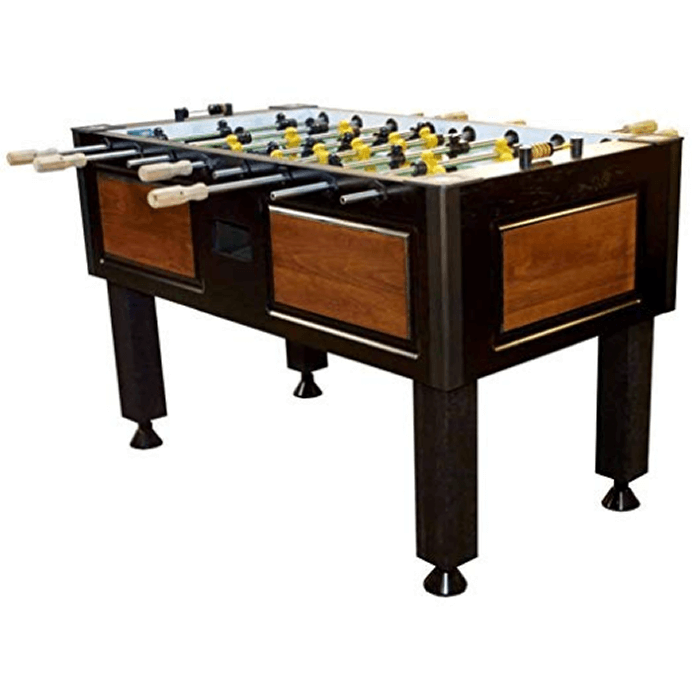 Composite Rating:
Pros
Durability, sturdiness, professional quality table
Cons
Pricey for the average customer
Buy
Specifications

Materials
MDF
Board Thickness
3/4″
Rods
Rugged steel rods
Dimensions
56″L x 30″W x 36″H; 350 lbs
Features
Commercial grade levelers and rods, dual side ball return, counterweighted men
Price
$$$$$ (check here)
Warranty
1 year
Manufactured
USA
Introduction
The Tornado Worthington Foosball table is a recreational product made by the Tornado Foosball tables company, and is one of a variety of different foosball table design styles offered by Tornado. Tornado has been manufacturing recreational products such as foosball tables for over 30 years, so they are known to be reliable in bringing in high-quality products that are expertly crafted for durability, easy maintenance, and professional-caliber features.
The Tornado Worthington table is in the high-price range among the rest of the foosball tables made by Tornado Foosball tables, and it promises a commercial-grade quality table for a great performance. It includes a variety of quality features that make it exceptionally functional and valued at its price. Here are some of the design and gameplay features that are especially highlighted by this product.
Style
Tornado Worthington Foosball table is designed with the ease of a home model foosball table with parts that professionally made. Tornado's style for modeling their game tables is to design to blend in as a furniture piece. The aesthetic of the table has a natural, yet classy and professional appeal with its two toned wooden finish that exudes a rich and soft tone. Its dual black and maple wood stain finishes provide a contrasting and aesthetically pleasing look that will blend in it with furniture easily wherever it is.
Design
The table's dimensions are 36 x 30 x 56 at 351 pounds. The overall design and construction of the table is high-grade and built to withstand professional and aggressive foosball play. The body of the table consists of a 1 ½ inch thick medium density fiberboard cabinet, as well as leg levelers that can be adjusted to accommodate uneven floor surfaces. The table includes hollowed out steel rods that are light and fast, eliminating clunky and heavy use and allowing for easy control.
Despite their hollow centers, the steel rods are made to withstand bending and warping over time, making sure that they are quality and long lasting. The split bearings allow the rods to move in and out of the table's game play smoothly and quickly. The steel rods are capped off by natural solid wood handles that add to the table's appeal design as well as providing firm grip and control for the players.
Gameplay
The newest commercial features of the Worthington table are guaranteed to enhance game play for foosball enthusiasts, with its patented Tornado men made with a newly revised "foot" design that allow for more precise foosball control and an overall better gameplay experience. The gameplay field is laminated with its specialty tricolor Tornado logo, allowing for fast and smooth play.
Its foosballs are made with patented urethane that are designed to resist nicks and chips that may result from wear and tear during gameplay. Thin wall-bearing designs, dual side ball returns, and down corner construction are all commercial-grade features of this product included to ensure professional and satisfying gameplay.
Durability
Made with furniture-grade wood finish, high-grade quality steel rods, smoothly laminated game field, and solid wood handles for the levers, Tornado strive to make their table durable and easy to maintain for its owners. Its design and style are made to accommodate rigidity and durability, while giving it the appeal of a professional and attractive recreational standard game table.
How much is it, and who's it for?
The Tornado Worthington Foosball table is priced at $2,099.00. The price, which is a lot more expensive than beginner style, lighter foosball tables, is valued due to its weight and durability, as well as its attractive design and home model aesthetic. This table is definitely geared more towards experienced foosball players or foosball players looking to achieve a more professional level of gameplay.
The level of high-grade features that the Tornado Worthington table includes is more suited towards adult players looking for a more intense gameplay experience, although it can be equally enjoyable for families simply looking for a standard game table that is aesthetically pleasing and will last long.
Final Words
Overall, this foosball table is styled and designed for a professional-caliber foosball game experience, and holds a variety of quality features and aesthetics that add to the gaming experience.
Check the best price of Tornado Worthington Foosball Table at Amazon