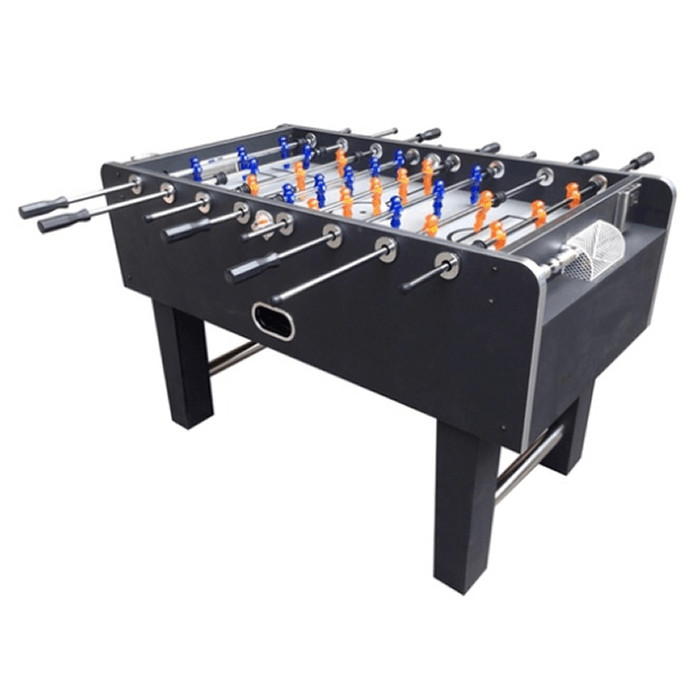 Composite Rating:
Pros
sleek and stylish design
Cons
build quality, durability, assembly, price
Buy
Specifications

Materials
MDF
Board
15mm thick MDF board
Rods
15.8mm chrome plated steel rods
Dimensions & Weight
56″ L X 29.95″ W X 34″ H; 109 lbs
Features
leg levelers, player-side ball return, 3 goalie design, 2 foosballs included, sliding manual scorers
Price
$$ (check here)
Warranty
60 days
Manufactured
China
Introduction
The Striker Georgetown foosball table offers a way to enjoy a fun atmosphere of gaming with family and friends. Lets take a closer look and see where it stands compared to other tables.
Design
Manufactured by Sports Squad, the 56-inch foosball table is elegantly designed with a sleek and stylish bronze finish, chrome-plated steel rods, and detailed with a sophisticated wood grain that allows the table to serve as both a fun entertainment piece as well as classy background décor. The aesthetic of the table gives a neat look that definitely makes it a decent choice and its design is probably the strongest point of Striker Georgetown.
This foosball table sports a green playing field that mimics an authentic game playing experience. It's made of a 15mm thick medium-density fiberboard and comes with, on the first look, a strong leg supports with leg levellers. The chrome-plated steel rods should allow for swift action and smooth gameplay, and the wooden handles provide a firm and comfortable grip. Few customers report that the rods started to squeak and scratch after some time.
The Striker Georgetown also comes with plastic lifelike players designed to enhance passing and shooting accuracy in the game, as well as a three-man goalie design for a more challenging defense. The table is equipped with a sliding scoring system, automatic return, ad two soccer foosballs included.
When it comes to design the Striker Georgetown 56-inch foosball table is on point with its aesthetic principle, providing a classy and nice looking product.
Assembly
The assembly can be tricky and is poorly instructed, with many consumers citing instances of the legs breaking. Assembly manual is available online which is a plus.
Quality & Build
The table is definitely not professional-grade quality, but if you have a limited budget and you're looking for something for a not so serious bout of fun with family and friends, this can be a sophisticated choice due to its price.
The legs are a press board tri-fold, and needed to be handled carefully or they can break easily if folded. Assembling this part of the table should be done so with caution and careful handling. Standard wear and tear is probable with this quality of table, but it is decent if you're looking for a table for a little bit of family play.
Price
The price of the table is $400 after a coupon is applied. With this price, you are mostly getting its aesthetic appeal and design rather than the overall quality of the gameplay. While designed to be sturdy and durable, the Striker Georgetown is not the highest quality table you can get.
If you can afford it we would rather advise that you add $50-$100 more and pick one of the better rated tables.
Who Is this Table Made for?
Striker Georgetown table is sleek and stylish, and works well for light play. It is most definitely not suited for intense and competitive foosball competition.
If you're looking for something that doesn't contrast with your home décor and can be used by the family for an occasional bit of fun, this table will do its job. Be wary of the assembly process and keep in mind that this table is not designed in quality to withstand intense and constant gameplay.
If a visual appeal is not a priority and your budget is really tight check out Playcraft Sport 48″ Table, which is somewhat smaller, but costs only $140 and is pretty sturdy (especially considering its price).
If you're a more serious foosball gamer, it is probably worth it to invest in a pricier table that can withstand more wear and tear.
Overall, the Striker Georgetown table has potential, but it does not hold up against more durable foosball tables.
Check the price of Striker Georgetown Foosball Table at Amazon