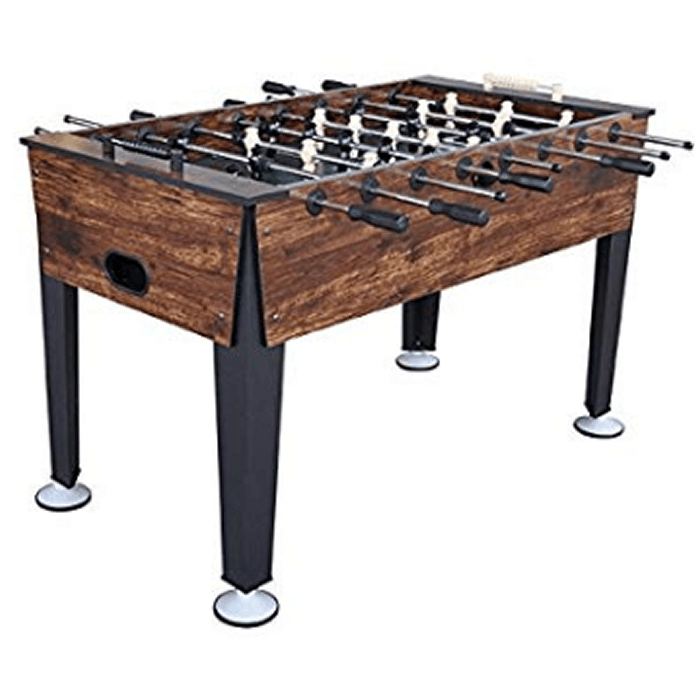 Rating:
Pros
Weatherproof; designed to withstand the elements
Can be used by up to four players
Comes with an all-weather table cover for added protection
Built with weighted and balanced foosball men
Cons
Some parts are not that durable
Can be difficult to assemble
Buy
Specifications

Materials
Aluminum frame, glass, plastic, composite wood
Rods
chrome-plated steel rods
Dimensions
56 x 28.5 x 34.5 inches; 132.3 lbs
Features
Weatherproof frame, oversize adjustable leg levelers, side ball return, four textured foosballs, all-weather table cover
Price
$$$ (check here)
Durability
The Eastpoint Sports Aluminum Outdoor Foosball Table is solid and sturdy, and it's built to withstand the elements. Because of this, you can bring the table outside, place it on your deck, patio, or in your backyard, and play with your friends while enjoying the sunshine and fresh air.
You don't even have to worry if you forget to bring it inside. With its weather-resistant apron walls and aluminum frame, along with its all-weather cover, this foosball table can stay in good shape even when it gets caught in the rain.
Its durable construction allows it to hold up well even when you play with force. This makes it a great choice if you want to buy a foosball table for active kids and rowdy teens, or if you have a tendency to get carried away when playing foosball with your friends.
However, it's important to note that not all customers are satisfied with the Eastpoint Sports Aluminum Outdoor Foosball Table in terms of durability. Some buyers complain that the parts made of composite wood were cracked and/or unglued when they received the table. There are also complaints that its hardware is of low quality and easily get stripped.
Gameplay
The Eastpoint Sports Aluminum Outdoor Foosball Table has weighted and balanced foosball men, which give you more control over the game and allow you to focus on hitting the goal. It also comes with four textured foosballs, which have a good grip on the playing surface but are solid enough to roll at high speeds.
Once you hit a goal, the ball immediately rolls into the side ball return to provide added convenience and allow you to focus on the game. Keeping track of your score isn't difficult since the table has a bead-style scoring unit on both ends. Simply push one bead to the side whenever you score to quickly and easily know who's winning.
The table also has oversize adjustable leg levelers, which are greatly useful, particularly if your floors are a bit uneven. They provide you with a stable and completely flat surface to play on and ensure you and your friends can have a fair and just game.
Unfortunately, the Eastpoint Sports Aluminum Outdoor Foosball Table doesn't have a perfect gameplay since it comes with a few hitches. Some customers complain that the table has several dead spots that cause the foosball to get stuck. Others point out that the goalie hits the end board at certain shots, making it difficult for them to block the opponent's ball.
Aesthetics
The weatherproof aluminum frame of the Eastpoint Sports Aluminum Outdoor Foosball Table doesn't only protect it from the elements; it also gives the table a sleek and stylish look and makes it an attractive addition to any space.
Whether you're placing it in your indoor game room or displaying it on your deck or patio, you can be certain that your foosball table will look great and impress your family and friends.
One of the best things about the table is its elegant black and silver cabinet, which is paired with the black and white foosball players. This classic color scheme allows the table to fit any interior design and complement almost all kinds of furnishings. The bead-style scoring unit even has a silver finish, which adds a fancy touch and completes the table's smart and sophisticated appearance.
Who's it for?
The Eastpoint Sports Aluminum Outdoor Foosball Table is a great choice for those who like to play foosball outdoors and are looking for a unit that won't get easily damaged when they forget to bring it inside.
It's also an excellent option for those who are searching for classically elegant pieces for their game room or man cave and need a foosball table that looks smart and stylish. Parents who want to introduce their children to the wonders of foosball will love the gameplay and the reasonable price offered by the Eastpoint Sports Aluminum Outdoor Foosball Table.
Check the best price of the Eastpoint Outdoor Foosball Table