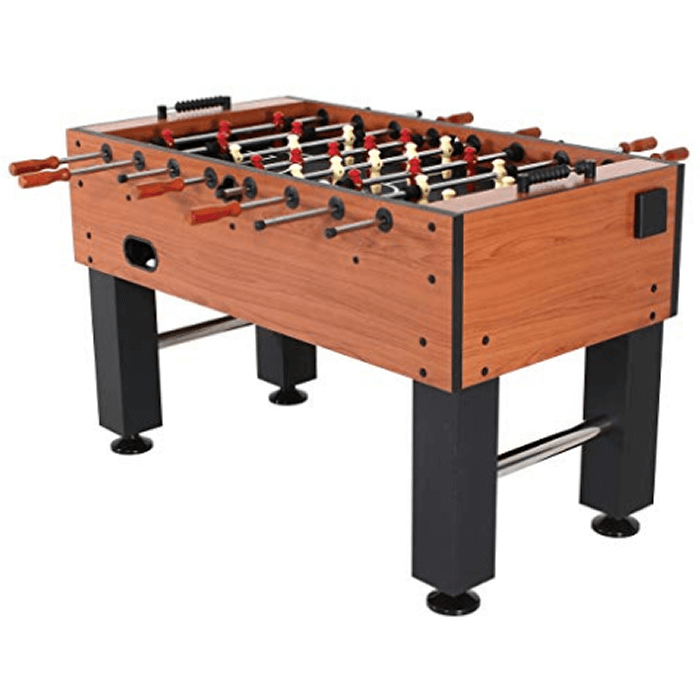 Composite Rating:
Pros
Sturdiness, aesthetics, smooth rods, built for intermediate play, 1-year warranty
Cons
Durability, no counter-balanced men, uneven playing surface
Buy
Specifications

Materials
MDF
Board Thickness
1″
Rods
Solid steel
Dimensions
56″L x 29″W x 35″H; 100 lbs
Features
Ball bearings, leg levelers, 5″ square legs
Price
$$ (check here)
Warranty
1 year
Manufactured
China
Durability
MDF used on most foosball tables, especially ones in this price range. The concern is with this material is that it can warp, and can be damaged more easily than real wood. However, it doesn't The quality really depends on thickness and who made it.
It's 1″ thick and weighs 100 pounds, which gives it some durability and sturdiness. Tables priced in the $200 range are about half as thick, so that is one of the advantages you are getting with the FT250DS. The steel rods are built to last, so no worries there.
Gameplay
The weight of the table is decent, but the Hathaway Primo weighs 35 pounds more and costs about the same. That's quite a difference, and weight really has a big impact on the overall stability of the table. The EastPoint Newcastle table weighs 20 pounds less and costs $247 on Amazon. With that said, 100 pounds does give the table good overall stability.
A couple of customers on Amazon said the playing surface was uneven, despite leveling the table. Not sure why that would be, but is worth noting. An even playing surface is a necessity in order to have a quality playing experience. This was not an issue with the Hathaway Primo.
A feature that is lacking is counterbalanced players, which are tilted upward so the ball can go underneath your own players easier. On the most expensive models, the players are totally horizontal to the surface.
This is a full-sized table, which is great for adults and intermediate players. It also has a thick playing surface, which gives it some sturdiness. The leg levelers do help create a level playing surface.
The rods have ball bearings for smooth operation, but this is a feature common for tables in this price range. The table comes with two cup holders, which is a nice little feature that adds some convenience during play.
It has a three goalie configuration, which means that three defenders are on the last line instead of one. This configuration requires less skill to play.
Aesthetics
The FT250DS has a cherry laminate appearance that goes well in any game room. The thick legs make the table look strong and heavy. In some tables, the levelers really stick out, but the thick legs on the FT250DS hide them a little more. The robo style players have a neat look, and the surface looks clean. This is the kind of table that you won't feel the need to hide when you have company over.
Who's It For?
I would buy this table for teenagers, adults, and beginners, and intermediate players. It weighs enough to handle vigorous play for intermediate players, but the three goal configuration is ideal for beginners. The downside is that it lacks the counterbalanced feature, which is valued by experienced players. The overall quality however is sufficient.
Customer Reviews
Store 1:

Store 2:

Store 3:

Store 4:

Store 5:
The composite rating is 3.7 stars. The consensus among customers:
sturdy
attractive
smooth rods
dead spots in the corners
uneven playing surface
complaints about packaging and customer service
Check the best price of DMI FT250DS American Legend Manchester Foosball Table