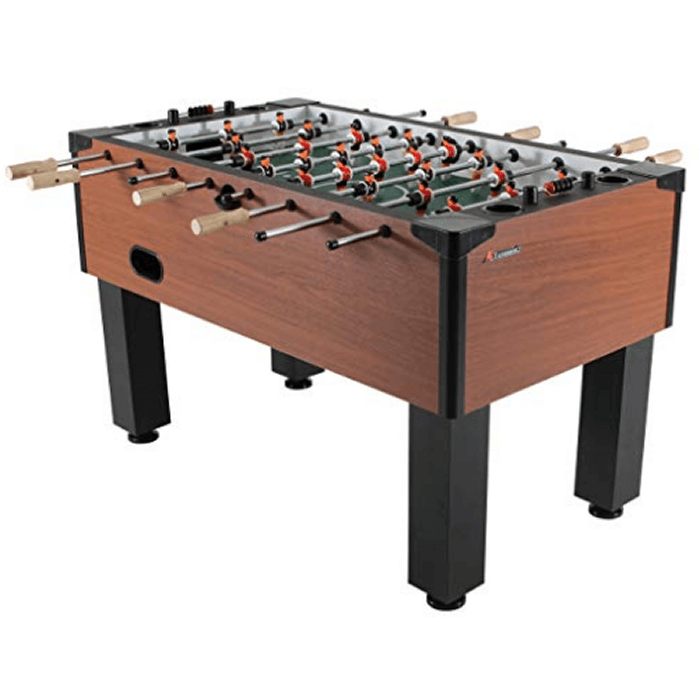 Composite Rating:
Pros
Heavy, sturdy, thick playing surface, quality rods, natural wood handles
Cons
No counterbalanced players, short warranty
Buy
Specifications

Materials
MDF
Board Thickness
1″
Rods
Solid steel
Dimensions
56″L x 31-1/4″W x 34-3/4″H; 170 lbs
Features
3/4″ MDF surface, leg levelers, solid wood handles
Price
$$$ (check here)
Warranty
90 days
Manufactured
China
Durability
What stands out to me initially is the 3/4″ thick MDF surface, which rivals the Tornado Classic – a table that happens to be twice as expensive. A surface this thick provides high resistance to warping. The Gladiator weighs around 170lbs, which indicates that it's made out of quality, thick MDF.
The customer service told me the cabinet is 2″ thick, which is hard to believe considering some of the most expensive tables are 1-1/2″. Even if it's only 1″, it provides durability.
However, this type of wood is more susceptible to scratches and damage. One customer reported that the side panels were cracked when they received it. The corner pieces are made out of plastic, making them susceptible to damage also. This is not unusual however. I have read more than a few reviews about tables where damage was done to the cabinet during shipping.
No worries about the rods or handles. They will last for the duration of the table. I'm not sure what the players are made out of.
Overall, customers were pleased with the heaviness and quality of the table.
Gameplay
A 170 pound table is considered heavy. That along with the thick cabinet provides good stability, which eliminates movement during play. For those who want to play hard, this table is built to handle it. The nylon bushings help the rods function smoothly. Solid rods are what you normally see on mid-level tables. They aren't as fast as hollow rods, but fast enough for intermediate players.
The thick, 3/4″ surface is what often see on more expensive tables. The thicker the surface, the more sturdy and level it's going to be. A 3/4″ surface is as thick as I have seen. It creates an optimal level playing surface, plus it plays faster. The leg levelers help with this also. However, I want to point out that a customer review said there were a few dead spots. Are there actually dead spots, or were the levelers uneven?
The ball returns are on the sides, which makes retrieval very convenient. It also comes with four cupholders for those who like to have a few drinks while playing.
The Gladiator doesn't come with counterbalanced men, a feature that I don't see much of in this price range, but one that intermediate players love to have. It makes for a smoother, more fast paced game because the men can stay horizontal.
Aesthetics
The Gladiator has a traditional style appearance. The humanoid men are well-made. The green surface and light wood handles contrast the chestnut cabinet finish and dark colored legs. The plastic corners look a little cheap, as do the levelers, but overall it's a table that most would like to have in their game room.
Who's It For?
The Gladiator is built for teenagers, adults, beginners and intermediate players who don't mind not having counterbalanced men. It's a solid table that will withstand vigorous play. The rods and surface create fast play that intermediate players will enjoy. Another table to consider in this price range is the Carrom Signature, which has counterbalanced men and a 1-year warranty.
Reviews
Customer rating:

Editor rating:
The composite rating is 4 stars. The consensus among customers:
sturdy
easy assembly
durable
a few reported damage to cabinet during shipping
2 Responses to Atomic Gladiator Foosball Table