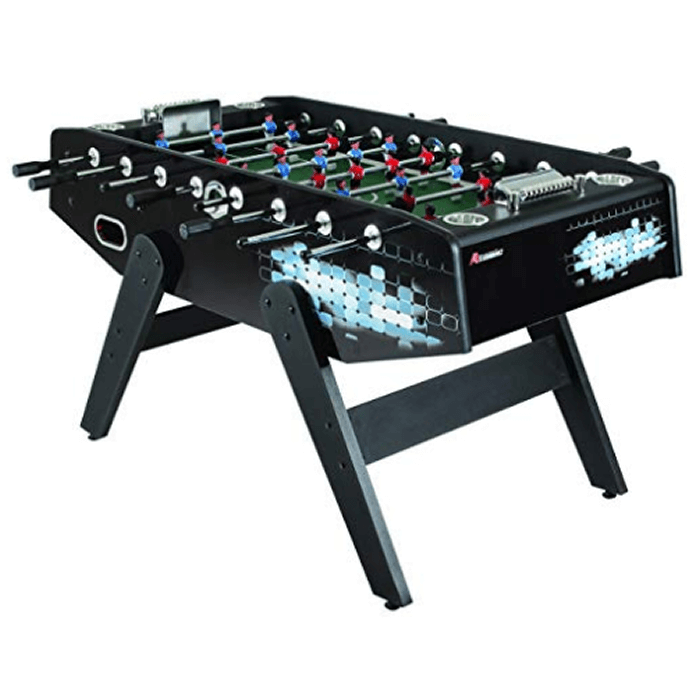 Composite Rating:
Pros
Adequate sturdiness, fast gameplay, telescopic rods for safety, 3 year warranty
Cons
No counterbalanced men or height adjustment, a little light for the price
Buy
Specifications

Materials
MDF
Board Thickness
1″
Rods
Hollow steel
Dimensions
58.63″L x 28.75″W x 34.5″H; 114 lbs
Features
Soft touch rubber octagonal handles, hollow steel rods, European style men
Price
$$ (check here)
Warranty
90 days
Manufactured
Canada
Durability
The specifications are solid: 1″ thick cabinet and 114 pound weight. The thicker and heavier a table it is, the more durable it's likely to be. For a $350 table, you aren't going to get elite quality parts, but I would expect a table like this to last for a good awhile as long as it's not abused.
Typically, the rods on tables under $500 are more likely to bend, but they will stay in tact as long as nothing out the ordinary occurs. The table is made out of MDF, which is standard across the board. It might be susceptible to scratches, but the 1″ thickness gives it some clout.
The 3/8″ play surface thickness is encouraging. The thickest I have seen on any table is 3/4″, so 3/8″ is pretty solid for a table in this price range. Why does this matter? A thicker play surface gives it more durability, as it's more resistant to warping.
The men probably aren't made out of the most durable plastic. The good news is that they have robo-style feet that perhaps will prevent damage to that part.
Overall, I don't feel like durability is a big issue. It is a lesser expensive table, so the chances of wear and tear are greater, but it's not a cheaply made table from where I stand.
Gameplay
A table in this price range is highly unlikely to have counterbalanced players, and the Euro Star doesn't. This feature is nice to have so player can turn the men horizontal to the surface, clearing space for passing and shooting.
Stability is a major component of any foosball table. Wobbling can affect game play, giving one side an advantage over the other in a given instance. The thickness and weight however are adequate for beginners and kids, but I'm not sure if it's suited for aggressive play consistently. It might be susceptible to some wobbling if adults are playing hard.
A level playing surface is also important. The 3/8″ thick surface helps keep it level long-term. The height adjustment feature also helps create a level surface, particularly if the floor it's on is uneven.
The hollow rods are a plus. I'm not sure of their durability, but they're lighter than solid ones. This creates faster gameplay for those who are more experienced.
The side ball return is another benefit. Players stand on the sides while playing, so it only makes sense to have them there. Some tables however have the returns on the ends. The cupholders are appreciated by those who enjoy having a beverage or two while playing.
In general, the gameplay is satisfactory for beginners but may leave intermediate players wanting a little more. I do think it can handle aggressive gameplay. For how long? I'm not sure, but I think the stability, level surface, and hollow rods are all positives. The soft touch handles add a little comfort also.
Aesthetics
I have to admit, I'm not a huge fan of the tapered leg style. I'm not sure why, but I prefer the traditional design that most tables have. The cabinet looks a little bulky as well. The graphics give it an amateur feel. The men look like they're made with quality. The surface, rods, goals, and scoreboard all look nice.
Who's It For?
The Atomic Euro Star is mainly for beginners, but is still playable for intermediate players because it's full-sized and has good weight to it. Though, it might wobble a little if play is aggressive. All age groups can play with it, though it might be a little tall for some children. In general, I would say this table is for anyone who likes the look of it and who has about $350 to spend.
Customer Reviews
Store 1:

Wayfair:
One customer said the table is great, but the balls are poor quality. Another said she bought it for her son, who is in college, and didn't have much sturdiness. The other Amazon review said it was a nice table and sturdy.
2 Responses to Atomic Euro Star Foosball Table Review